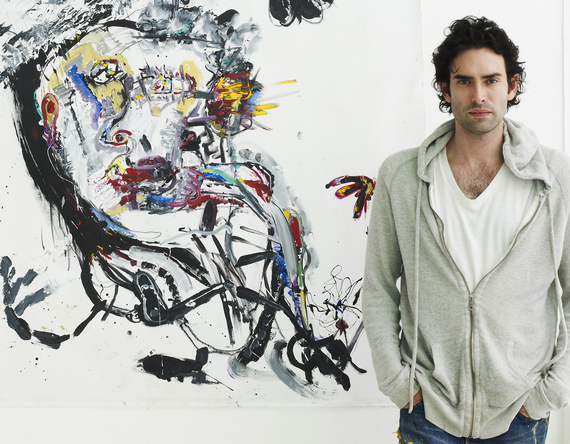 "I never know what I will uncover and that unpredictability is what draws me to paint." - Alexander Yulish
Disturbing, melancholy, troubled, maddening, intimate. These are a few words that come to mind when one comes across a painting by Alexander Yulish. His work has been compared to Picasso, Pollock, and a hint of Francis Bacon. However, the haunting and twisted beauty that appears on the canvas is exclusive to the mind of Alexander Yulish. Melting away the surface to present the true nature of his emotion, is what Alexander strives for when he picks up a paintbrush. The son of famed fine artist and sculptor, Barbara Pearlman, Yulish is preparing for one of the largest exhibitions of his career at the ACE GALLERY, Beverly Hills next month. I was able to pull Yulish away from his sanctuary, that being his art studio at home, and ask him a few important questions.
What was it like growing up in New York City with a famous artist as your mother ?
It was magnificent growing up in NYC. As a kid there was so much movement and chaotic energy which you constantly take in. it rewires your senses for life. I grew up really fast in that city. Having a mother as an artist was undeniably magical but it was blended in with innate difficulties too. She traveled quite a lot for shows and spent a tremendous amount of time in the studio. As an only child it was lonely at times but to keep company I used my imagination which was infinite.
What did your father do ?
My Father was in public relations and my stepfather was an engineer.
Any artist mentors growing up ?
First and foremost my mother was the first catalyst and mentor for wanting to be a painter. John Kelly who is a performance artist was one of my mothers close friends, and I was fortunate enough to grow up watching his work. He is an inspiration and he unknowingly was one of the reasons I wanted to become an artist. He embodies movement and voice in a way that struck me deeply. As a child watching him was utterly mesmerized and terrifying at the same time. I remember my mother showing me a painting of Egon Sheila when I was about 10. It was terrifying then I saw Kelly portray Egon Shella and It was as one of the most powerful pieces I can remember. It was as if the painting ripped out of the abyss and shook me. I was hooked ever since.
How old were you when you picked up your first paint brush ?
I was about 6. I had to paint something for class.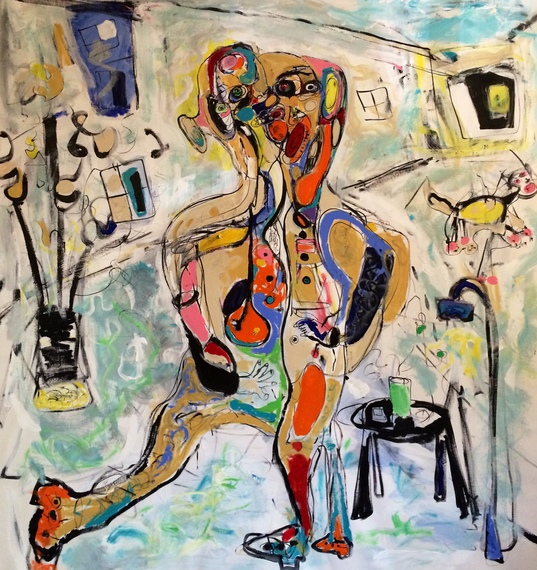 Did you grow up in the Chelsea Hotel ? Tell us about that experience.
I lived with my father in Chelsea on 23rd and 7th. My parents were divorced so i spent half my time growing up with my mother and stepfather in Riverdale. When I was growing up in Chelsea someone torched our place to build a high rise.
Before you were an artist what did you do ?
I was always painting but before I decided to make a living at it, I did so many different things. Right before i decided i was going to be an artist for a living, I was working in nightlife creating music venues in Los Angeles. It was something that I loved for the time I was doing it. Music is something that is very important to me.
What inspired you to move to LA?
I had just gotten out of college and a close friend who moved to LA had a spare room for rent. I decided to come for 3 months and never left. I felt I had experienced New York and it was an opportunity to explore a new coast.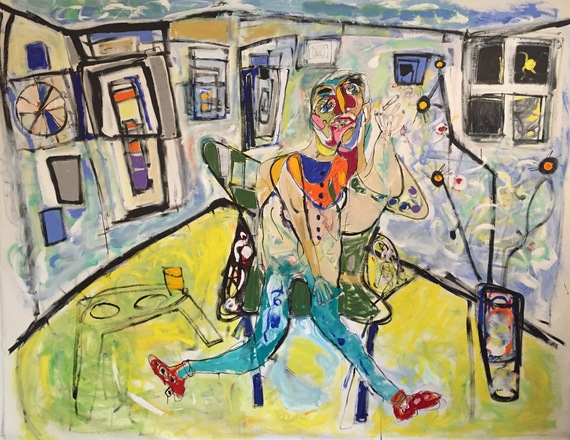 How do you get inspired to paint ?
I just tried and showed up in the studio. Something always happens if you get in there. I get overwhelmed quite easy in the outside world and painting is a place to escape to. Half the time I feel like I don't have skin and I am walking around in a sand storm. It's not that I get inspired to paint. It's that I need to.
What gets you in the mood to start a painting ?
A lot of the outside world can catapult me into the studio. an inspiring conversation, a leaf of a tree, color of the ground. A familiar face. A great piece of music just as I get ready to paint can send me in a mad rush to the canvas.
What is your process and ritual?
I like to paint from around 9am till about 4pm. I wake up have breakfast and go the the studio and turn of my phone and lock the door. I am not as focused painting at night.
Tell us about your new series paintings ?
The new show is called Immovable Thoughts. It is an interior dialogue of the past year of my life and the people who have had huge impacts around me. I feel like the paintings are all related to one another.
How has the art world changed ?
Anything is possible right now. The LA art scene has utterly exploded. It is such an exciting time at this moment. People are hungry for good work and LA is a big player in the art world.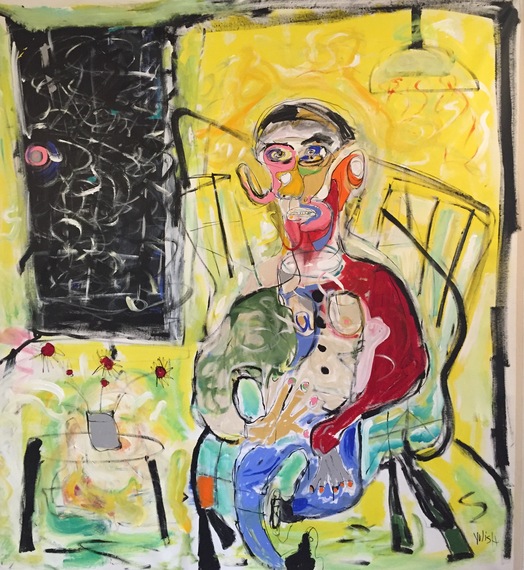 Do you have a favorite painting ?
The paining was called closer. It was two figures almost inhaling each other.
Who are your clients/collectors ?
The Annenbergs, Eugenio Lopez, and many others.
What can we expect at the Ace gallery opening ?
it going to be quite a night. I hope that when people go inside the main room surrounded by all the paintings on all four sides of you, you will leave feeling roughed up and overwhelmed for the better.
Follow me on instagram @nescreative
Popular in the Community