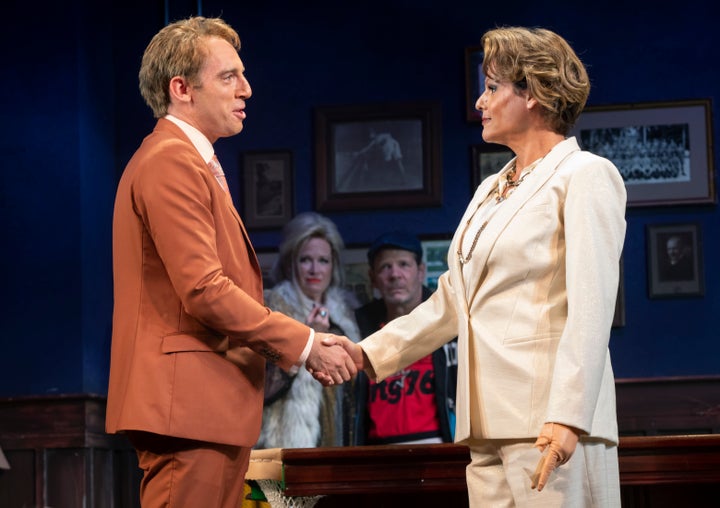 Alexandra Billings never set out to conquer Broadway but has come to see her role in the new play "The Nap" as nothing short of a miracle.
The "Transparent" actress said she was drawn to the comedy, now playing at the Samuel J. Friedman Theatre in New York, for its unique depiction of a transgender character. "The Nap," written by Richard Bean, is a high-stakes crime caper set in the world of snooker, a British pub sport that's similar to pool. Billings stars as Waxy Bush, a transgender gangster who pressures a rising snooker star, Dylan Spokes (played by Ben Schnetzer), to "tank a frame" of a championship match so that she can earn back the money she's invested in sponsoring his career.
As an openly trans performer, Billings is aware that her presence in the play, which opened Sept. 27 to favorable reviews, is an anomaly. But it's a personal milestone, too. The 56-year-old actress learned she was HIV-positive in the 1990s ― speaking to HuffPost, she couldn't recall the exact date ― and remembers her doctor telling her at the time, "I think you should spend all of your money and max out all of your credit cards, because you're not going to be around to pay the bill."
Watch a trailer for "The Nap" below. 
"At the time, he was right," she said. "Going to Broadway, making movies, being in a TV show… none of that entered my brain. [But] throughout my life, there have been tiny miracles sent by the angels that have always been with me, that have surrounded me. This show is not an expectation fulfilled, it's not a dream that came true. It's truly another miracle."
Billings was recommended for the part of Waxy Bush by her "Transparent" co-star Judith Light. Light, whose Broadway credits include "Other Desert Cities" and "The Assembled Parties," suggested Billings to Bean and director Daniel Sullivan when a Broadway transfer for "The Nap" was announced on the heels of a successful London run.
Once Billings was cast, she looked to Marlon Brando in 1972's "The Godfather," Ben Kingsley in 2000's "Sexy Beast" and Meryl Streep in 2006's "The Devil Wears Prada" to create Waxy, whom she describes as a "weird, twisted angel" of a role. The character, she said, appealed to her because it was a transgender woman whose journey within the arc of the show wasn't focused on coming out or transitioning. (Indicative of her mobster cred, Waxy has also lost an arm in a car accident, making the role a bit of a physical challenge, too.)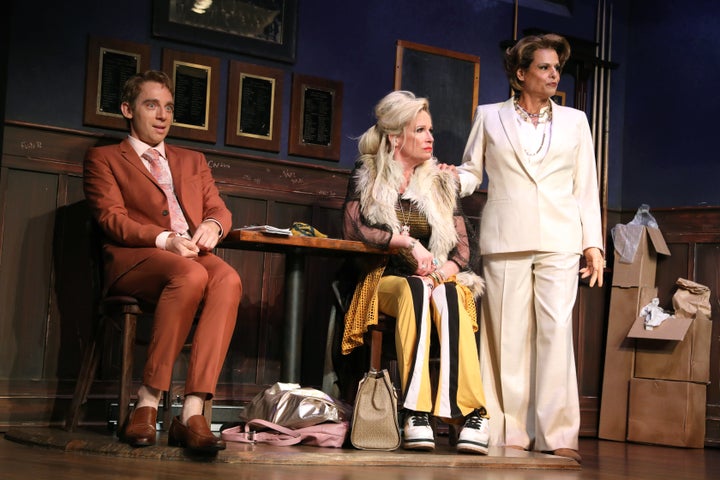 Interestingly, "The Nap" arrives at a watershed time for trans and non-binary performers on Broadway. In July, "RuPaul's Drag Race" veteran Peppermint became the first openly transgender woman to create a principal role in a Broadway musical in "Head Over Heels." This season also saw the premiere of Young Jean Lee's satirical comedy "Straight White Men," which starred Kate Bornstein, a non-binary femme-identified transgender performer, and Ty Defoe, who identifies as two-spirit.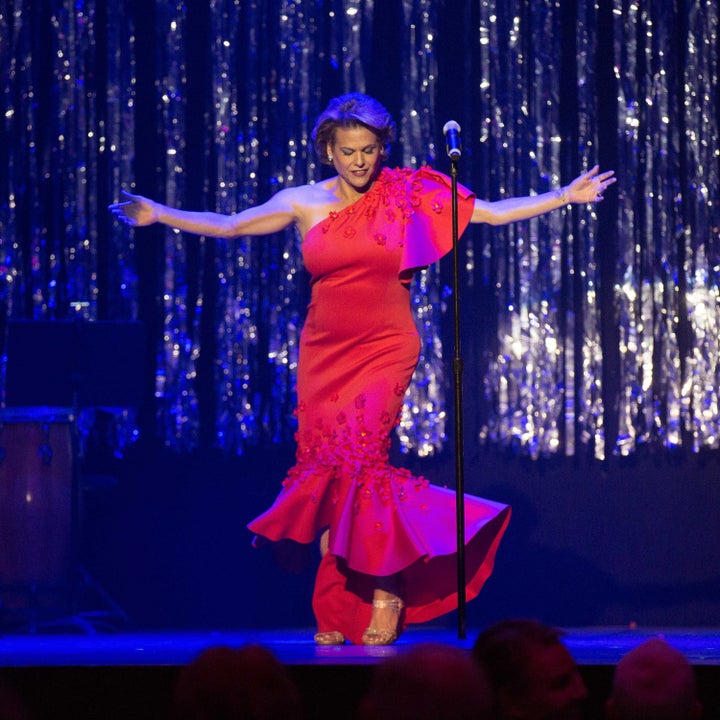 Billings believes the Trump administration's aversion to LGBTQ rights has sparked more dialogue and activism in the arts world. Hence, she sees the sudden (and overdue) influx of trans performers on Broadway as a reflection of America's political climate.
"I have to say, I don't think this would be happening if we didn't have [Donald Trump] in office. I really don't," she said. "He's caused the conversation. He's caused a revolution. Remember, our artistic life reflects our actual life."
With that in mind, Billings says she feels a "responsibility" to be "as visible and as verbal" as she possibly can. Once "The Nap" wraps in November, she's slated to begin work on a new cabaret show that's aiming for a 2019 premiere and would love to land a musical role on Broadway, too.
Regardless of what artistic realm she tackles next, Billings said she feels immense gratitude.
"I feel truly blessed that I am transgender, living in this body, in this day and age and in this country," she said. "I feel very thankful."
REAL LIFE. REAL NEWS. REAL VOICES.
Help us tell more of the stories that matter from voices that too often remain unheard.
BEFORE YOU GO