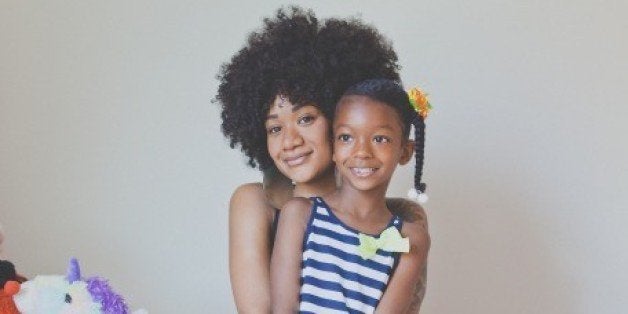 To her 200,000+ international social media followers, Alexandra Elle (as Alexandra Smith is more commonly known) is the face of pure bliss.
On any given day, her Instagram feed showcases her 6-year-old daughter Charleigh's (pronounced Charlie) toothy smile, while a tweet proclaims a truism from her bestselling book, "Words From a Wanderer." ("If you are unsure of who you are, you will easily get lost in others.") Collectively her digital output encourages self-love and resilience and regularly doles out positive affirmations.
"I try my best to only spread words and images that will incite happiness, positivity, love, and peace among people," Alexandra explains. "It's part of my personality."
Despite the cheer of her online persona, the self-published poet and author endured dark formative years which bear little resemblance to her current circumstances. An early high school graduate who enrolled in community college when she was 17, Alexandra grew up an old soul. But Alexandra soon found herself in the most adult of circumstances—unexpectedly pregnant.

"I was kind of [a] statistic: young, African-American woman pregnant by age 18, you know what I mean?" Alexandra says now. "I was depressed and lost a lot of weight even during my pregnancy. During what she calls "probably my worst point," Alexandra's mother suggested she get a late-term abortion. ("I'm pro-choice, but I said no because that is really, really not a good thing," she says.)
While her intuition and family tugged her in the opposite direction, the father of her child ultimately convinced her to go through with the pregnancy. Even with the psychological toll her pregnancy took on her, Alexandra was able to transition smoothly into her new role as a mother—Charleigh's peaceful demeanor definitely helped, she says. Integrating her new lifestyle with her friends', however, wasn't as easy.
"I was a parent and a lot of the people I was friends with were single with no kids, so our priorities were different," she recalls. "My personality was [also] changing; I was becoming more self-aware, more spiritual, more at peace with myself, and I think I was using the crowd I was with as a crutch. I had to steer into my path and purpose to prepare to be the best mother and woman I could be."
What's your partner's relationship like with Charleigh?
[Ryan] just moved 3,000 miles from Los Angeles, California, to be with us. I'm really excited to see how they grow their relationship together. Even when he wasn't here, he was FaceTiming her, sending her books, and showing her that she was just as important as mommy was. So when they met for the first time last year, she instantly just clung to him. The love they have for one another is special to me.
Do you see more children in your future?
Oh, yes. If I could have it my way, three more. But I'll settle for two if I can only get two. Ryan wants children too and we are excited to start a family with each other. It's going to be awesome to have a partner I can go through pregnancy [with]—doctors' appointments together, taking Charleigh along, having them watch my belly grow... It's just going to be amazing.
All photos courtesy of Erika Salazar.
Calling all HuffPost superfans!
Sign up for membership to become a founding member and help shape HuffPost's next chapter
BEFORE YOU GO
PHOTO GALLERY
Mater Mea Moms