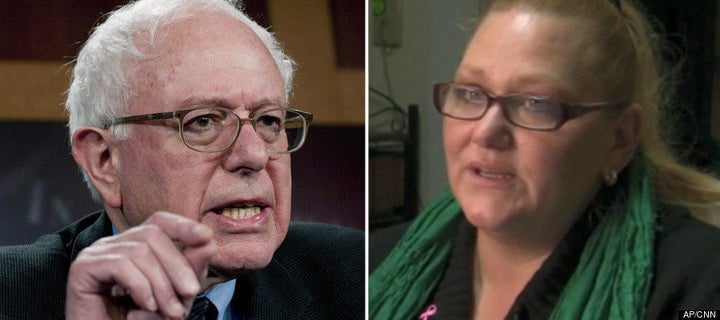 TO ALL UNEMPLOYED AMERICANS AND THEIR FRIENDS.

As many of you might know we are at and have been at a crisis point with the unemployment extensions. Yet again Congress and now the President is talking about extending benefits to everyone but the people who have been hardest hit, the longest of the unemployed a group many call the 99ers.
That was the start of a letter sent by Alexandra Jarrin to her unemployed friends and advocates for the unemployed. Ms. Jarrin is a Vermont resident who is also a 99er -- meaning she is jobless and has exhausted her maximum unemployment benefits, which in many states, is 99 weeks.
Ms. Jarrin's appeal was in response to congressional discussions to extend unemployment benefits for those who have not exhausted all unemployment benefits. Without an extension of the current unemployment benefits structure, 2 million unemployed will exhaust all their benefits by year's end. Yet there are estimates of 4-5 million 99ers who have been without any financial support for up to eight months and they are asking for a financial lifeline. The 99ers are NOT being considered in the unemployment legislation currently before Congress.
Ms. Jarrin decided that she would start a "Letters to Bernie" campaign and have the unemployed send her their unemployment stories, which she would hand deliver to Senator Bernie Sanders' office. Sanders (I-VT) is a supporter of extending unemployment benefits to ALL unemployed, according to Ms. Jarrin who spoke to a staffer of Sen. Sanders.
Her appeal received a great deal of response from the unemployed and her efforts were featured on a CNN segment highlighted on The Huffington Post. The CNN segment contained an inaccuracy that Ms. Jarrin wanted to correct; she has applied for more than 3000 jobs, not the 1,000 indicated in the *CNN piece.
Ms. Jarrin shared, with permission of the writers, some of the letters she received from the long-term unemployed. What follows are a couple of those letters to Sen. Sanders from the long-term unemployed.
I saw the piece on Alexandra Jarrin and cried. I am in exactly the same position. I lost my last job in June of 2008. My EDD benefits (the 99 weeks of them) ran out in June of this year. I was unable to pay my rent in October, November, or December and am being evicted for non-payment of rent. I'm 60 years old. I have no family and no "friend" has offered to take me in. I face homelessness, which scares me more than anything else. I've been in a state of panic for weeks.

I've gone to Glendale (Calilfornia)'s Homeless Prevention Program office for help. I approached them in September, knowing that I wouldn't be able to pay October's rent (they're supposed to have emergency rent assistance). They STILL haven't given me an answer as to whether or not they'll help me. (I've been in constant touch with them) My eviction court date is tomorrow. I had to do an emergency bankruptcy filing last week, to stall the eviction case. I didn't want to, but I could find no other way to delay the court date. I have no clue how I'll get a car loan for another car when my 11-year-old car gives up, nor do I know how I'll find another place to live with a bankruptcy on my record, but it was the only thing I could do (that I knew of). I feel sick over this whole situation, but our government seems to want to create a poverty class and we 99ers are the first ones being thrown under the bus to get that class started.

People voted for Obama because he kept insisting he knew what needed to be done. Then why hasn't he done it? Why is he giving tax breaks to the rich, and unemployment extensions to other people as though we 99ers don't exist? I've been emailing him and other politicians, but for nothing, apparently.

Please help.

Nance Parry, Glendale, CA
Another 99er tells her story:
My name is Kim, I am a diabetic, I am 50 years old and a mother of 5. I have worked since I was 15 yrs old, for some of the biggest corporations and some of the smallest companies, my salary as a personal assistant and graphic artist was very middle income 48,000 to 50,000 a year. I have been a loyal and hard working, taxpaying citizen for 35 years. Not one time in my life have I drawn one penny of unemployment before February of 2009.

The past 7 years my husband has been self employed running a web design and computer sales and support company and I held down a full time job so that we had benefits and a steady income. In the last two years since I have been laid off we have lost our health benefits, exhausted all our savings, we have no retirement left, we are deeply in debt and have sold almost everything we can possibly sell. Due to the economy my husband's business has dwindled down to practically nothing and now I have run out of unemployment benefits. Last week I was notified by the Washington state employment department that they had incorrectly calculated the amount of benefits available from the federal government and that upon re-doing the figures that I no longer have any benefits left. Three weeks before Christmas. Just like that. Whoops, we calculated that wrong. No more checks ...not even the 3 or 4 you thought you had left.

I gave up looking for a job in just my field a year ago, now I look for any job that I can do... I resent those that say we are sitting at home doing nothing but collecting a check .... like $371 a week is the cost of my pride, that I wouldn't give anything I possess to earn a reliable paycheck ..not to mention have health benefits.

I was praying for this bill to pass, so I could actually buy groceries instead of stand in line at the food bank. Imagine how surprised I was when I read on the unemployment site that even if this bill had been pushed through it wouldn't have helped me because I am one of 5 million people who have exhausted all the extensions and there are no other options.

I believe in President Obama ... I still stand behind what he is trying to do for us and the country, but I am beginning to believe our government is irretrievably broken and corrupt. I don't understand how our elected officials can go to Washington and support corporations, big business, banks and the rich and ignore the pains of the unemployed working middle class.

I wish for all of you in congress a Merry Christmas and Happy New Years like mine... one where the rent is only partially paid, where you doubt you will be able to afford both a tree AND food. May your stockings be filled with anxiety and sleepless nights, and may your days or weeks ahead hold fake smiles for your children while you hope, pray and pretend that everything is going to be fine.

Kim Day
If you would like to tell your unemployment story or if you support extending a lifeline to those who have exhausted all unemployment benefits, please send your letters to
DearBernieSanders@gmail.com and Ms. Jarrin will deliver them personally to Sen. Sanders' Vermont staff.
As Congress debates the extent of tax cut relief for the 2.5 million American households making more $250,000, millions of unemployed without any income are asking for some relief as well.
REAL LIFE. REAL NEWS. REAL VOICES.
Help us tell more of the stories that matter from voices that too often remain unheard.