Warning: This post contains explicit imagery and may not be suitable for work environments. If you scroll down, you will see paintings of naked women and men performing cunnilingus.
"The square root of 69 is eight-something, right?" Drake calculates in his verse on Rihanna's 2010 song "What's My Name." He croons knowingly: "'Cause I've been tryna work it out."
If you, too, have a thing for Jewish Canadian rappers, this might have been the moment you first started fantasizing about Drake's skills at going down.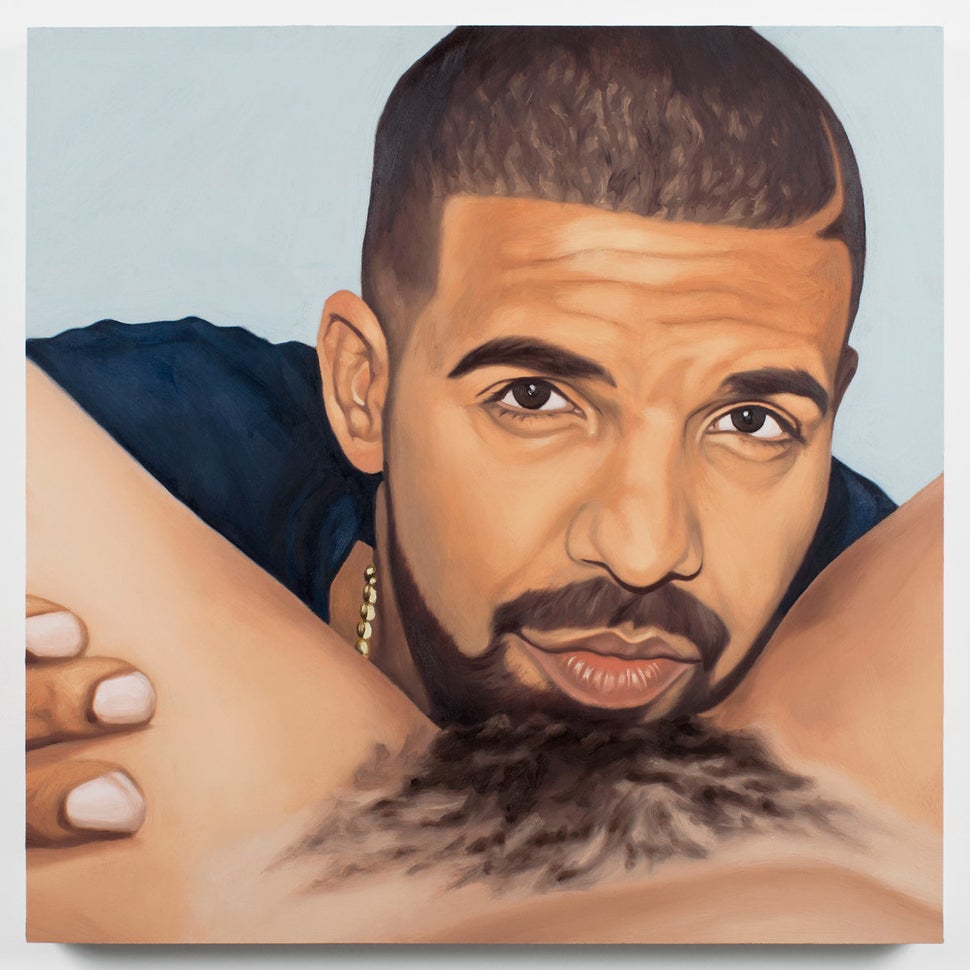 In her series "A Dream Come True," Russian-born, Brooklyn-based artist Alexandra Rubinstein brings such star-studded fantasies to life through vivid and extremely graphic oil paintings. Each features a celebrity heartthrob's face sandwiched between a lucky lady's legs during a break from cunnilingus in which he strikes a pose for the artist.
The series, Rubinstein told The Huffington Post, is an attempt to visualize, in quite straightforward terms, female pleasure, which she feels is too often omitted from today's mainstream representations of sex.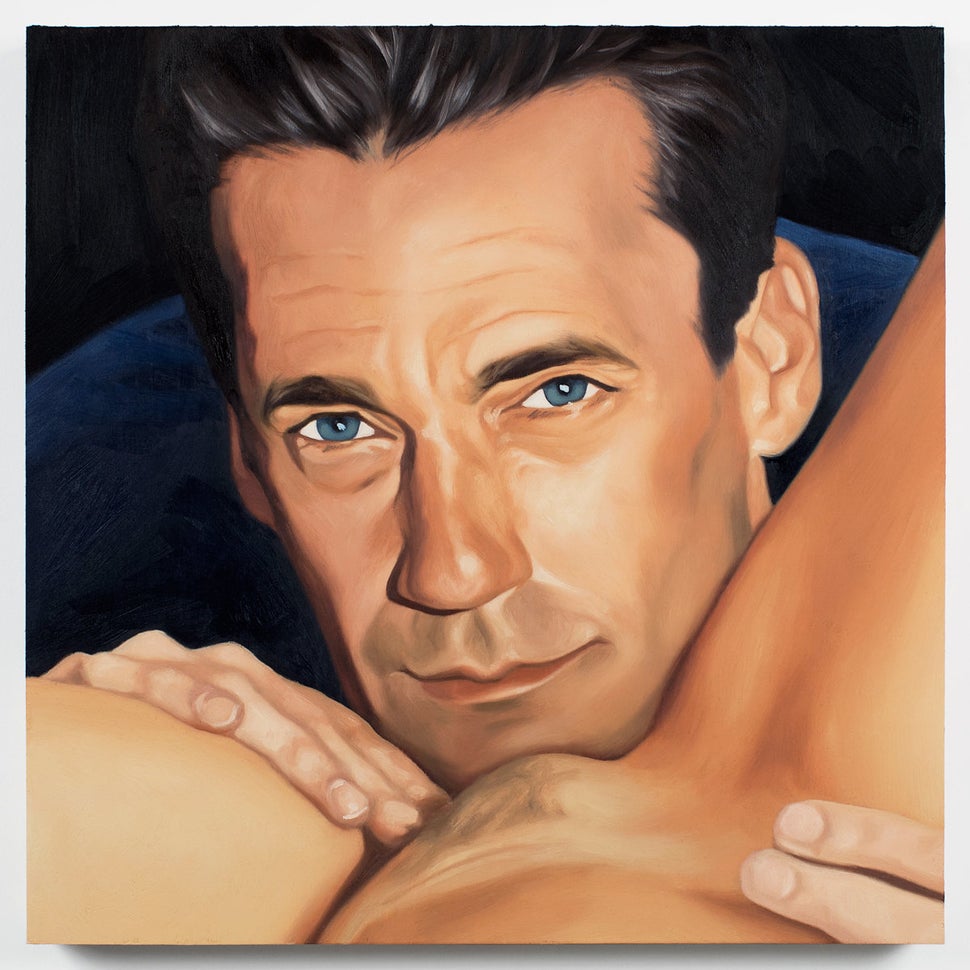 One of Rubinstein's inspirations for the works was old-school '70s porn ― specifically its willingness to depict women's physical desires and needs on screen. "Despite the heteronormative narrowness, I find it surprisingly progressive," she said.
"Its emphasis on female pleasure and foreplay is lacking in today's porn, as well as in mainstream media. The male perspective dominates the representation of sexuality, and I wanted to explore sex and fantasy from the women's point of view –– quite literally."
In this sense, Rubinstein certainly delivers, serving up perspectives that capture just what it might look like if Justin Bieber popped up for some moody eye contact before digging in.
"The female point-of-view draws attention to and eroticizes men, making them the objects of desire, not the women," Rubinstein said. Over time, the artist opted to base her paintings off celebrity head shots for a cheeky and surreal vibe. Also, head shots.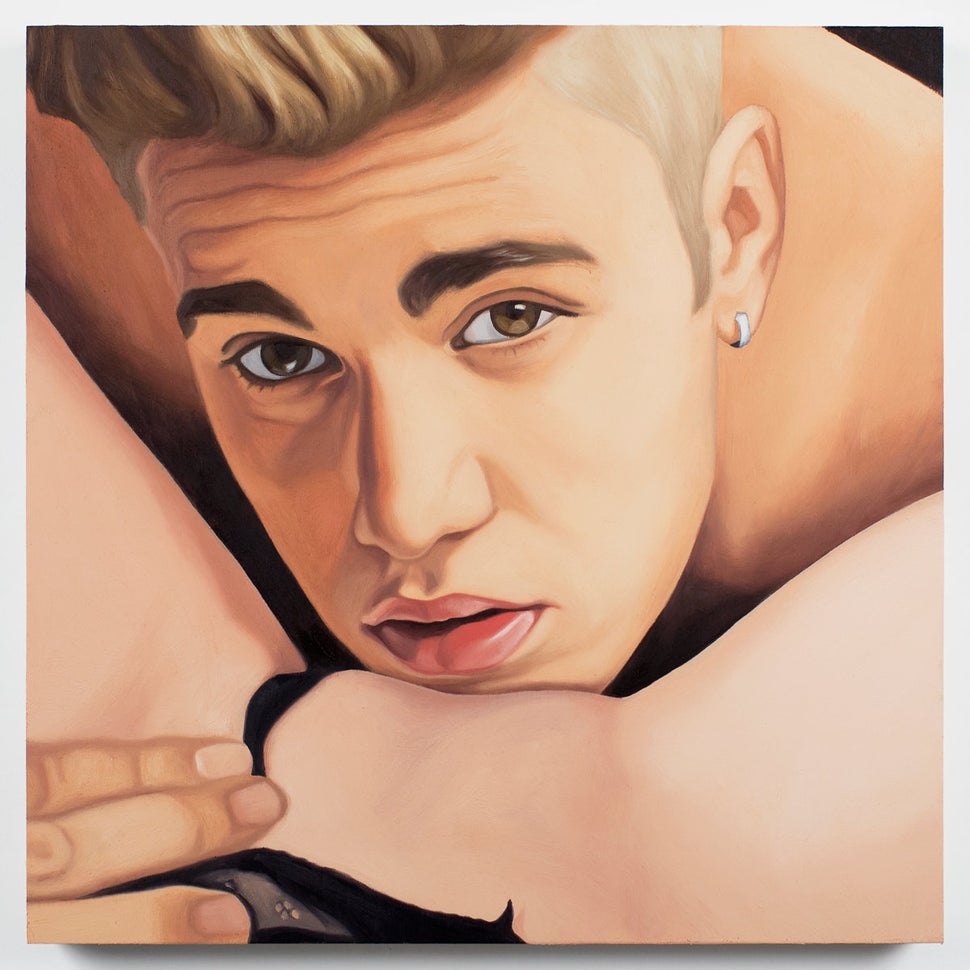 The images certainly aren't for everyone. Sure, some viewers will find the content a bit hardcore or perhaps creepy, but even the less prudish might be disturbed by the paintings' disembodied depictions of women's parts. Even though the painted women are receiving pleasure as only Jon Hamm can deliver ― or Leo, or James Franco ― they're still pictured only as floating vaginas.
However, Rubinstein insists her mission is not to objectify either sexual player, but to visualize and normalize an erotic act that's often kept hidden beneath the sheets.
"I don't think this series, or my other work, are so much about objectifying men, as they are about reframing the way we see female desire and sexuality," she said. "Sexuality is just another extension of the behavior we expect of women. I think it's important to recognize that it's not innately timid, selfless or non-existent."
Calling all HuffPost superfans!
Sign up for membership to become a founding member and help shape HuffPost's next chapter
BEFORE YOU GO
PHOTO GALLERY
Drake Coloring Book