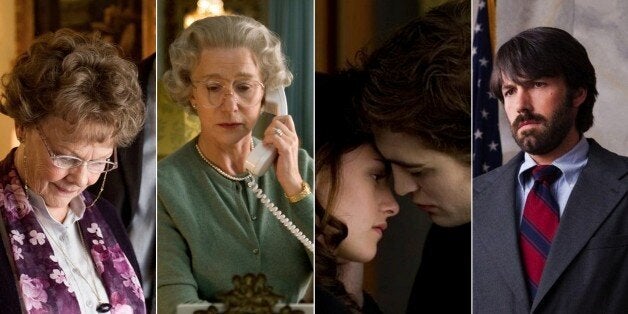 Composer Alexandre Desplat may not have the same name recognition to mainstream audiences as Hans Zimmer, but his body of work speaks for itself. The French born Desplat, a five-time Oscar nominee, has contributed scores to dozens of movies over the last decade, including "Harry Potter and the Deathly Hallows," "The Twilight Saga: New Moon," "The King's Speech," "The Queen," "Zero Dark Thirty," "Moonrise Kingdom," "Fantastic Mr. Fox," "Argo," "The Curious Case of Benjamin Button," "The Tree of Life," "Julie & Julia" and many more.
His latest composition is "Philomena," Stephen Frears' true-life drama about an elderly woman (Dame Judi Dench) who, along with a disgraced journalist (film co-writer Steve Coogan), searches for the son who was taken from her and put up for adoption by a group of Catholic nuns in 1952. Desplat's score, a mix of haunting waltzes and carnival melodies, is as understated as Frears' film, and never forces emotions onto the audience. "We tried to keep it restrained and elegant," Desplat explained.
With "Philomena" out in limited release now, HuffPost Entertainment spoke to Desplat about his contribution to Frears' film, as well as his other famous scores.
Desplat's first Oscar nomination came for "The Queen," which was also the first film he made with Stephen Frears.
Desplat: To be nominated is always unexpected. Nominations come or they don't come, you just try to write the best music you can. If it's not recognized, that doesn't mean you're a bad composer. Of course, though, the first nomination was huge for me. Being nominated for an Oscar is a big deal. Suddenly, you're in the gang. You belong to the family. More important, people see those films, so they hear your music. Some movies, you might think you did a great job, but the movie isn't seen. That's where people can hear your work.
"The Twilight Saga: New Moon" (2009)
Desplat scored his second Oscar nomination for 2008's "The Curious Case of Benjamin Button," but it was "Twilight" that brought his work to an even bigger audience. The second film in the blockbuster franchise earned $709 million worldwide.
Desplat: I had worked with director Chris Weitz before, and he's a great friend. The nature of the previous "Twilight" score was so different from what Chris wanted. There was no danger there: I could create something completely different, but it was not attached to any theme or orchestral ensemble. I wrote "New Moon" very fast -- in maybe just a few weeks.
"The King's Speech" (2010)
The following year brought Desplat his fourth Oscar nomination, this time for "The King's Speech." It also provided him with his biggest film ever: "Harry Potter & The Deathly Hallows Part 1."
Desplat: Each movie has its own DNA that you have to understand and analyze. There was nothing for Geoffrey Rush in "The King's Speech"; he didn't have a theme. It was all about the king and his situation. The way the music evolves throughout the film is similar to the way the character evolves. When there's a lead character, I try to follow the trajectory of their psychological moves. I try to have something that goes from the beginning of the film to the end of the film. The music can evolve with him. Sometimes, it's the other way around. Sometimes, the music has to show right away the hidden emotions of the character. In "The King's Speech," the music starts getting a shape as the character starts getting a shape himself.
"Harry Potter and The Deathly Hallows Parts 1 & 2 (2010, 2011)
Combined, the final "Harry Potter" films earned over $2.2 billion worldwide.
Desplat: The first challenge was to not be overwhelmed by John Williams' presence. I have worshipped him since I was 15. He's one of the most influential composers in my life, so the first thing for me to do upon starting "Harry Potter" was to get rid of that huge shadow over me. I was lucky enough that, in the first "Deathly Hallows," director David Yates didn't want to use "Hedwig's Theme," the famous John Williams cue, because the kids were grown ups now and they were not in Hogwarts during the first episode. Funny enough, though, before I started working on the film, I didn't know that. I had played around with John Williams' theme, making different versions of it. I didn't use any of them, though, because the theme only comes two or three times in very little portions. I was enjoying the arrangements I was doing, but there was no use for them. We couldn't use it. We did, however, use the theme in the last film.
"Harry Potter" was the first time I was working on a franchise that was an object. It's a movie that has been seen everywhere in the world. That was a new challenge for me: to write music that can be understood from Alaska to Australia.
"Moonrise Kingdom" (2012)
The first time Desplat worked with Anderson, on 2009's "Fantastic Mr. Fox," he received an Oscar nomination. He returned to collaborate with the director for 2012's "Moonrise Kingdom."
Desplat: There's an aesthetic to Wes Anderson movies that one can describe, so I just tried to stay within that. I worked very closely with Wes. We really sat down together at the piano in my studio and we would play around with things, just experiment together. It's a lot of fun. It's a very different process from any other director who I have worked with. Wes and I really try to play within a type of orchestral combination. He's so genuine when we're working together. He's so excited and so inventive. It's a great honor to work with Wes.
(The pair worked together again for the 2014 release "The Grand Budapest Hotel," which Desplat noted had more score than either of his previous collaborations with Anderson.)
"Zero Dark Thirty" (2012)
Desplat's fifth Oscar nomination came for Ben Affleck's "Argo," one of his two 2012 CIA movies (the other being Kathryn Bigelow's "Zero Dark Thirty").
Desplat: The great thing about these movies is that they're classic in the writing, but with very modern directing. I always try to grab the deepest core of the film and the dramaturge. That is what drives me, even more than the images. By figuring that out, I was able to find two different voices. That's what I did.
This was my first film with Ben, and my first time with Kathryn. The first time was always difficult. You have to build bridges and try to reassure the directors that you are not there to have your music playing loud, where it overwhelms the film. There's always this fear from directors that the composer wants to be the director. You learn through the years to approach that from a different angle. In a few months apart, I was able to work with two directors who had actually not used a lot of scores in their previous films, and where the scores were also not really predominant. These two films, though, it was necessary that the music was present, and I guess that's why it turned out so well.
"Philomena" marks the fifth time Desplat and Frears have partnered for a film. Their relationship continues to flourish as a sixth feature, Frears' untitled Lance Armstrong biography, is in the offing as well. "He's been one of my idols since I started composing, so I cherish the moments with him," Desplat said.
Desplat: On "Philomena," as I just said, it's called "Philomena." It's about her and what she suffered through for 50 years. She's over 70 years old, a simple woman, and the music had to reflect that in the most delicate way. That's something my European sensitivity most likely takes me toward. I could have almost said that we don't need any music. The characters and the directing is so beautiful already. You can't overwhelm a story with a loud score or a melody that could be too romantic or pushy. The emotions are so strong already that you just have to push a little bit and it goes as far as you can go. If you push more, it becomes cheesy.