While discussing major points of political contention like health care and education, Noah asked the 28-year-old Latina to explain democratic socialism and what that label means to her.
"I don't knock on a person's door and is like, 'Hey! Let me tell you about socialism!' Like, that's not how I campaign," Ocasio-Cortez said. "And I also think that I don't knock on a person's door and say, 'Hey, let me tell you about being a Democrat.'"
"I don't say that. I speak to people's needs," she went on. "And, you know, if Fox News and if media want to continue using this word, they're gonna use the word. I think by me saying, 'Oh, no, I'm not this, that and the other,' it just becomes a distraction."
Ocasio-Cortez told Noah that democratic socialists want to talk about "wages and education" as well as "saving our planet."
"We're here to talk about people paying their fair share, and we're here to talk about saving the country, frankly," she said.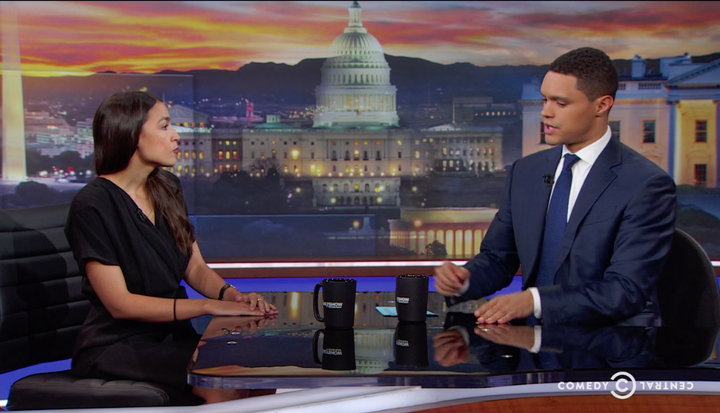 Noah then pivoted, making the argument that while many would agree with the ideas she has in mind, it's not clear how she plans to fund the causes she's aiming to overhaul.
"Those ideas, I think most people would agree on, especially if they don't know the label that they are attached to, you know?" Noah said. "But then, the pragmatic side of it comes in, as you said. How do you pay for these?"
"You know, you always see people coming in with economic arguments, and they say, look, these numbers don't really add up," he continued. "You know, in order to get health care for everybody, this is what it would cost. That's going to be troubling. Even if you reverse the Republican tax deal, that's only going to make up 5 percent of what we need to pay for Medicare for all. How do you pay for education for all ― how do you pay for all of these ideas?"
Ocasio-Cortez called that an "excellent, excellent question." She told Noah she recently sat down with a "Nobel Prize economist" to talk policy ― "I can't believe I can say that, it's really weird" ― and noted that the extremely wealthy, like Warren Buffett, could be paying a 15 percent tax rate. With that and a corporate tax rate of 28 percent, plus some closed loopholes, she said, there would be "$2 trillion in 10 years" to put toward transitioning the U.S. to a fully renewable-energy economy. "One of the wide estimates is that it's going to take $3 to $4 trillion" to do that, she said.
"A lot of what we need to do is reprioritize what we want to accomplish as a nation," Ocasio-Cortez said. "Really, what this is about is saying, health care is important enough for us to put first. Education is important enough for us to put first. And that is a decision that requires political and moral courage, from both parts of the aisle. Period."
You can watch the entire clip above.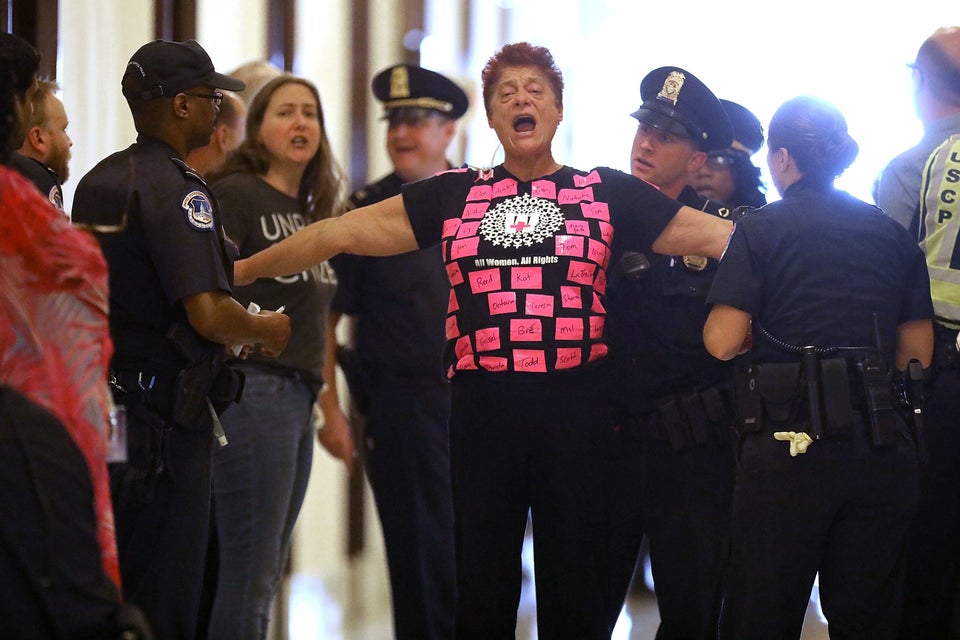 Health Care Protests At U.S. Capitol
Popular in the Community