Ocasio-Cortez apparently attempted to taunt Rep. John Yarmuth (D-Ky.) for a picture in which he posed alongside a cardboard cutout of Ocasio-Cortez. Her tweet referred to him as one of the GOP's "older male members."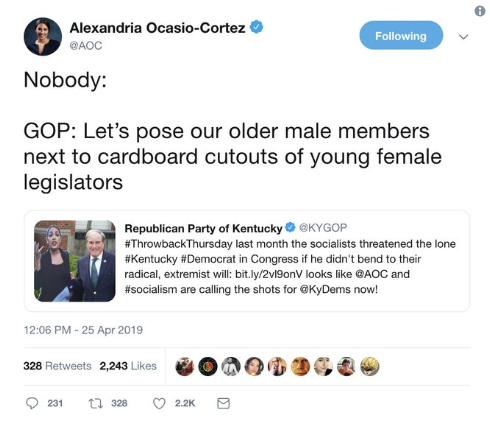 Instead, she misfired at a fellow Democrat who said he took the picture because he "wanted everyone to know" he welcomed Ocasio-Cortez in Kentucky.
Twitter users quickly spotted Ocasio-Cortez's mistake. She removed the post within minutes, and has not offered an explanation. Her office didn't immediately return HuffPost's request for comment.
The Republican Party of Kentucky shared the cutout photo earlier on its Twitter account, saying it "looks like" Ocasio-Cortez is "calling the shots" for the state's Democrats. That apparently is what sparked Ocasio-Cortez' tweet.
Yarmuth, chair of the House Budget Committee who has served in Congress since 2007, later explained the cutout photo on Twitter, saying he wanted everyone to know he welcomes Ocasio-Cortez in Kentucky "regardless of what old white male Republicans think." 
Some conservatives seized on Ocasio-Cortez's error.
Other tweeters, however, pointed out that President Donald Trump tweets multiple mistruths on most days, almost all of them ignored.
Calling all HuffPost superfans!
Sign up for membership to become a founding member and help shape HuffPost's next chapter
BEFORE YOU GO