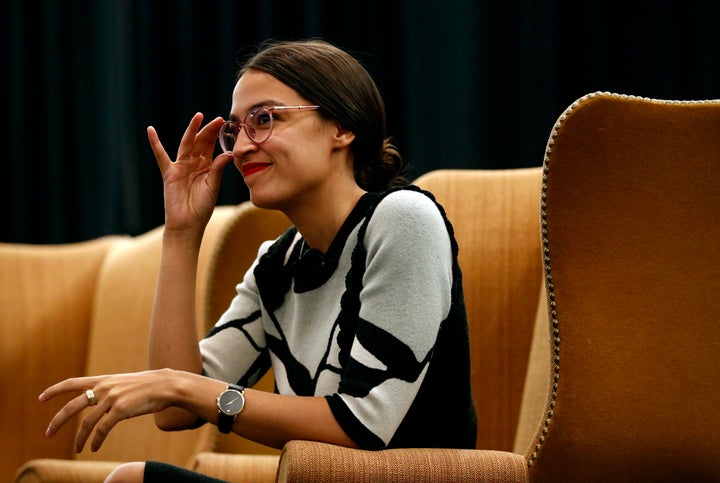 The Fox panelists snickered all the way through their chat on the topic, described in a chyron as: "Self-proclaimed socialist says she can't afford DC rent."
Contributor Judy Miller laughed after host Bill Hemmer recalled that Ocasio-Cortez ― whose name no one pronounced correctly on the show ― was working in the service industry before she launched into her campaign to represent New York's 14th District.
"It is bizarre to see 1%-salaried anchors laugh at the US housing crisis," Ocasio-Cortez, 29, tweeted in response.
"There is no reason to be ashamed or embarrassed," she said in another tweet.
She added: "As much as Fox News likes to mock the working class, the real scandal is that at the wealthiest point in our history, we are at one of our most unequal."
"I can't really take a salary," Ocasio-Cortez said of the period between her election and swearing in. "I have three months without a salary before I'm a member of Congress. So, how do I get an apartment? Those things are very real."
She explained that she saved a bit of money before leaving her restaurant job.
After the story came out, Ocasio-Cortez tweeted that her problem was indicative of a larger one: "There are many little ways in which our electoral system isn't even designed (nor prepared) for working-class people to lead."
She added that her housing situation was being worked out. Ocasio-Cortez's congressional salary will be $174,000.
Ocasio-Cortez also addressed comments Friday from Fox News chief national correspondent Ed Henry and Miller that accused her of misrepresenting her financial situation.
Miller called Ocasio-Cortez's rent problem "a brilliant political line" and suggested the future congresswoman had manufactured a ruse to paint herself as "a little person... from New York."
Henry said the congresswoman-elect wore outfits that "could pay a month's rent in D.C."
After Ocasio-Cortez unexpectedly defeated 10-term incumbent Rep. Joe Crowley (D-N.Y.) in the New York primary, she became an object of media fascination, once accepting a photo shoot with Interview magazine. She did not buy the expensive designer clothes she wore for the shoot ― they were loaners from the magazine. But that has not stopped conservative pundits from attempting to label her a hypocrite.
"Never bought the clothes and always told my story," Ocasio-Cortez said. "But repeating lies until they are believed is your thing."
CORRECTION: A previous version of this story misstated a quote from Judy Miller. She called Ocasio-Cortez's housing situation as described in The New York Times a "brilliant political line," not a "political lie."
Popular in the Community