CAMBRIDGE, Mass. ― Congratulations! You've been elected to Congress! You're now a member of one of the most powerful institutions in the world, and to usher you into your new job, you get to attend an orientation at Harvard University, one of the most prestigious universities in the world.
Rep. Mark Pocan (D-Wis.) still remembers what it felt like to attend the bipartisan gathering in 2012, hosted by the Kennedy School's Institute of Politics: "I was so excited to be a member of a branch of government for the most awesome country on the planet."
And indeed, the gathering still had that effect on many of the 58 newly elected members of the incoming freshman class, whom Harvard largely insulated from media scrutiny through severe restrictions on reporters' access. Some of them waxed lyrical about the experience, praising it as a summer-camp-like opportunity to bond with new colleagues from both parties.
"Every chance that we get to get to know each other ... is very precious to me," Rep.-elect Colin Allred (D-Texas), a co-chair of the freshman class, said at a press conference on Thursday evening.
But something different happened this year as well. Instead of just sitting quietly, some of the new progressive members protested, calling out the confab's corporate viewpoints.
Harvard's orientation was done "in collaboration with" the conservative American Enterprise Institute and the nonpartisan foreign policy-focused Center for Strategic International Studies.
AEI and CSIS were not financial sponsors; Harvard funded the entire event. The two think tanks merely helped furnish the orientation's panels with experts.
Still, there was no analogous partnership with a liberal group. The absence is especially striking since the overwhelming majority of new members of Congress are Democrats.
Progressive activists outside Congress and some new left-leaning freshmen within it were disappointed by the conference's array of speakers and establishmentarian trappings. (Here is the Harvard orientation's schedule, which was not available to the public prior to the conference.)
Ocasio-Cortez took the private gathering public on Thursday, lamenting to her 1.4 million Twitter followers that the orientation, which she called "bipartisan" in scare quotes, featured plenty of corporate CEOs, but not a single leader from organized labor.
Ocasio-Cortez also appeared to call out the orientation for being co-sponsored by the American Enterprise Institute, a think tank she dubbed a "corporate lobbyist group."
The Washington Post counted 10 CEOs or lobbyists among the orientation's panelists, including former members of Congress like Joseph Heck and Bill Delahunt whose lobbying ties were not disclosed in the orientation schedule. Amy Rosenbaum, CVS' vice president of federal affairs, and Joe Pitcock, a vice president of government affairs for Oracle, spoke on a panel about White House-congressional relations.
Rep.-elect Rashida Tlaib (D-Mich.), a fellow member of the Democratic Socialists of America, retweeted Ocasio-Cortez with her own objection to an element of the conference. Violating the conference's "off record" rules for the panel discussions, she aired her displeasure with remarks from Gary Cohn, who ran Goldman Sachs prior to joining the Trump White House. (Cohn stepped down as Trump's top economic adviser in March.)
On at least three occasions Tuesday and Wednesday, progressive protesters amassed outside Harvard's A. Alfred Taubman building, where the orientation was held. The demonstrations were coordinated by the Center for Popular Democracy, a network of progressive grassroots groups whose previous targets have included the Federal Reserve.
Pressley, who is due to represent part of Cambridge in Congress come January, led a health care rally in the near-freezing cold before a crowd of several dozen Medicare for all activists from local universities on Tuesday night. Pressley and progressive colleagues Reps.-elect Ocasio-Cortez, Andy Levin (D-Mich.), Mary Gay Scanlon (Pa.) and Lori Trahan (Mass.) made a point of timing the rally to coincide with Trump administration Transportation Secretary Elaine Chao's speech to the conference.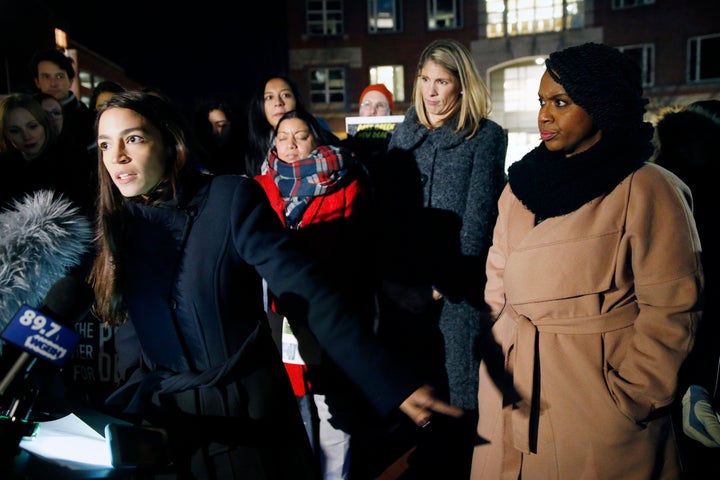 The following morning, a similar-sized crowd of Harvard students rallied to demand Congress address climate change, and that the university divest from a hedge fund that holds Puerto Rican debt. And on Wednesday afternoon, a contingent of Harvard-based immigration reform activists chanting, "Down, down with deportation / up, up with liberation" marched to greet members of Congress as they exited the Taubman building at the end of their sessions.
Ocasio-Cortez spoke at Pressley's rally and addressed protesters at both events on Wednesday. Others like Tlaib, Levin and Rep.-elect Joe Neguse (Colo.) spoke at one or more demonstration in solidarity.
But Levin, a onetime union organizer who graduated Harvard law school, also defended his alma mater at the Thursday press conference, praising the orientation as "outstanding."
"We heard from a wide, wide range of views ― people who think we need to move very aggressively to transform the power structures in this country and people who, to someone like me, seem like their main function in life is to keep the power structures just the way they are," he said.
Rep.-elect Tom Malinowski (D-N.J.) even suggested in a Wednesday interview that the balance of views he had heard at the conference leaned liberal.
"There have been different points of view presented ― probably, most of them, more in keeping with my philosophy than some of my more conservative colleagues," he said.
There were indeed many Democrats and liberal policy thinkers who spoke at the event, including contributions from several former Obama administration officials and a lecture from Harvard economist Raj Chetty on "empowering families to rise out of poverty."
Although there was no discussion exclusively devoted to climate change, a panel on "managing catastrophes and disaster relief," focused on the issue heavily, according to several people in attendance.
Despite a panel featuring three corporate CEOs ― the heads of GM, Johnson and Johnson and Boeing ― as Ocasio-Cortez noted, there was no analogous panel with labor leaders or other community activists.
And the orientation's treatment of economic and foreign policy, though bipartisan, was mostly limited in scope to the narrow, Washington spectrum of acceptable discourse: from center-right to center-left with populist ideas and figures from either the left or the right largely left out.
For example, a panel on navigating the congressional budgeting and appropriations process was uniformly composed of budget hawks, including former Congressional Budget Office director Doug Elmendorf; AEI fellow Matt Weidinger; and Maya MacGuineas, who, as president of the Committee for a Responsible Federal Budget, has championed Social Security and Medicare cuts.
Harvard Institute of Politics Director Mark Gearan would not explicitly say whether, going forward, Harvard might at least consider partnering with a Democratic-leaning think tank to balance out the influence of AEI.
He affirmed, however, that the university was always soliciting input for how to improve its program.
"If there's other ways to make it better for the next class, we're very interested in those viewpoints," Gearan said. "There's no agenda here but to serve the members of Congress."
Before You Go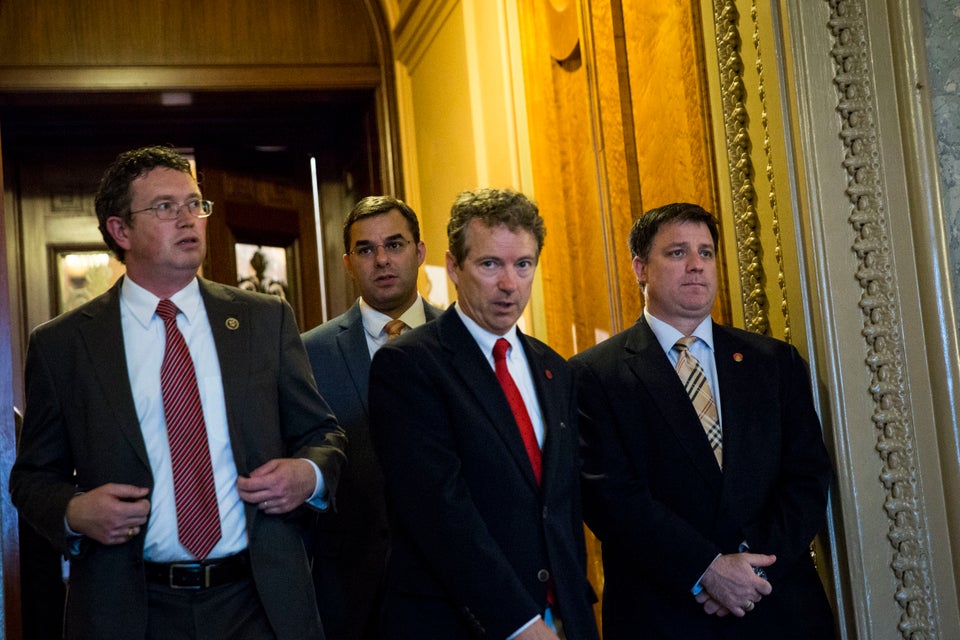 Scenes From Capitol Hill
Popular in the Community