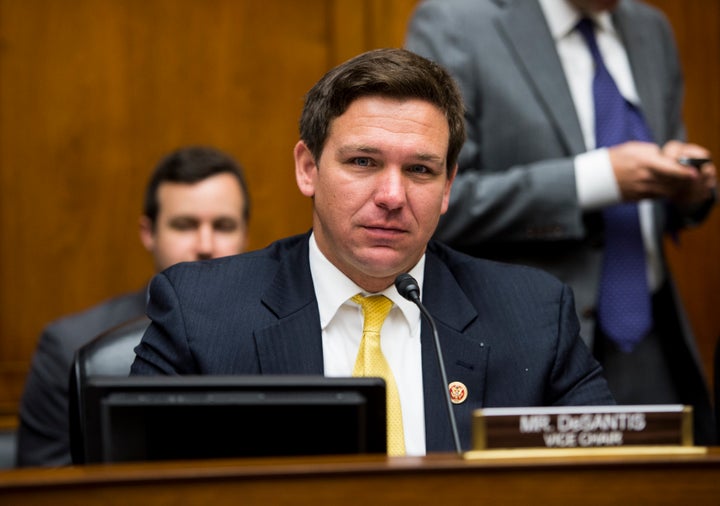 WASHINGTON ― Rep. Ron DeSantis (R-Fla.) defended calling New York Democratic congressional nominee Alexandria Ocasio-Cortez "a girl … or whatever she is" by saying that she once referred to herself as a girl on a late-night talk show.
In a Wednesday interview on Fox News, DeSantis, who is running for governor, said it is "political correctness run amok" that he is being criticized for reducing the 28-year-old congressional candidate and rising Democratic star to a child.
"I would note, she referred to herself as 'a girl from the Bronx' on Stephen Colbert's show," said DeSantis, referring to CBS' "The Late Show with Stephen Colbert."
HuffPost first reported on DeSantis' remarks about Ocasio-Cortez, which he made Saturday at a Florida campaign event with supporters.
The Republican congressman managed to do a little more gaslighting in his Wednesday interview. Asked about Ocasio-Cortez's response to his "whatever she is" comment ― she tweeted that she is "a Puerto Rican woman" ― DeSantis accused her of playing identity politics and pivoted to attacking her for being a democratic socialist.
"I don't care whether she's Puerto Rican, whether she's Anglo-Saxon. I don't care whether she's an Eskimo," he said. "Socialism doesn't work."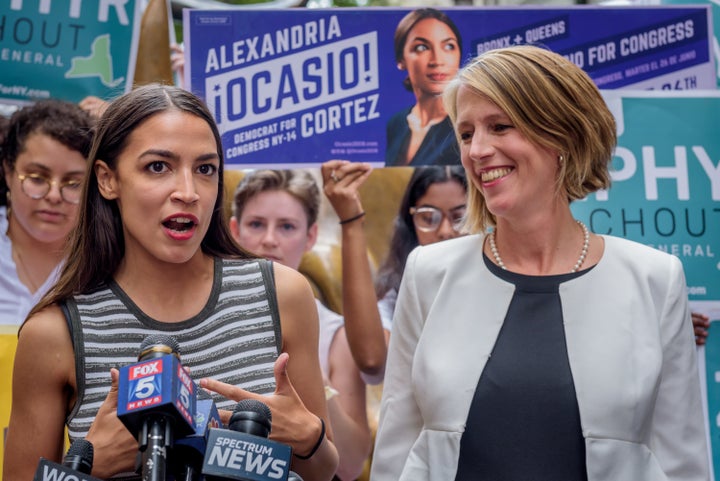 DeSantis also went after Ocasio-Cortez for condemning the Israeli government's treatment of Palestinians. In a recent interview, she referred to Israel's "occupation" of Palestine causing a humanitarian crisis but clarified moments later that she meant that Israeli settlements are increasing in areas where Palestinians are concentrated.
DeSantis mocked her for suggesting that a Palestinian state exists and said it shows she has "no knowledge whatsoever" on the issue.
"If you're slamming one of our strongest allies and you're doing it based on really no knowledge whatsoever, I think the socialism and the ignorance is a toxic combination," he said.
Ocasio-Cortez is correct that the Israeli government is enforcing severe restrictions on Palestinians' human rights. Israel has occupied the West Bank territory since 1967, and most countries consider the continued expansion of Jewish settlements in the territory as illegal. When the U.N. Security Council voted in 2016 to demand that Israel cease all settlement activities in the West Bank, the vote was 14-0.
It's not clear why, exactly, DeSantis keeps knocking a New York Democratic congressional candidate in his Florida gubernatorial race. It's also not clear why he thinks there's nothing offensive about referring to Ocasio-Cortez as a girl.
Asked for comment on both of those points, DeSantis campaign spokesman David Vasquez simply repeated talking points that DeSantis had made.
"For the socialist left, political correctness and identity politics are more important than the freedoms that built our country," said Vasquez. "Ocasio-Cortez's views are nothing more than socialism wrapped in ignorance."
An Ocasio-Cortez campaign spokesman did not respond to a request for comment.
REAL LIFE. REAL NEWS. REAL VOICES.
Help us tell more of the stories that matter from voices that too often remain unheard.