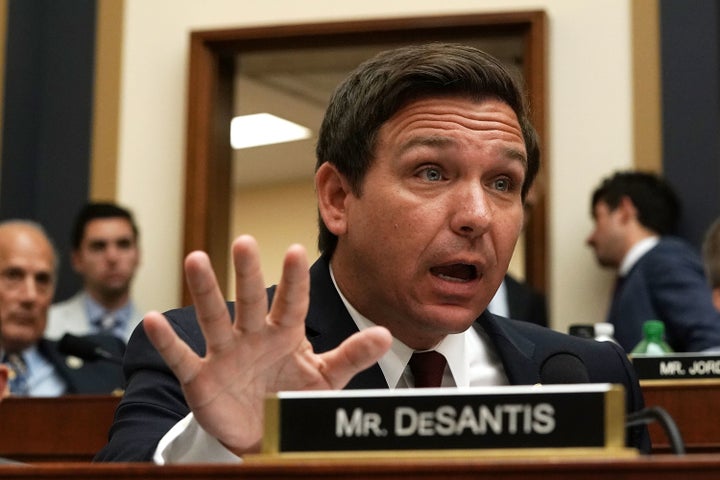 WASHINGTON ― Rep. Ron DeSantis (R-Fla.) on Saturday referred to Alexandria Ocasio-Cortez, a New York Democratic congressional nominee who is seen as a rising star in her party, as "this girl Ocasio-Cortez or whatever she is."
"You look at this girl Ocasio-Cortez or whatever she is, I mean, she's in a totally different universe," he said to laughs. "It's basically socialism wrapped in ignorance."
HuffPost obtained a video of DeSantis' remarks. You can watch them here:
The 39-year-old DeSantis goes on to insult Ocasio-Cortez, who is 28 and identifies as a democratic socialist, for criticizing the Israeli government's treatment of Palestinians. In a recent interview with PBS News, she referred to Israel's "occupation" of Palestine causing a humanitarian crisis but clarified moments later that she meant that Israeli settlements are increasing in areas where Palestinians are concentrated.
"There's never been a Palestinian state. You're just repeating these canned, left-wing talking points, and you're somehow the savior of the Democratic Party? Good Lord," DeSantis said of that interview. "She has no clue what she's talking about."
Israel has occupied the West Bank territory since 1967 and, to Ocasio-Cortez's point, most countries consider the continued expansion of Jewish settlements in the territory as illegal. When the United Nations Security Council voted in 2016 to demand that Israel immediately cease all settlement activities in the West Bank, the vote was 14-0. The United States abstained.
David Vasquez, a spokesman for DeSantis' campaign, said that the congressman's comments were "expanding on the importance of education" and that teaching students more about the Constitution might "prevent more socialists like Ocasio-Cortez calling for 'free' everything." Despite being asked twice, Vasquez did not say why DeSantis called Ocasio-Cortez "this girl."
Ocasio-Cortez, who rocketed into the national spotlight when she unseated longtime Rep. Joe Crowley in a stunning upset in New York's Democratic primary last month, tweeted in response to HuffPost's story that DeSantis seemed "confused" about what she is, and offered her own characterization.
"Rep DeSantis, it seems you're confused as to 'whatever I am.' I am a Puerto Rican woman," Ocasio-Cortez said. "It's strange you don't know what that is, given that ~75,000 Puerto Ricans have relocated to Florida in the 10 mos since [Hurricane] María. But I'm sure these new FL voters appreciate your comments!"
This story has been updated with Ocasio-Cortez's tweet.
Popular in the Community