Rep. Alexandria Ocasio-Cortez (D-N.Y.) revealed that there was more that went on with Rep. Ted Yoho (R-Fla.) after he called her a "f**king bitch" earlier this year than what people saw on the House floor.
The native New Yorker graced the cover of the December issue of Vanity Fair and partook in a candid interview where she shared more details about her interactions with the Florida Republican.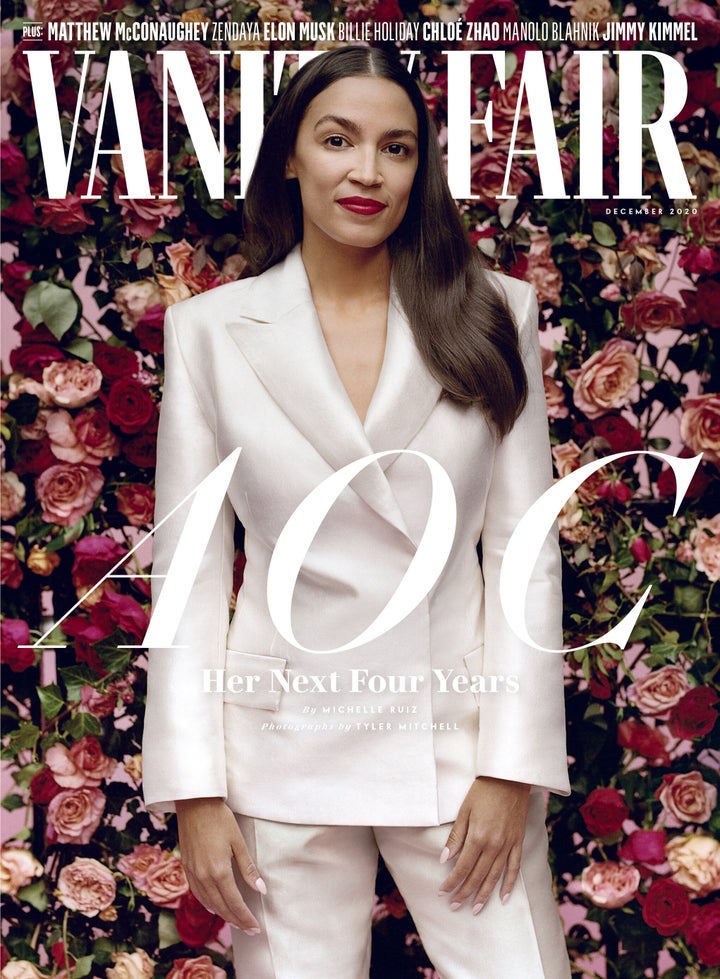 In July, Yoho was overheard by a reporter for The Hill calling Ocasio-Cortez "disgusting" to her face on the steps of the Capitol and, later, a "fucking bitch" once she had walked away.
In her conversation with Vanity Fair, Ocasio-Cortez shared that she had actually approached Yoho after the initial insults on the Capitol steps and told him: "You do that to me again, I won't be so nice next time." She felt his actions had entered "into the zone of harassment, discrimination." In response, Yoho reportedly told Ocasio-Cortez: "Oh, boo-hoo."
Yoho's communications director Brian Kaveney told HuffPost via email that from his "close proximity to the events of that day/ week," Rep. Yoho "did not say, 'Oh, boo-hoo.'"
"He also didn't call her any names the Hill reporter claims to have heard," Kaveney wrote.
The aftermath of the exchange led to Yoho not quite apologizing and issuing a statement where he said that "the offensive name-calling words attributed to me by the press were never spoken to my colleagues" and "if they were construed that way, I apologize for their misunderstanding."
Ocasio-Cortez would later go on to address the incident on the House floor and deliver a powerful speech responding to Yoho's statements about being "married for 45 years with two daughters" and someone who is "very cognizant of the language I use."
"What I do have an issue with is using women, our wives, our daughters as shields and excuses for poor behavior. Mr. Yoho mentioned that he has a wife and two daughters. I am two years younger than Mr. Yoho's youngest daughter. I am someone's daughter, too," she said at the time.
"My father, thankfully, is not alive to see how Mr. Yoho treated his daughter," she continued. "My mother got to see Mr. Yoho's disrespect on the floor of this House towards me on television. And I am here because I have to show my parents that I am their daughter and that they did not raise me to accept abuse from men."
The 31-year-old congresswoman told Vanity Fair that the incident reminded her of something that had happened at one of her jobs; she'd gotten a promotion in favor of a male colleague who would later call her a bitch in front of the staff. At the time, she said she was too stunned to reply and that no one defended her. With Yoho's remarks, she'd decided she wouldn't let it happen again.
Her declaration of "I am someone's daughter too" would later become a phrase emblazoned on Etsy T-shirts, hashtags, and elsewhere while snippets of the speech would be used on TikTok by many young women in makeup tutorials as a sort of pump-up anthem.
Wearing a suffragette white suit on the cover, Ocasio-Cortez also shared a beauty secret with Vanity Fair that might give viewers some insight into her next appearance on the House floor. She told the publication that her red lipstick (Stila's Stay All Day Liquid in Beso) is her "war paint," a show of strength she and other members of "the Squad" ― Reps. Ayanna Pressley (D-Mass.), Rashida Tlaib (D-Mich.), and Ilhan Omar (D-Minn.) ― have adopted.
Ocasio-Cortez delivered her speech about Yoho wearing the punchy red lipstick. She said Pressley told her, "You know how I know you showed up to do business? Because you matched your lip with your suit.' "
"[Ayanna] was like, 'That's when I knew she didn't come to play.' " recalled Ocasio-Cortez. "I had a little war paint on that day, for sure."
Pressley herself added to the publication that "any time we think a day is going to be especially trying, where one of us walks into a committee hearing wearing a bold red lip, we say, 'Oh, it's about to go down.' "
Support HuffPost
The Stakes Have Never Been Higher
Popular in the Community