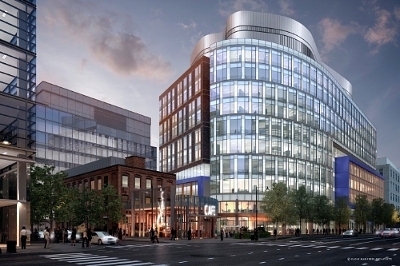 If you want to build a business that thrives, grows and expands, regardless of market conditions, you will need to find a way to be a disrupter. In today's economy, disrupting the way business is done is an absolute must. You need to be the Uber of your market segment to thrive. Such is the story of Alexandria Real Estate Equities, Inc. (NYSE: ARE).
Alexandria is the largest and leading urban office REIT uniquely focused on collaborative science and technology campuses in AAA innovation cluster locations. The firm currently has more than 19 million rentable square feet of operating properties, as well as development and redevelopment projects under construction, with another 11.6 million square feet in near-term and future ground-up development projects. Alexandria was the first to pioneer this niche under CEO Joel Marcus' vision when he founded the company in 1994. Since then, the firm has established a dominant market presence across the industry in locations such as Greater Boston/Cambridge, San Francisco, New York City, San Diego, Seattle, Maryland and Research Triangle Park.
Since the beginning, Alexandria has lived and grown by the philosophy that the company is more than just a landlord. As of September 30, 2015 (Alexandria's last earnings release), more than 53 percent of the company's annualized rent is generated from investment grade tenants like Pfizer, Google, Eli Lilly and GlaxoSmithKline. Tenants seek out Alexandria, not just for its world-class design, office/laboratory space and thought leadership programs, but also for the collaborative communities and ecosystems Alexandria builds around its real estate. In other words, Alexandria doesn't just lease space; the company plays an integral role in helping its tenants recruit and retain top-notch talent, thereby partnering with them to inspire productivity, efficiency, creativity and success. Tenants rarely leave an Alexandria asset, because the added value they receive in terms of community, talent and collaboration are exceedingly more valuable than the space they are paying for.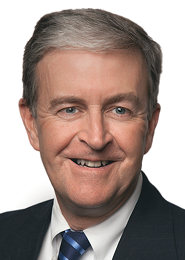 I recently toured Alexandria's life science cluster in the Greater Boston area with Thomas Andrews, Executive Vice President and Regional Market Director of Alexandria Real Estate Equities, Inc. Andrews shared Alexandria's mission and vision. He said that all the best companies in the world achieve greatness by building a business that exponentially exceeds the expectations of its core product or service customer. Here are the three simple lessons learned from Andrews and his experience at Alexandria on how to grow your empire by being disruptive and always pushing the needle of innovation:
Intimate Knowledge of Your Client: Andrews gave me and my team a two-hour tour of the company's Kendall Square life science and tech campuses in Cambridge, MA - Alexandria Technology Square and Alexandria Center at Kendall Square. He offered a detailed account of the landscape, including the history of each of Alexandria's buildings, who originally owned the properties, the architects who designed them, and what they are used for today. Not only did he offer an intimate knowledge of each building, but he also shared an overview of each tenant's focus. He talked about Biogen's work with Lupus and Cystic Fibrosis, bluebird bio's transformative gene therapy initiatives, as well as the Ragon Institute's work on viral borne diseases. He shared the history of Nobel Laureates on the campus, as well as the collaborations taking place amongst schools and big businesses. It was clear that this is much more than just a landlord-tenant relationship being fostered at Alexandria's campus. Alexandria is a true partner in the success of each of the businesses within its community. According to Andrews, the success of Alexandria's "Be More Than Just a Landlord to Our Tenants" business model depends on the team truly understanding the wants and needs of its clients in order to not only offer the physical space, but also the true partnership needed to foster collaboration and innovation.
Stand for Something: Andrews noted that success in any business requires the entire company to stand for something, and that the team understands who and what they represent. He noted that his colleagues at Alexandria were fortunate in that founder and CEO Joel Marcus recognized the importance of standing for something right from the get-go, as is evidenced by the thoughtful and significant name and logo chosen for the firm. Alexandria was named after Alexandria, Egypt, which was the scientific capital of the ancient world. The city was founded in 331 BCE by Alexander the Great and is the site of the Pharos and the Great Lighthouse (ARE's logo), which is one of the seven wonders of the ancient world.
It's Not a Work Community, It's a Life Community: Alexandria is the absolute leader in real estate that promotes life science collaboration. It's not unusual to find scientists, teachers, business development teams, students and doctors from any of Alexandria's more than 100 Greater Boston tenants sitting out on the lawn of the common area at Tech Square, sharing ideas and concepts while lounging in neon Adirondack chairs. Such a sight seems to spell success for a company like Alexandria. However, Alexandria is interested in taking this idea of community one step further by enhancing its environments so that tenants can live, work and play all in one location. Hence, Alexandria has developed a new focus toward also adding retail spaces and residential living options to its urban innovation clusters. Andrews shared that some tenants actually bus people in from the suburbs each day, enabling them to access talent outside the city. He said that there's a shortage of housing in and around Kendall Square's ecosystem, and so Alexandria's future growth strategy includes partnering with residential developers to build the much-needed housing for the people who work for its tenants.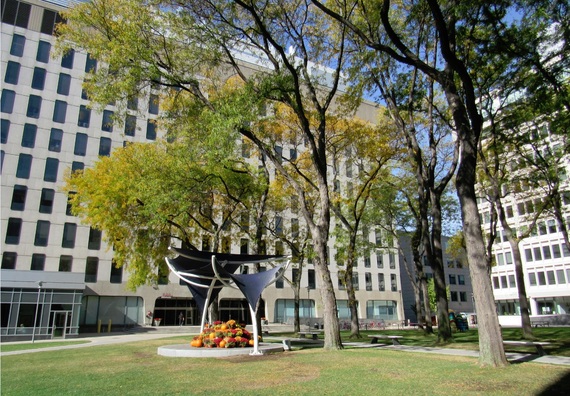 While touring Kendall Square, Andrews took us through some of the campuses' upscale restaurants and informed us where more would soon be built. He also showed us the home of a future outdoor concert stand. Andrews said that if he and the Alexandria team have learned anything from building world-class communities for collaboration that bring science, technology and academia together, it's this: urban clusters are not work communities, they are lifestyle communities, and knowing this allows Alexandria to further its own work and mission.
Alexandria, with more than 31 million square feet of real estate in its portfolio, seems to be anything but a landlord. The company has built a nearly $11 billion business on one very simple premise - We Are More Than Just a Landlord to Our Tenants.

REAL LIFE. REAL NEWS. REAL VOICES.
Help us tell more of the stories that matter from voices that too often remain unheard.