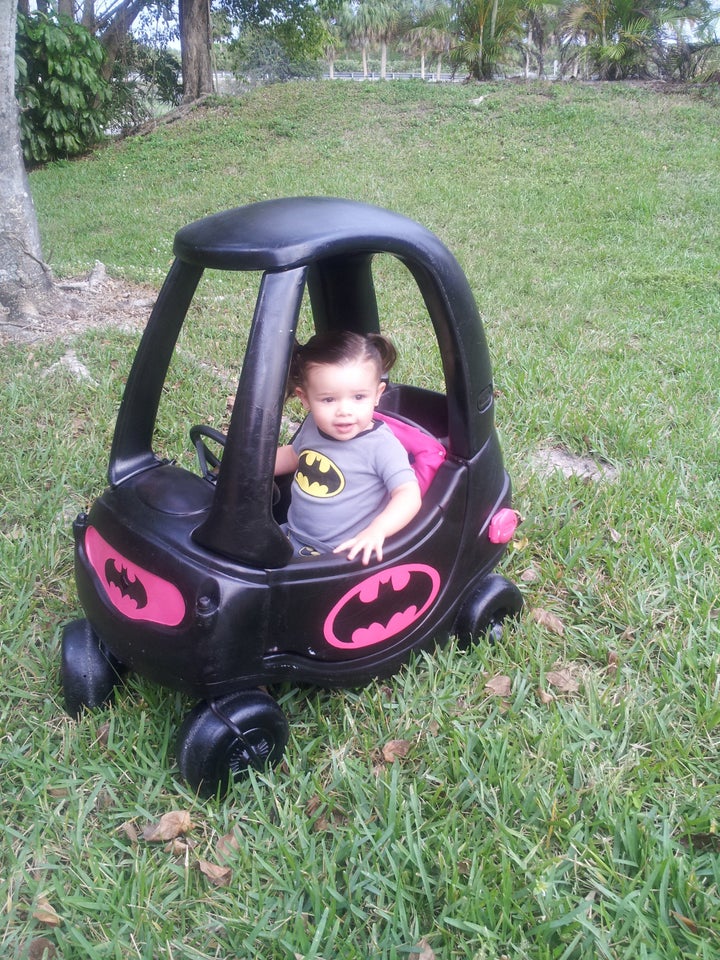 It's a question we've heard from other creative parents -- like Southern Disposition blogger Kendra, who made her daughter a dollhouse out of three-ring binders.
Sardinia's creation, which is getting lots of Internet love, is an eye-catching pink-and-black Batmobile, built for her daughter Lily out of a secondhand toy car. (The little girl's nickname is "Boo" -- hence the adorable license plate in the slideshow below.) The project cost around $20 -- and Sardinia told HuffPost over email that it only took about a day to complete. "Honestly the toughest part was keeping little nosey hands away from it while it dried," she wrote.
The mom, who goes by Cinnamontwisties on Instructables, told HuffPost that she and her fiancé are "comic book nerds," and that she dreamed up the Batmobile idea because she wanted her daughter to have "something cool of her own to match" the comic-themed decor in their house.
How did Boo react when she first saw the finished product? "Bedtime was a bit of a fight that night," Sardinia admits, explaining that after "a happy dance and squeals of happiness" it was difficult to "pry" her daughter away from the new toy.
"For a while she'd take her snacks and sippy cup and sit in it while watching TV with her feet up on the steering wheel."
If you like the project, but don't feel up to making a Batmobile yourself just yet, you may be in luck: Sardinia says the car has attracted so many compliments that she's thinking of turning the hobby into a business. She's already working on a "Fresh Beats Band"-themed vehicle for Lily's cousins -- so the fun isn't limited to little superhero fans, either.
There are also other variations of the project to check out around the web. Blogger Courtney O'Dell, who posted a tutorial for a similar undertaking last August, calls the Cozy Coupe Batmobile a "Pinterest urban legend." Yet, Sardinia's is the only one we can find with such vivid pink details and a comfy plush seat. Yep, Boo is riding in style.