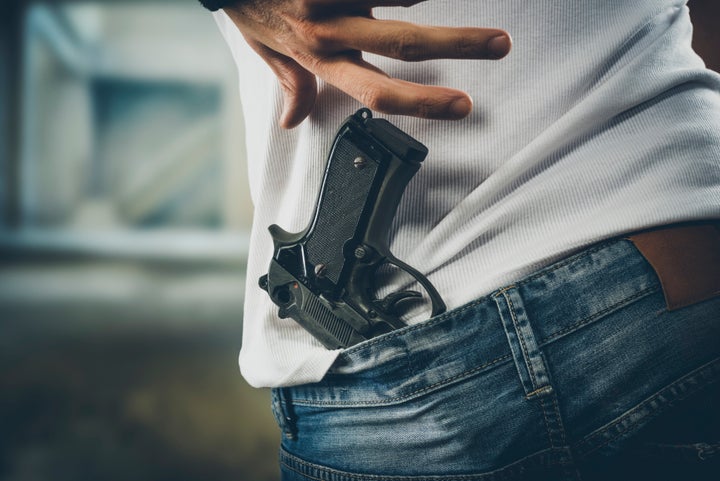 Each time a high-profile shooting takes place in America, the issue of gun violence once again dominates headlines. Wednesday morning's attack on Republican congressmen, staff and Capitol Police in Alexandria, Virginia, is, of course, no different. 
But as ghastly as this attack was, it didn't surprise me.
That's because I am a gun violence survivor. I was shot by my abusive ex-husband in Florida nearly five years ago. My father was also shot. The entire incident unfolded in front of my young son.
Today, I live in Alexandria with my son. He was on lock-in at his school in Alexandria when the baseball field shooting took place.
Some might say that there's no connection between my shooting and the shooting that took place on Wednesday in my new city.
But there is a connection: domestic violence.
The gunman in the Alexandria shooting, like my ex, was said to have had a history of domestic violence. Eleven years ago he was arrested for domestic battery and discharge of a firearm. The incident came after he allegedly punched a female friend of his foster daughter's, then shot at the friend's boyfriend. The disturbing police report which described the incident noted that he threw his daughter around the bedroom, pulled her hair, and choked her while she was in her car and holding the steering wheel.
This is all familiar to me. My husband perpetrated on me various forms of abuse before he came at me with a loaded gun.
A history of domestic violence is all too often the common thread among those who later use guns to kill. Often, however, the laws surrounding domestic violence and firearms are so lax that men like my ex and the one who shot at elected officials are able to get firearms with ease.
In the Alexandria shooter's case, he was arrested in 2006 and reportedly charged with battery and aiding damage to a motor vehicle, but the charges were later dismissed. His arrest did not make it illegal for him to own guns.
And as his actions on Wednesday made clear, an abuser can channel his rage toward victims they know personally as well as to ones they don't know at all.
Thankfully, the baseball field shooting was not a mass shooting according to the commonly used definition of four people being killed. But research on mass shootings shows that there are often dangerous behaviors that serve as red flags before the shootings occur. In nearly half of mass shootings between 2009 and 2016 ― 42 percent of cases ― the shooter exhibited at least one red flag prior to the shooting. Domestic abuse is one of those red flags.
Circling back to my story, my son Will is now eight years old. In those eight short years, he has seen his mother and grandfather shot, and has feared for his safety in his own school as his nation's elected representatives came under attack.
We must not normalize incidents like last Wednesday's, or mine, or countless others that occur with such alarming frequency in this country. No matter how many times these tragedies take place, we must not grow numb to the horror that guns in the hands of dangerous people inflict on our nation's citizens and our collective psyche. A congressman, staff and police were shot while playing baseball because another dangerous abuser managed to fall through the cracks of a system that doesn't do enough to keep guns away from people like him. 
When we think about solutions to gun violence, we must start by looking at the data. The facts tell us that states with strong laws requiring a criminal background check on every gun sale see far fewer fatal domestic violence shootings and far less trafficking of firearms in their cities.
This much is clear: Americans should be able to play baseball, go to work, be safe in their homes, dance in a nightclub and attend religious services without the threat of gun violence.
Calling all HuffPost superfans!
Sign up for membership to become a founding member and help shape HuffPost's next chapter
BEFORE YOU GO