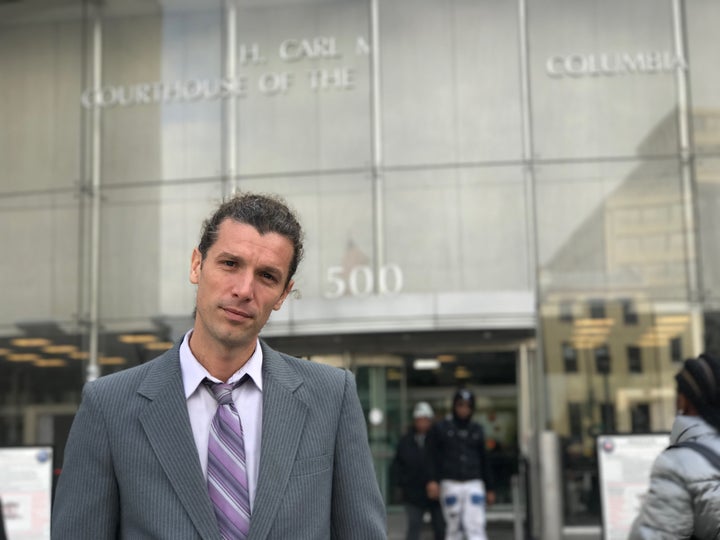 WASHINGTON ― A photographer currently facing trial on several felony charges after being arrested during a protest of Donald Trump's inauguration had reached out to a Texas news outlet before Jan. 20 about photographing the protests, yet another indication he was working as a journalist that day.
The 37-year-old photographer from San Antonio had emailed two editors at the Rivard Report, a San Antonio-based nonprofit news outlet, hoping for work taking pictures at the inauguration, according to emails revealed in court on Monday. The emails were pulled off the Samsung cell phone police took from him the day of his arrest, when he was taken into custody along with more than 200 others. 
"Just checking in. Got any assignments you want to throw at me?" read one email to an editor at the Rivard Report. In another email, he said he was "specifically focusing in on street friction, protest and support and police."  
Wood, who had focused on commercial and wedding photography, said he was trying to build a portfolio as a photojournalist. Wood's defense attorney, Brett Cohen, shared messages Wood had exchanged with a contact in which he discussed photography and his plans for covering events surrounding the inauguration. 
"Been trying to get my professionalism up to par: website, CV, resume shit," he wrote. The other person said that an international photo credit would be good for Wood's career. When he was in town, Wood wrote in one message that covering the anti-facist protest was his "best lead." 
Wood also attempted to email a high-profile photographer, saying they'd met in the photographer's apartment in D.C. several years earlier, "took bong hits" and talked about the man's book.
Gregg Pemberton, a Metropolitan Police Department detective who also serves in the police union in D.C., admitted that his search of Wood's phone didn't show any contacts with protest organizers or even any of the other defendants.
Pemberton testified that he had no evidence that Wood had used or attempted to use what the government has called a "fake" press badge that featured Wood's photo but another person's name. Wood is expected to explain why the badge doesn't include his name if he takes the stand.
Cohen also played a video clip of Wood being taken into custody, which features officers tossing press pass, business cards, and a reporters notebook into a bag as they processed Wood. The photographer instructed an officer on how to properly dissemble his camera.
"I think courteous is a fair representation of Mr. Wood's behavior," Pemberton testified.
In the trial, which opened Nov. 20, Justice Department prosecutors are trying to hold six people they've conceded didn't cause any destruction or engage in any violence responsible for the actions of those who did, alleging they are part of a rioting conspiracy. If convicted of the six felonies and two misdemeanors each, Wood and his co-defendants would be exposed to maximum sentences of over 60 years in prison (though such harsh punishments are unlikely). The trial will resume Tuesday, when the prosecution is likely to rest its case. The jury may begin deliberations this week.
Ryan Reilly is HuffPost's senior justice reporter, covering criminal justice, federal law enforcement and legal affairs. Have a tip? Reach him at ryan.reilly@huffpost.com or on Signal at 202-527-9261. 
Calling all HuffPost superfans!
Sign up for membership to become a founding member and help shape HuffPost's next chapter