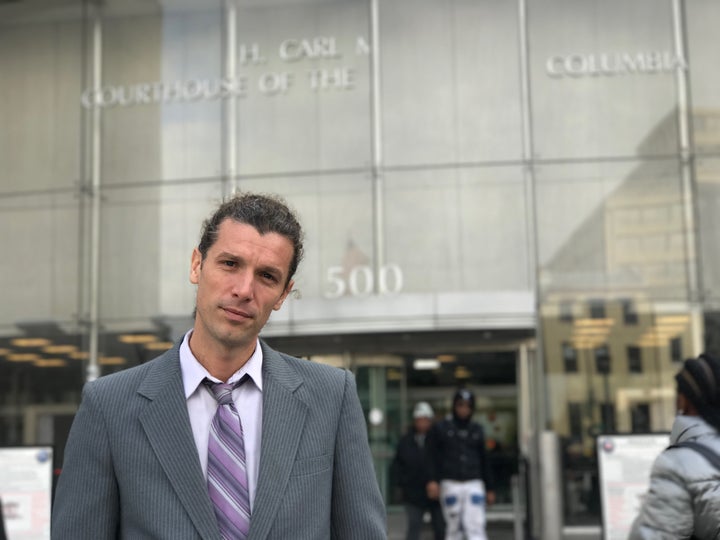 WASHINGTON ― A Justice Department prosecutor alleged this week that a photographer currently facing several felony charges in connection with his arrest during President Donald Trump's inauguration had a fake press pass under a false name.
Alexei Wood, a 37-year-old from San Antonio, is currently on trial alongside five others in connection with his arrest on Jan. 20. Police made more than 200 arrests that day after people smashed windows in downtown D.C. as a large group mostly clad in black roamed the streets. Prosecutors have conceded there's no evidence that any of the six individuals currently on trial actually caused any destruction, but say they are guilty of several felony charges for enabling what prosecutors have called a riot.
There are 181 others facing felony trials over the next year, and this first trial could determine how the office of the U.S. Attorney for the District of Columbia, currently headed by a Trump appointee, handles the remainder of the cases.
Wearing purple medical gloves, Assistant U.S. Attorney Jennifer Kerkhoff on Wednesday dangled a lanyard and a press pass ― labeled as government exhibit 48 ― before Metropolitan Police Department Detective Gregg Pemberton, who has spent months poring over the extensive video footage that captured the unrest in downtown D.C. on Jan. 20. Pemberton said there was no evidence that Wood's identification was a "legitimate press badge."
Earlier in the week, Kerkhoff suggested that Wood had "fake credentials" under the false name of "John Osburn." Pemberton said Wednesday that "John Osburn" was not an alias for Woods, but that the press pass did feature Woods' image. Wood and his attorney Brett Cohen declined on Wednesday to explain Wood's apparent use of another name, but Wood is expected to take the stand when the trial resumes next week.
There are a variety of types of press passes, so it is difficult to label any single pass as "fake." While numerous government entities issue press passes that require some sort of screening process, news organizations also issue their own press passes. The pass Wood was apparently carrying was purportedly issued by "Indy Media" or "Glass Bead Media Collective," according to court testimony.
Wood livestreamed nearly the entire protest on Facebook, and the prosecution played the whole video for jurors on Tuesday afternoon and Wednesday morning. The video does not show Wood engaged in any violence or destruction, but does show him making comments that could be seen as supportive of property destruction. The video shows him getting into verbal confrontations with a man who apparently grabbed a demonstrator as well as a "Biker for Trump" who tried to assist police officers in apprehending one individual.
"My professionalism is certainly up to be criticized, and I'm open to it and I'm welcoming of it," Wood told HuffPost in a prior interview. "But I absolutely stand by that I did nothing illegal and I did nothing wrong."
Kerkhoff had told jurors in her opening statement that they'd see Wood "cheering when the destruction happens." Wood's attorney argued that his comments on the video, while they may be "disagreeable," were directed not at the people around him, but rather at the audience watching his livestream.
Wood, who has worked as a wedding and commercial photographer, says he came to D.C. in hopes of building his photojournalism resume. Officers on the scene released many of the journalists they detained in the mass arrest. But the decisions about who was allowed out of the police kettle seemed arbitrary. The government has presented as evidence a video featuring Lauren Southern, the alt-right YouTube commentator who was released without being arrested. Southern's team apparently had to mislead police to get out of the kettle.
"I had to pretend I was pregnant," Southern said in another video. "My security had to yell 'she's pregnant' to get me out of there." In the full video that was introduced at trial, a male voice says he's "got a pregnant lady coming out," as they emerge from the kettle before Southern says, "We're media, we're media."
Of the nine journalists who were arrested that day, only two are still facing charges. Alex Rubinstein, who works with Russian-funded RT, wrote a lengthy post this week detailing his experience and said a judge recently exonerated him of the charges the government previously dropped.
So far, D.C. Superior Court Judge Lynn Leibovitz has given prosecutors wide latitude, regularly overruling objections from the six defendants' legal team, which outnumbers the jury. Outside the presence of the jury on Tuesday, Leibovitz referred to one of Wood's remarks as "commentary in furtherance of the conspiracy."
On trial alongside Wood are Jennifer Armento, Oliver Harris, Britt Lawson, Michelle Macchio and Christina Simmons. The trial will resume Monday, when the government is expected to wrap up its case.
If convicted of all charges, Wood and his co-defendants would face a maximum of more than 60 years in prison, though such a lengthy sentence is highly unlikely. The only defendant who has pleaded guilty to a felony so far, Dane Powell, was sentenced to four months in prison for felony rioting and felony assault on a police officer. He admitted to actually smashing store windows and throwing rocks at officers.
CORRECTION: This story has been updated to clarify that Dane Powell was so far the only defendant to plead guilty to a felony, not the only defendant to plead guilty.
Ryan Reilly is HuffPost's senior justice reporter, covering criminal justice, federal law enforcement and legal affairs. Have a tip? Reach him at ryan.reilly@huffpost.com or on Signal at 202-527-9261.
Popular in the Community