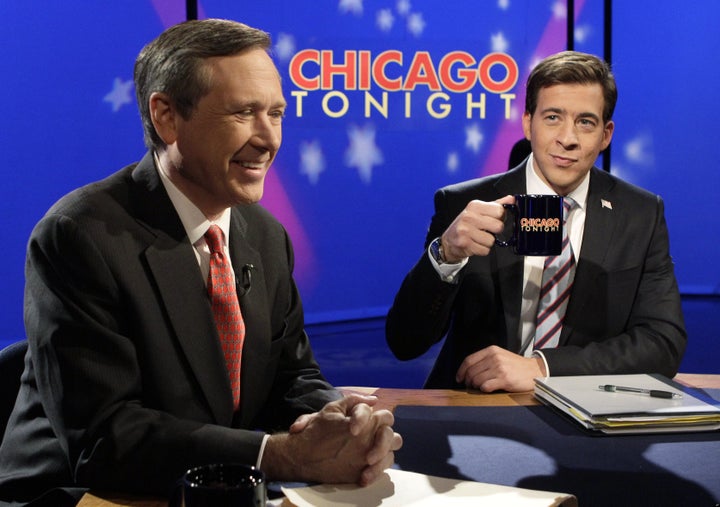 CHICAGO (AP) -- The candidates for President Barack Obama's former Senate seat assailed each other as immature, indecisive and dishonest Wednesday in a debate that revisited familiar disagreements in unusually harsh tones.
Republican U.S. Rep. Mark Kirk called Democrat Alexi Giannoulias "immature" for not giving a clear explanation of whether he would have voted for the financial industry bailout if he'd been a senator in 2008.
Giannoulias, the state treasurer, shot back that Kirk has often flip-flopped and changed positions. He said being lectured by Kirk on decisiveness was "the most remarkable irony in the history of Illinois politics."
Pressed on his strong support for the invasion of Iraq, Kirk claimed the Bush administration had lied to him about evidence that Iraqi leader Saddam Hussein had weapons of mass destruction. The five-term congressman said a Central Intelligence Agency official "absolutely" lied.
Each candidate attempted to defend himself on a key issue that has haunted them.
For Kirk, it was the fact that he exaggerated his accomplishments as intelligence officer in the Navy Reserve, even claiming an award that went to his unit, not to him personally.
Kirk repeated his apologies for the false statements, saying he had been careless. Debate moderator Phil Ponce pushed Kirk to explain why he ever felt the need to exaggerate his record, but Kirk didn't answer.
Instead, he sought to go on the offensive by criticizing Giannoulias for making a political issue of the false statements.
"My opponent has based nearly all of his campaign on a military record - my military record. He hasn't served a day in uniform in his life," said Kirk, a commander with 21 years in the reserves. "I very much believe in this country."
Giannoulias ducked a question about his own political millstone - the fact that his family's Broadway Bank lent money to at least two men involved in organized crime. Giannoulias said the bank didn't do anything illegal or improper, but he would not explain just what he and other bank executives knew about the men's criminal history before deciding to approve the loans.
He, too, tried to turn the tables. Giannoulias read a list of criminals who have donated money to Kirk's campaign over the years. "If we want to play these guilt by association attacks, let's do it," he said.
Kirk responded that he had returned the donations from the people Giannoulias listed.
The two met on WTTW-TV's "Chicago Tonight" program. Green Party candidate LeAlan Jones and Libertarian Mike Labno were not invited to take part in the debate.
Kirk accused Giannoulias of encouraging class warfare by not supporting an extension of tax cuts for the wealthy. Giannoulias rejected that, saying he opposes the tax cuts because they would add to a huge deficit that ballooned when Kirk and other Republicans controlled Washington.
Giannoulias said Kirk has voted against legislation to make college more affordable, to help women get equal pay for equal work, to crack down on runaway corporate salaries.
"He has an indefensible record in Congress," Giannoulias said.
Kirk responded that Giannoulias has practically no record.
He noted the 34-year-old's position as treasurer is his first government job. He also said Giannoulias hasn't done that job well, noting part of the Bright Start college savings program lost about $150 million on Giannoulias' watch.
During a discussion of the federal Troubled Asset Relief Program, Giannoulias said he would have pushed for changes in the bailout legislation if he had been in Congress at the time. Kirk said he was trying to have it both ways.
"This is the sort of immaturity of my opponent," Kirk said. "In the end, a member of Congress is presented with a yes-or-no vote on an always-imperfect package. ... In the end, you have to cast a tough vote."
Giannoulias responded, "If Congressman Kirk is accusing me of flip-flopping, that would be the most remarkable irony in the history of Illinois politics."
When asked about his past claim that he knew with "moral certitude" that Saddam has weapons of mass destruction, Kirk said he based that on a briefing in the White House situation room. Kirk said he was shown various pieces of evidence, such as tubes that supposedly could only be used to refine uranium, and was told they proved the existence of the weapons.
After the debate, Kirk would not provide details or explain why this seems to contradict a past explanation of the "moral certitude" comment. Previously, he had said he made that statement because Iraqi documents did not account for all of Saddam's old chemical weapons.
Pressed by the moderator, Giannoulias and Kirk did find a few kind words for each other.
Kirk said he appreciated Giannoulias calling to offer condolences when his stepfather died. Giannoulias called Kirk a hard worker and someone who cares.
Giannoulias repeatedly criticized the negative race and said he would run only positive ads for the rest of the campaign - less than a week.
Support HuffPost
The Stakes Have Never Been Higher
Related
Popular in the Community