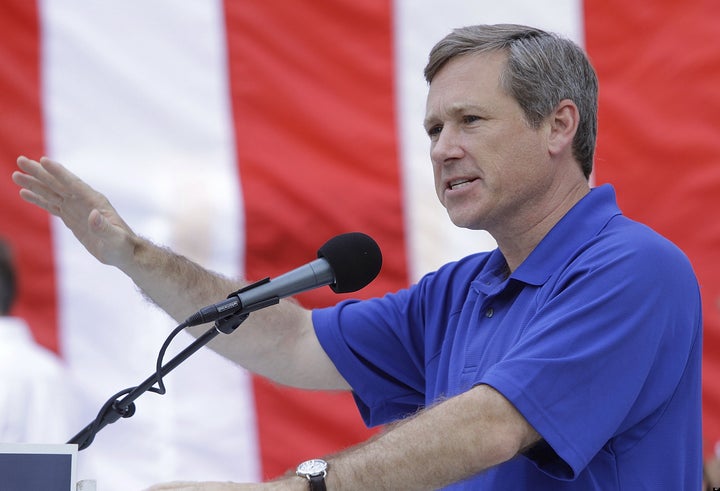 In recent months, Mark Kirk, the Republican U.S. Senate candidate from Illinois, has increasingly been bringing up the financial crisis in Greece as a warning of what could happen if America doesn't reduce its own government spending. The undertones of these comments, however, seem to be directed at raising questions about the ancestry of his Democratic opponent, Alexi Giannoulias, who is the child of Greek immigrants and has been painted as a "mobster" by Republicans during this campaign season.
Here are some examples of Kirk bringing up Greece's financial situation:
- "I'm particularly concerned about the role of U.S. financial institutions -- particularly Goldman-Sachs. That as Greece got on the heroin of borrowed money, Goldman was the crack dealer. And did not disclose these increasing liabilities to the E.U. financial system, to the IMF, or to the Fed. Now Papandreou asked you for money, and backing." [House Committee on Appropriations, Subcommittee on Financial Services and General Government Holds a Hearing on Treasury Budget, 3/10/10]

- "Too often, the Congress focuses on problems of the past, not dangers to come. Last month, the Greek Government lost its AAA credit rating. On May 19, Greece will have to pay $10 billion in loans that it does not have the money to cover. The market will only lend now at a 24 percent interest rate. Estimates are that an IMF Greek bailout will cost $100 billion. On Monday, Portugal lost its AAA rating, and this news triggered a sudden loss in our own stock market. Yesterday, Spain lost its credit rating, and the Spanish problem is five times the size of the Greek problem. Italy and Ireland may be next. We may soon face a sovereign debt crisis." [House Session, 4/29/10]

- "In order to prevent a Greek tragedy right here in the U.S., we should take quick action on the emerging sovereign debt crisis and reduce government spending here at home." [Congressman Kirk press release, 5/4/10]

- "That's why I think we are approaching some real danger here over the long run here, and why we need fiscal conservatives in Springfield, where debt levels are approaching Greek levels, and in Washington." [City Club, 5/10/10]

- "Everybody has seen what's happened in the country of Greece lately? A culture where they relied on future taxpayers to build so many benefits that on May 19th, the country couldn't pay a $10 million debt. Or $10 billion debt. And led to this Euro collapse that's going on." [Jil Tracey Breakfast, 5/17/10]

- "We've seen countries like Greece, Spain, Italy and Portugal now facing a serious economic crisis because of irresponsible fiscal policies. In my view we should make tough choices now, to protect American citizens from the type of economic future that many Europeans face." [Metropolitan Planning Council, 6/21/10]

- "Greek, right here, followed by the Portuguese, are suffering from a catastrophic decline in market confidence. And this has ended their ability to control their own economic future. ... I think that we need to learn from the Greek economy's collapse. Higher spending, borrowing and taxes lead to stagnation or worse." [Chamber Lunch, 7/12/10]

- "Did anyone see what's happening in the country of Greece, where they are now collapsing because they built a government way too expensive that they can't afford. For me, I represent a whole different way of moving forward." [Olney campaign event, 7/31/10]
Kirk has also made a point, when talking about his military service, of talking about Giannoulias "playing basketball in Greece" -- a reference to Giannoulias playing professional basketball abroad before being elected as Illinois state treasurer. For example, a May 30 Kirk for Senate press release read, "While Mark Kirk was running intelligence support for electronic attack combat missions in Operation Allied Force (Kosovo), Alexi Giannoulias was playing basketball in Greece. In brief, while Mark Kirk wore a U.S. Navy uniform, Alexi Giannoulias wore a basketball uniform in Greece."
These coincidences haven't gone unnoticed by the press. On July 12, NBC Chicago's Ward Room wrote, "In several media appearances and press releases, Kirk has made a point of mentioning Greece as a poor fiscal example. While sound criticism, the Kirk camp surely enjoys the convenient fact that Kirk's competitor, Alexi Giannoulias, is of Greek descent." American Enterprise Institute Visiting Fellow Marc Thiessen wrote in a July 12 Washington Post op-ed, "Kirk recently warned that Illinois is rapidly falling into the same financial situation as Greece (his opponent is, conveniently, of Greek descent)."
There have also been ads playing up ethnic stereotypes and portraying Giannoulias as a mobster. The National Republican Senatorial Committee (NRSC) put out an ad in February saying -- in a stereotypically ethnic Italian accent -- Giannoulias would "make Tony Soprano proud" and calling him a "wise guy." The NRSC released a similar ad in August, saying, "Al Capone would be impressed" and showing a generic picture of an Italian-looking family sitting around a table with a red-checkered cover.
The Huffington Post reached out to the Kirk campaign for comment, but no one responded.
Giannoulias campaign spokesman David Spielfogel replied, "These types of baseless and offensive attacks have become classic Congressman Kirk. He and his Republican pals thrive on smears that try to cast opponents as un-American and seem to think that if your parents didn't come over on the Mayflower, you're not a U.S. citizen. They can attack the President, they can attack Alexi, they can even attack their fellow Americans, but at the end of the day it's undeniable that our nation is so great because of our ethnic, religious and cultural diversity, not in spite of it."
*************************
What's happening in your district? The Huffington Post wants to know about all the campaign ads, debates, town halls, mailings, shenanigans, and other interesting campaign news happening by you. E-mail us any tips, videos, audio files, and photos to election@huffingtonpost.com.
Calling all HuffPost superfans!
Sign up for membership to become a founding member and help shape HuffPost's next chapter