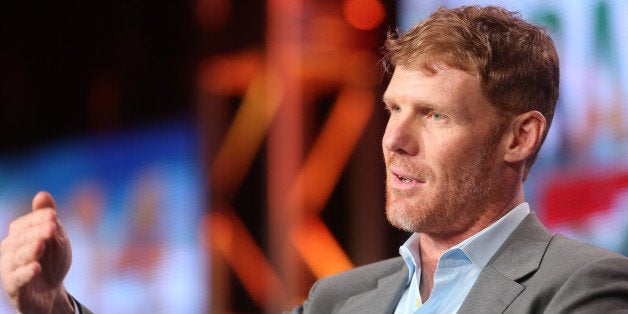 "Some people believe football is a matter of life and death, I am very disappointed with that attitude. I can assure you it is much, much more important than that." -Bill Shankly
In its inaugural interview, my blog series "Off the Post" met up with former U.S. Men's National Team defender, MLS General Manager and current ESPN and ABC Sports analyst, Alexi Lalas, to talk about the 1994 World Cup, David Beckham, the future of soccer in the United States and his tentative predilection for West Coast hip hop.
Ryan Madden: 1994 is when it all changed, the World Cup came stateside, and soccer became part our national consciousness -- what do you take most from that experience?
Alexi Lalas: Personally, I lived the power of what a World Cup can do to an individual in the summer of 1994. The reason why I'm sitting here talking to you today is without a doubt because of what happened in that tournament. I kicked the ball in the right direction, the team did well, I had some hair, played the guitar, and all of that combined for the proper ingredients to produce what has amounted to what I'd like to say is a pretty cool adventure. I'd like to think that because of that summer, I was given an incredible life to live.
RM: How were you feeling before those games, wearing the badge on your jersey, about to take the field with the world watching?
Alexi Lalas: All the cliches apply. Feelings of pride, and the realization of a dream. I remember clearly, walking on the field and, and having the recognition at that point that it was never like you expected it, or grew up thinking it was going to be. And yet after, take for example the Rose Bowl game against Colombia, that's a pretty special moment -- and that locker room after that game was for me, until my dying day, probably one of those great moments in your life.
RM: Is it at all frustrating for you that one of "those great moments in your life" came while wearing a denim shirt?
Alexi Lalas: [laughs] Ah, yes, the faux denim! Listen, I like to say that in terms of my individual career, never has so much been done with a modicum of talent, a guitar, some good hot oil treatments and some questionable hair styles, but the faux denim kind of put us over the top. I'm proud of my faux denim association, as strange as that may sound in 2012.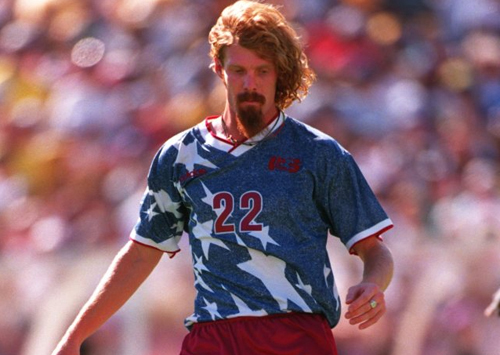 Lalas sporting "faux denim" during the 1994 World Cup (Photo: Getty Images)
RM: Are you still playing music, Alexi?
Alexi Lalas: I am, I have a studio in my house, I still write and record, I put things out under different names. It's a huge part of my life. It's something that has stayed with me. It was with me before soccer and it's been with me after I stopped kicking the ball. I love it as much as anything I do.
RM: What was a prouder moment for you -- being the first American in the modern era to play in the Italian Serie A, or being on tour with Hootie and the Blowfish?
Alexi Lalas: [laughs] I made a point that at some point when people were watching me play music, there was at least a moment where they forgot that I was that soccer player -- and that was good enough for me. So I was real proud of that time that time I played music, and I tell you what, as cool as it was for me walking on the field to play Brazil in a World Cup, it was just as cool walking out in front of a thousand people to play some music for them -- I got just as much out of it in terms of personal enjoyment and fulfillment.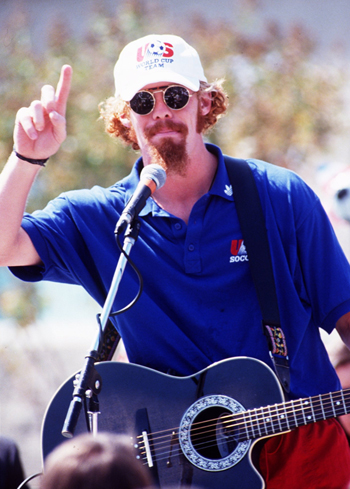 (Photo: Getty Images)
RM: Back to the soccer front, Alexi, you've been the general manager of three different MLS teams, so certainly you understand where the MLS is today. In terms of talent, how does the MLS compare to other leagues around the globe?
Alexi Lalas: I think that in terms of the amount of talented players, we are not at the likes of a Serie A or La Liga or an EPL. But I think that in terms of competition -- I've said this before and I stand by it -- I think that the MLS is the most competitive league in the world. Now, listen, I'm not saying it's the most entertaining, I'm not saying it has the best players, but because of the structure and the manufactured parity, I believe it's the most competitive. When it comes to the actual individual talent there are some realities with the amount of money that you're able to spend and the competition that exists around the world.
But I'll tell you what -- When you put it up against other sports and leagues in terms of evolution and progression just in the last 10-15 years, it's unprecedented the growth that this sport has made on and off the field. If it was a stock, I would be buying it, because it's headed in one direction and other sports we can look at, especially in the United States, are heading in the opposite.
RM: Are you saying that soccer is recession proof?
Alexi Lalas: I'm saying that there is an opportunity out there -- and I am bullish about the future of soccer!
RM: What role did you have in bringing David Beckham over from Real Madrid?
Alexi Lalas: I retired in 2003, and in the beginning of 2004, I was given an incredible opportunity to immerse myself in the business of soccer, and like you said, I went up to San Jose, then out to NY and finally LA. Each team had its own unique challenges whether it was San Jose where the team was in the process of moving, or New York where the team was eventually sold and back in LA where the hurricane of David Beckham was a huge part of the time that I was there.
Every place I went I made plenty of mistakes along the way but I don't regret a minute of it.
The David Beckham situation: I was with the LA Galaxy which was owned by AEG, and Tim Leiweke, was who was a very progressive type of thinker, said if we're going to do something, let's do something big, something enormous that's going to impact not just the league and the sport, but something people are going to feel all over the world. And during that time he had been cultivating a relationship through AEG with David Beckham. There was a soccer component to it that was important, but there was also a business component, and so my job was to say, okay, if we're going to make this decision, how is it going to affect us in two ways: One, on the field, how is he going to make us a better soccer team? And secondly, how is it going to affect us as a business? So we went through every different type of pro forma in terms of how we were going to monetize his arrival, and on the field how we're going to integrate this type of player into the locker room, team and the club. At times it went well, at times it didn't, and despite much of the collateral damage, including myself [Alexi was fired in 2008] I don't regret it for a second. It was an incredible learning experience and I think that for the Galaxy and for the league, it was something that needed to happen. Certainly the Galaxy are stronger for it. Looking back we should all be proud. And I certainly am. To have been a small part of it -- is pretty cool.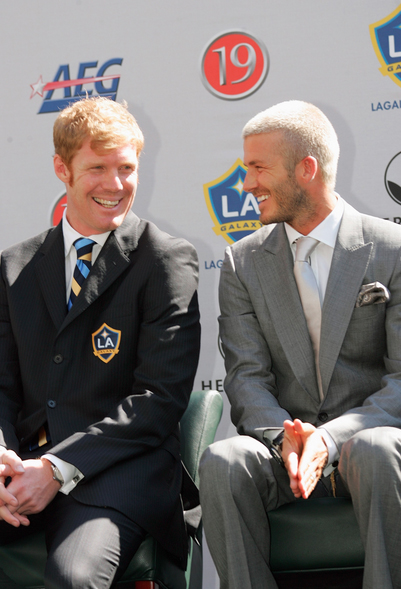 Alexi Lalas and David Beckham (Photo: Getty Images)
RM: By your own criteria, has David Beckham been a success in the MLS?
Alexi Lalas: [Pauses] Yes, yes, yes. Has it gone perfectly for him or anyone else? No. But you have to understand that no team had ever dealt with something like that. But if I step back and take my own personal situation out of it and really look at it from a soccer perspective, then yes, it has been more than successful. I think as we get farther and farther removed from it, it's going to be looked on as more and more important as to the statement that it made, and to the opportunities that arose out it.
RM: Can we agree that the U.S. National Team is ultimately judged by its performance in World Cups?
Alexi Lalas: Yes, without a doubt.
RM: Based on that premise, if you consider that your team in 1994 reached the same stage (2nd round) as did the most recent installment, the 2010 squad -- I think some people would argue that despite the MLS' success, there appears to be a disconnect between the cultivation of soccer on a professional level here on home soil and National Team success at the World Cups. How do you respond to that?
Alexi Lalas: First and foremost, that's a very American attitude. That's not a criticism, that's something that makes us great to be quite honest. As you said before, ultimately, we are tested at the highest level, which is the World Cup. Success, however it comes, is going to create that perception.
So yes, I would agree that in order for us to have full acceptance as a soccer playing nation, we have got to do something on the biggest stage, which is the World Cup. I will say that there are countries who have been playing this game decades, if not centuries, longer than us -- who, in terms of success, are on the same level as the United States. World Cup success is going to dictate the perception of the public, and while we're trying to win hearts and minds, that American simplicity that I love, where in the end it's all about winning and losing -- that is something that we have to adhere to, and find a way to satisfy.
RM: Where are we today, in regards to the U.S. Men's National Team? Are we a top 15 team in the world?
Alexi Lalas: [pauses] Yeah, I would definitely say that we're a top 15 team in the world.
I don't know how this is going to play out with Jurgen [Jurgen Kilinsmann, former German National Team striker, and current coach of the U.S. Men's National Team], because he has come in and tried to do some very different things. He is trying to change not just the way that the team plays, but also the way that the team thinks, and those are some big and bold types of moves that sometimes can take time. And yet, as we said before, they are ultimately going to be judged, whatever style they play, by the results that come in the World Cup. But I don't think there is any team in the world right now who, when the U.S. is drawn, says "Oh, that's an easy three points, no problem." Absolutely not. There was a time when teams would hope to get the U.S. -- not anymore.
RM: The next test for the U.S. is against our greatest rivals, Mexico, at the Azteca Stadium in Mexico City. How do we match up against them?
Alexi Lalas: That's a problem. There was a time in the '90s where we started to catch up and actually compete against Mexico, which was fantastic. In the mid 2000s, I think a case can be made that we actually surpassed them in terms of the ability that we had. Certainly though, over the last couple of years, with the core of this Mexican National Team and the youth that they have -- they're better than the U.S. right now and they're the best team in CONCACAF, without a doubt. They're experiencing a wonderful golden generation. I don't necessarily think that there are things that Mexico is doing that we need to be doing or things that we haven't done, but the fact is, right now, Mexico is better than the U.S. and they believe that they're better than the U.S.
Yet after all that, when it comes down to a one off qualifier in the hexagonal, I think that the U.S. takes the three points at home and Mexico takes the three points at the Azteca.
Alexi Lalas: I don't know either of these guys -- which one is still alive?
Alexi Lalas: Shit, that's not gonna work? [Pauses] I like the Tupac guy, I think I saw him in a movie once.
RM: Is there any chance of you growing your hair back out?
Alexi Lalas: [laughs] We're getting to the point now where I probably only have one more shot at the long hair before it's all gone, ya know? You got that "Movember" thing coming up, so you never know [pauses]... you never know.
RM: We're on pins and needles, Alexi, pins and needles.
Alexi Lalas: [Laughs] Oh I'm sure -- I'm sure inquiring minds want to know.
RM: Last question. I read online that your mother is a writer and a poet. Would you like to take this opportunity to make her proud and recite one her poems?
Alexi Lalas: [Laughs] Oh Jesus, there are so many of them and they are so long! I grew up in a house where my dad was a professor and my mom was a writer, and so the thought of their son becoming a professional athlete was certainly not high on the list of things they wished and dreamed for their young boy. But regardless, they're proud, and I couldn't be more proud of my mom and the stuff that she writes. I will say, half the stuff that she writes, I either don't understand, or it's sexual in nature so it makes me cringe...
In fact, you have not lived until you have read a poem of your mother's that talks about sexual things -- it will make you assume the fetal position faster than you can say the word "poetry"!
Alexi Lalas: Anytime, anytime.
Related
Popular in the Community