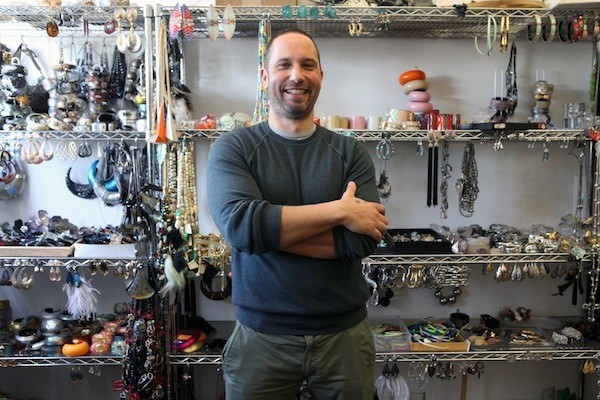 Bobby Doherty/AOL
Venturing across the Brooklyn Bridge to designer Alexis Bittar's DUMBO studio, visitors are transported to a jewelry candy land -- it's enough to make your heart skip a beat. Not only is the two-floor, 20,000 square foot space home to a bevy of bedecked necklaces, bracelets, rings, brooches and other accoutrements, but it includes a massive, industrial production operation that creates all of Bittar's original wares. "I've always wanted to keep the manufacturing here in New York," he offers. "It gives me the ability as a designer to change things and react quickly. Besides, I couldn't outsource if I wanted to because of the Lucite."
Now Lucite isn't just an immaterial excuse for Bittar to say he's "Made In USA." Rather, the acrylic resin is the jeweler's claim to fame. It's even made its way to the famous arms of First Lady Michelle Obama -- see her trip to Brazil earlier this year. "When I started with Lucite, it was 21 years ago," he says. "There was nothing like it really. People had worked with resin and molding resin, but only two people were doing hard-carved Lucite as a material."
21 years may seem like a long time to do be doing something, especially considering how young Bittar is, but in fact, he has known jewelry to be his calling since he was a child. "I grew up in Brooklyn and we spent our summers in Maine, and there was this woman in her 70s who was an antique dealer," he says. "My parents were always buying and selling antiques, and I gravitated to the jewelry, thus, I'm gay at, like, 10."
He played his ambition forward by selling his antique finds on the St. Marks Place street corner after school and on weekends. "It was 1982 and crazy," he says. "My parents didn't know it was crazy at the time, but it was. There I was, in the middle of New Wave central hanging out with a guy who was an Elvis impersonator. He had a vendor's license, but he also had the wig, the glasses, the Coppertone tanning lotion and there I was at 13, saying, 'Yeah, I work with that guy.'"
But it wasn't until 1999, after he founded his company in 1990, when Bittar did a Burberry-esque check on the glass that business really started changing for him. "It was kind of a fluke, really," he says. "I got a cease and desist from Burberry for doing their signature plaid on Lucite. I didn't know you couldn't do that, but then Rose Marie Bravo called me -- she just became head of the company -- and asked if I wanted to meet, and so I started doing a collection for them. It was insane."
Since then the company has grown to 350 employees, and last year produced 335,000 in costume jewels. Clearly, Bittar's apprenticeship worked out for him.
For more on Alexis Bittar, including a tour of his office, click through our slideshow below: