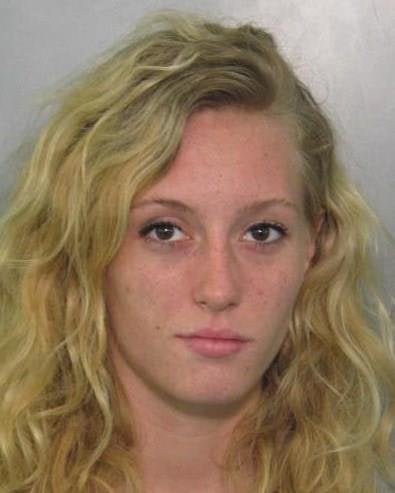 Just when authorities thought they had cleaned out a group of alleged drug offenders, one suspect revealed she had a trick up something other than her sleeve.
What began as a routine traffic stop led police in Florida to the drug-related arrests of four individuals, including one woman with a needle shoved up her anus, according to the Charlotte County Sheriff's Office.
Jordon Greus, 23; Donald Carlo Acquarelli, 25; Teal Lee Thomson, 22; and Alexis Ann Clancey, 20, initially denied possession of illegal substances when they were approached by deputies Tuesday for not having brake lights.
According to the sheriff's office:
When deputies began the search of Greus they asked if he had anything hidden in his prosthetic leg. Greus said he had a small bag of cocaine in it and handed it to a deputy. A search of Thomson found a plastic baggie located in her bra that contained Morphine and Hydromorphone pills. Clancey said she had a Hydromorphine pill in her wallet left on the driver's seat.
"Clancey also told deputies she had another hypodermic needle hidden in her butt," according to police. "She was removed from the patrol car and produced a needle from her backside and gave it to the deputy."
Police eventually found five hypodermic needles filled with a clear substance that tested positive for Opiates.
All four individuals were placed in the Charlotte County Jail following the incident.
According to authorities: "Greus and Acquarelli were both charged with possession of cocaine and possession of drug paraphernalia. Thompson was charged with possession of morphine, possession of hydromorphone and possession of Drug Paraphernalia. Clancey was charged with possession of opiates, possession of drug paraphernalia, and resisting an officer."
REAL LIFE. REAL NEWS. REAL VOICES.
Help us tell more of the stories that matter from voices that too often remain unheard.
BEFORE YOU GO
PHOTO GALLERY
Drugs Hidden In The Darndest Places