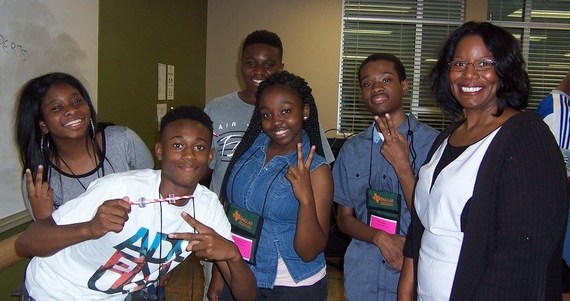 Photo Caption: Alexis Scott with Winning Design Team at STEM Summer Camp's Intro to Engineering Project
As the digital sphere continues to expand, cyber security becomes all the more imperative. And as employers continue to hire STEM-savvy employees, proficiency in mathematics is essential. Our next amazing alumna, Alexis M. Scott, is responsible for keeping IT systems safe as well as educating the next generation of STEM professionals.
Alexis M. Scott is a System Security Engineering (i.e. cyber security) Manager for a defense company. She's also a Mathematics Education Entrepreneur and founder of the educational services center AMS Academic Solutions (http://amsacademicsolutions.com).
Alexis finds her dual career to be very rewarding. During the day, Alexis leads a team of System Security Engineers, where she applies her technical knowledge and strong social skills. After working hours, she inspires students with her love of mathematics.
In 1993, Alexis graduated from Spelman College with an undergraduate degree in mathematics. She followed that up in 1995 with a Master of Science in Mathematics from the University of North Texas.
For Alexis, it all started when she was a young girl. She found numbers an appealing concept, and she excelled at using them to solve problems. Unfortunately, girls were not supposed to like math--let alone excel at it! But, Alexis disregarded this conception. She knew what she liked, and opted to persevere in honing her math skills.
When it came time for college, Alexis decided to major in her favorite subject: mathematics. Thinking she might like to become an accountant, she decided to also minor in business. However, her career direction changed in graduate school as she started to think about career options outside of becoming a CPA (certified public accountant).
Thus, her first post-graduate job was not in accounting, but in a role that entailed computer programming and radar data analysis. She moved to Boston, where her new employer was located in a prestigious STEM school's laboratory. Alexis discovered the intrigue of computer programming upon learning her first computer language. As a math lover, Alexis viewed programming as another effective and exciting method for solving puzzles.
A few years later, Alexis developed an interest in learning how to secure the systems she helped to create. Alexis then entered the world of system security. She remains involved in this field today, having advanced from the role of contributor to one in management.
Amid these career changes, Alexis remained involved in teaching mathematics. Bitten by the "tutoring bug" while in college, Alexis's desire to share her love of math through education ¬remained a persistent passion through the decades. Alexis understands that while sometimes math can "trip someone up," it doesn't have to be that way.
At first, tutoring was merely a way to earn extra spending money while in college, but Alexis quickly realized just how much she enjoyed helping others to understand and appreciate mathematics. The satisfaction she received from this endeavor was so meaningful to Alexis that, after college, she found herself teaching at local colleges in the evening while working her full-time position in engineering.
Alexis created her first entrepreneur venture in 2011. She founded Alexis Math Services, a tutoring service for mathematics. Encouraged by requests from parents who saw improvement in their children's performance, Alexis expanded her services to include other topics, hiring additional subject-specific tutors. Alexis now develops programs and oversees the tutors employed by her company, but she remains involved in one-on-one tutoring.
Alexis' career offers her the best of worlds: an employer that allows her to exercise her considerable mathematical abilities and students who want to learn math. Something of an arithmetical superhero, she is an engineer by day and an educator by night.
I was impressed by how Alexis found a way to carve out a career that involves her two main passions, while effectively challenging the pervasive myth that says "girls can't do math."
I asked Alexis about this myth and she came back with:
"First off, I really don't accept a 'can't do' attitude. You can tell me you do not understand a math problem, but you cannot tell me you can't do it. Normally, students who come to me are so frustrated that they have made up their minds that the problem is too difficult to solve. So, with that, we go back to basics and view a simpler problem. What the student begins to realize is that they actually understand more than they think.
I had this one student I was tutoring who made it up in her mind that she was not going to college because she could not do a math problem. She had limited her dream based on a misunderstanding. So we started doing some problems, looking at the techniques and taking baby steps. Approximately 20 minutes into the lesson, we started doing more difficult problems. Around the 30 minute mark she was doing the problems by herself. Then I began to ask her questions. 'So you are not going to college?' I asked. She said yes. 'You are not going to college because you can't do the math problems?' She said yes. 'You are not going to college, hmm?' So, I basically kept bombarding her with the same question to the point that she was becoming a little annoyed with me. So, then I gave her the punch line and told her, 'Don't ever tell anyone else what you cannot do. For the past 30 minutes or so you have been doing these problems on your own. You have been doing COLLEGE LEVEL math problems.' And I watched her demeanor completely change, and she started to cry. I could literally see the light bulb turn on. All she had to be given was the knowledge, understanding, and confidence to perform the calculations.
So, that is what I do with my students. We get that misconception out of the way early. I do not let them come into my lessons with a defeated attitude. I just ask them to open their minds to the possibilities."
I also asked Alexis about possible careers for math majors and she replied:
"This is a question I receive over and over. There are so many things you can do with a math degree. I tell my students that mathematics allows you to solve problems and think through strategies.

Many people think that you can only go into academia. Even though academia is a fun aspect of math, it is far from the only option. You can take a math degree into several engineering disciplines. I took my mathematics degree first into a career as a radar analyst, then into computer programming, and ultimately into the field of System Security Engineering.
Another popular field for mathematics is accounting. Mathematics also is great for understanding the actuarial science. Originally, when I started out, my goal was to be a CPA, not an engineer. Even with this change in direction, mathematics allowed me to make an easy transition.

Mathematics is such a broad discipline, that I even have friends who graduated with mathematics degree that have gone into Marketing. To summarize: there is no limit to what you can do with a mathematics degree."
I very much enjoyed getting to know Alexis. Her dedication to sharing her passion for mathematics is an admirable trait, as mastering math opens pathways to an excellent variety of career options.
In my next blog post, I'll write about Charlotte Brown and her career as a Clinical Research Coordinator.
Follow Diane on Twitter @HerSTEMCareer where she celebrates and champions STEM women from around the world. To learn more about women's colleges, visit Diane's blog, Advantages of a Women's College, where a complete listing of all women's colleges in the United States is provided.
Related
Popular in the Community