Growing up in New York, Alexis Michelle aspired to be a Broadway star. As is the case for many aspiring thespians, however, Michelle would make a few detours while pursuing a career on the stage.
What she couldn't have predicted, however, was that one of those detours would turn out to be her lucky break. The 32-year-old performer landed a coveted spot on "RuPaul's Drag Race" after eight grueling auditions – and, true to form, is bringing her love of Broadway to the show's ninth (and current) season.
"A career in theater has always been the end game for me, and doing drag has always been a natural accompaniment," Michelle, whose real name is Alex Michaels, told HuffPost. "I've always considered myself an actor first."
Of course, Michelle hasn't been shy about showcasing her theatrical chops on "RuPaul's Drag Race." At the VH1 show's March 7 premiere party in New York, she performed "All That Jazz" from "Chicago" with the full Bob Fosse choreography and a host of backup dancers. On May 16 and June 13, Manhattan theatergoers will get a chance to witness Michelle's Broadway belt for themselves when she takes to the stage of Feinstein's/54 Below. (Get a sneak peek at the show in the video above.)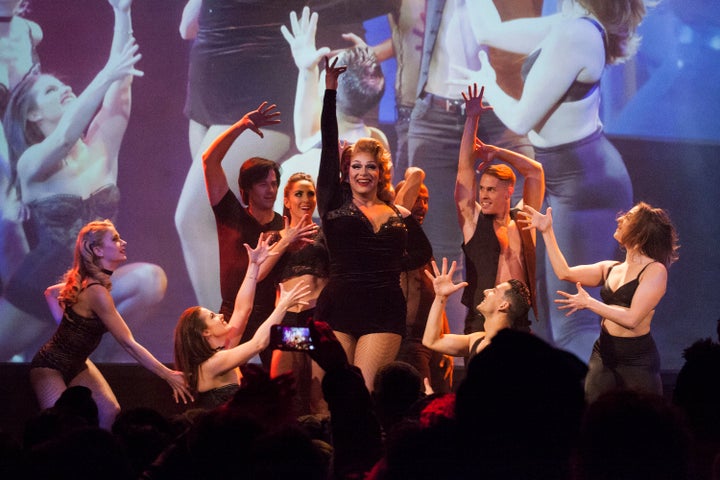 "To me, the real beauty of theater and Broadway has always been about storytelling – taking people out of their daily lives. I fell in love with theater when I was 5 years old," Michelle said. When it came to choosing material for "It Takes A Woman," she added, "Theater has the power and, perhaps more now than ever, a responsibility to tell a story that is relevant to the world right now. I tried to think about things that I've been through that are universal."
Michelle said she enjoys her newfound "RuPaul's Drag Race" visibility, but her stint almost didn't happen. After seven unsuccessful auditions for the show, she said she was planning to apply to culinary school in 2016 before she decided to give "Drag Race" one final shot.
"The best I can do – as a gay man, a queer performer and a drag queen – is live my life honestly, openly and authentically, and let that authenticity be reflected in my performances."
"I was at a real crossroads at this time last year… I came very close to not auditioning again. I just hadn't seen the kind of returns financially that I needed in order to sustain [drag] as a career," Michelle recalled. "I said to myself, 'If this doesn't really pick up and become your career for real, you need to go to culinary school.'"
Her eighth audition, however, turned out to be the charm. "I just took a stance that was more 'This is me. Take it or leave it. I've got nothing to lose,' rather than trying to say something I thought they wanted to hear," she said. "I just had to present myself as honestly and as straightforward as I could, and to trust that there was value in that."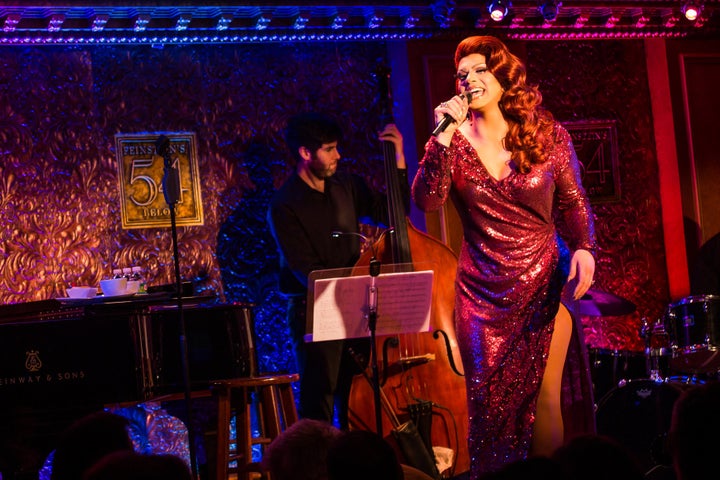 As Michelle gears up for the final two shows of her four-night Feinstein's/54 Below run, she said she feels "very lucky" to be establishing a career in drag at a time when many queer people are facing an uncertain future. President Donald Trump's rise to power has left Michelle "very charged up" both personally and professionally. "I'm trying to figure out the best way to make my voice heard for the things I believe in," she said.
"The best I can do – as a gay man, a queer performer and a drag queen – is live my life honestly, openly and authentically, and let that authenticity be reflected in my performances," she said. "I really do believe that if we all live authentically, that behavior in and of itself has the power to change the world. It's something that everybody can do. Right now that's my plan of attack."
Alexis Michelle stars in "It Takes A Woman… An Evening with Alexis Michelle" at Feinstein's/54 Below in New York on May 16 and June 13. Head here for details. 
Calling all HuffPost superfans!
Sign up for membership to become a founding member and help shape HuffPost's next chapter
BEFORE YOU GO