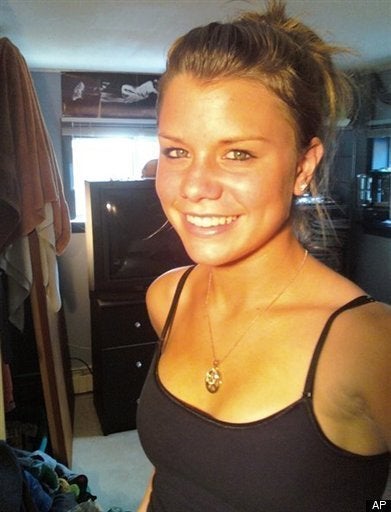 Alexis Pilkington was a popular athlete, a well-liked star who had already landed a soccer scholarship to college. But none of that stopped the 17-year-old from becoming the target of nasty online comments.
Even after the Long Island girl killed herself, the harassing Internet messages kept on coming, posted on a page meant to stand as a tribute.
Now, Suffolk County police say they're investigating the messages sent before and after Alexis's death in her West Islip bedroom. Her parents said they don't believe the messages led to her suicide, but her friends have been distraught over the creepy, insensitive messages about her, many of them posted anonymously.
Michael Stracuzza, father of one of Alexis' friends, told The Associated Press he's sending prosecutors information on all the harassing posts put on a Facebook memorial site. He and other parents are hoping to take legal action because of how upsetting it is for those Alexis left behind.
"It's the effect the posts have on those who are mourning that poor girl's death," said Stracuzza, whose 18-year-old daughter Chanelle was upset after seeing the messages. "This is what needs to be addressed. Children want to mourn their friend, and there are posts of photos with nooses around her neck. It's disgusting and heartless."
A tribute to the teenager was set up on the popular social networking site, with many of her friends posting messages about how they missed her, but a flood of negative messages, many of them lewd, also piled up. A page on formspring.me, another social networking site, also was flooded with mean-spirited messages and graphic images.
Suffolk County police said they are monitoring the sites and will take action if any communications are found to be criminal. They declined to comment further on the details of the case.
Donna McBride, whose daughter often brought Alexis along on family vacations as they were growing up, said her daughter started screaming when she saw the spiteful and gruesome images. She has told her daughter to stop looking at the page and has instead asked a relative who didn't know Alexis to document the postings for authorities.
"Who has the heart to do this to people who are suffering?" she asked. "Who raised these horrible children?"
Facebook spokesman Andrew Noyes said the company did not condone cyberbullying and was concerned about the safety of its users.
"We will disable accounts that are found to be intimidating others in any way," he said.
Formspring.me issued a statement through a spokeswoman expressing condolences to Alexis' family.
"Like those closest to Alexis, we believe there are other underlying issues at work when someone decides to take their own life," the statement said. "We will work with authorities through proper legal channels to help prosecute any criminal acts involving the misuse of our system."
Just two weeks before Alexis' death, a father who lost his son to suicide after the boy was bullied online went to speak to members of the school district community. That was followed with classroom discussions on the topic, said Nancy Lenz, a spokeswoman for the West Islip School District. Alexis was unlikely to have attended the talk, McBride said.
"She was a star in our building, an athletic star. Extremely popular," Lenz said of Alexis, adding that she had already earned all the credits she needed to graduate from high school and had landed a soccer scholarship to Dowling College on Long Island, where she planned to start in the fall.
Alexis' parents did not return a call seeking comment Wednesday. Her father, Thomas Pilkington, a New York City police officer, said he'd cooperate with any legal proceedings. He said his daughter dealt with insulting comments in the days before her suicide but he doesn't blame those postings for her actions.
"It could be one of many things (contributing to her suicide), but it was not the major or even a minor factor in her deciding to do what she did," Pilkington said.
Cyberbullying has been shown to cause higher levels of depression and anxiety for victims than traditional bullying, said Robin M. Kowalski, a social psychologist at Clemson University who has done extensive research on the phenomena.
"A lot of it stems from that anonymity," she said.
Just under 50 percent of the victims didn't know who the perpetrators were in a study of 3,700 middle school students nationwide, she said. One-quarter of participants had been victims of some form of harassment over the Internet.
More than 15 states have laws making cyberbullying a harassment crime or making it easier to investigate or prosecute, according to the National Conference of State Legislatures. New York does not have such a law.
Federal legislation has been proposed that would give prosecutors the ability to punish those who use electronic means to engage in severe cyberbullying -- defined as repeated, hostile and severe communication made with an intent to harm.
The laws have been spurred by the Megan Meier case in Missouri, in which an adult neighbor, her daughter and a friend were linked to a MySpace page concocted to appear to be that of a teenage boy named Josh, who initially flirted with Megan but then made hurtful comments shortly before she killed herself.
At the very least, Stracuzza wants anonymous posting to stop.
"If you're going to say something awful, then you should have your name attached to it," he said. "You shouldn't be able to hide."
---
Associated Press writer Cristian Salazar contributed to this report.
Related
Popular in the Community