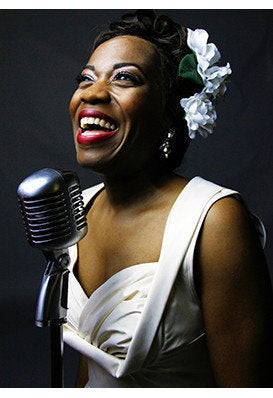 In Porchlight's seductive and sobering production of Lanie Robertson's Lady Day at Emerson's Bar & Grill, the moment Alexis J. Rogers makes her reluctant entrance, drink in hand, you know you're in for a turbulent ride. Rogers, channeling the singular jazz singer Billie Holiday, known by her fans as "Lady Day," simply captivates in the central role of this primarily one-woman showcase. And when Rogers opens her mouth to croon out Johnny Mercer's "When a Woman Loves a Man": goosebumps. True, while Rogers may give off the vibe of being a decade too young for the role in this play, which captures Holiday during the last months of her life -- a life filled with partying, prison time and personal tragedy -- she captures the artist's hard-worn spirit with fearlessness and honesty. In short: Rogers is Billie Holiday.
Backed by a stellar trio (Jarod Landon, Michael Weatherspoon and Chris Thigpen) shrouded in a moody, shadow-filled set designed by Jeffrey D. Kmiec and lit by Nick Belley, Rogers walks us through a dozen classic Holiday tunes, some self-selected as her mood warrants, some prompted by her pianist (Landon, who's also the show's music director). Between numbers, she revisits moments in her life, from her disastrous first love to her childhood rape to memories of her late mother.
Clearly this is a woman who hides her pain in a pretty white party dress, coiffed hair and self-deprecating humor. And in the play's final moments, she slips offstage for a heroin fix and returns to close out her 90-minute set despite her pianists' protests. Yes, it's heartbreaking seeing this talented woman become consumed by her pain. However, and this is important: it's not pitiable -- and that's due to Rogers' carefully pitched performance under Rob Lindley's focused direction.
Knowing very little about Holiday prior to this performance, I left Stage 773 with great respect and admiration for Lady Day, even downloading a few of her greatest hits albums from iTunes.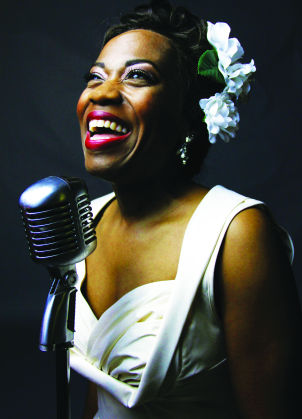 Alexis J. Rogers is Billie Holiday in Porchlight's "Lady Day at Emerson's Bar & Grill"
"Lady Day at Emerson's Bar and Grill" plays through March 10 at Stage 773. More info here >
Popular in the Community