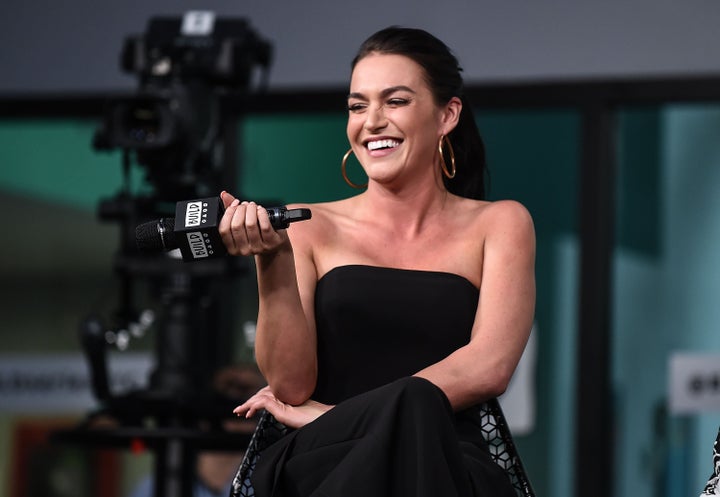 Alexis Waters, best known as the dolphin lover who wore a shark costume to meet Nick Viall on season 21 of "The Bachelor," wasn't exactly heartbroken over being dumped halfway into the season. "I'm cool with all the girls on my season, because I didn't really like Nick," she admitted in an interview Tuesday at BUILD Series.
Nick's connection with Vanessa Grimaldi, to whom he proposed at the end of the season, became apparent early on. "From the beginning, he was always watching her," Alexis said. "I think I was just there for comic relief, pretty much."
Though she says she gets along with everyone from her season, Alexis has remained particularly close to Rachel Lindsay, who stars in the next "Bachelorette" season premiering on Monday, and even filmed a guest spot for the season's premiere. "I gave love advice," she said. What advice? "I don't even remember!" Fortunately, she didn't seem to think Rachel would need it. "She won't take bullshit ... she's 31, she wants what she wants, she knows what she wants, and she's ready."
Alexis appeared along with Olivia Caridi, a contestant on season 20 of "The Bachelor," and the two reminisced about the odd thing that is the sexy sports date on "The Bachelor." "We had to play soccer in spandex!" remembered Olivia. "The whole time we were running, we were yanking at the spandex." Fun!
To hear more about the upcoming "Bachelorette" season, behind-the-scenes reveals and Bachelor Nation gossip, check out the rest of the show at BUILD Series or listen to the full conversation in the latest episode of Here to Make Friends:
Do people love "The Bachelor," "The Bachelorette" and "Bachelor in Paradise," or do they love to hate these shows? It's unclear. But here at "Here to Make Friends," we both love and love to hate them — and we love to snarkily dissect each episode in vivid detail. Podcast edited by Nick Offenberg.
Want more "Bachelor" stories in your life? Sign up for HuffPost's Entertainment email for extra hot goss about The Bachelor, his 30 bachelorettes, and the most dramatic rose ceremonies ever. The newsletter will also serve you up some juicy celeb news, hilarious late-night bits, awards coverage and more. Sign up for the newsletter here.
Popular in the Community