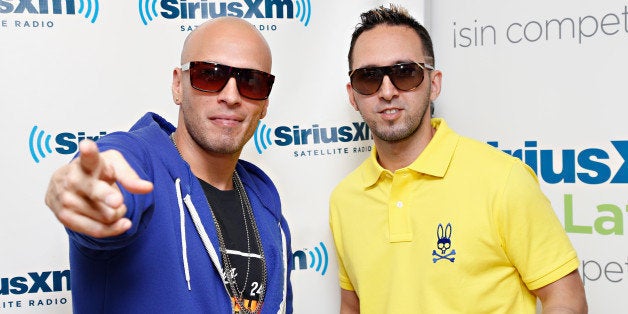 Reggaeton superstar Fido of Alexis y Fido opens up about his new Radio Shack commercial alongside rapper Little John, DJ Steve Aoki and Olympian Michael Phelps, in a telephone interview with VOXXI. He also dishes on his latest single "Alocate" off of his new album, "La Esencia," Hispanic Heritage month and future projects.
Fido, part of the hit reggaeton duo Alexis y Fido from Cayey, Puerto Rico, has released five studio albums, received three Latin Grammy nominations and six Latin Billboard nominations. Alexis y Fido have established themselves as "Los Reyes del Perreo," the kings of their musical genre, Reggaeton. They've also earned the nickname "Los Pitbulls" for their aggressive lyrical delivery style.
Their debut single "Eso Ehh!" remained in Billboard's Hot Latin Singles' top 10 list and was showcased in episodes of two HBO television series, the critically acclaimed "Entourage" and "The Wire."
Alexis y Fido have also dabbled in the acting world. In 2007, they appeared in the film "Feel the Noise" produced by Puerto Rican power-house Jennifer Lopez's production company, Nuyorican Productions. They've performed at Los Premios Juventud, where they shared the stage with Toby Love and have worked with Daddy Yankee and Wisin y Yandel.
Not too long ago, in 2011, Alexis y Fido's song "Energia" was recognized at the Grammy's and considered in the category of "Best Urban Song."
'La Esencia' of Alexis y Fido
Despite all their success, Alexis y Fido still have many unrealized dreams and plan to put forth their best efforts to make them come true. The duo would love to see their name in lights and they both have Hollywood on their minds. Developing the talent of other young artists and exploring their options via endorsement deals is also in the works, but for now the focus is on the promotion of their latest album, "La Esencia."
What exactly is the essence of Alexis y Fido?
"Our essence comes from this style that we have," Fido said. "Alexis and I, we're from the time that this movement started."
He continued on to say that Alexis y Fido can branch out and dabble in other types of music that are not strictly reggaeton and still maintain their urban flavor.
"We don't lose our essence because we bring our reggaeton style to whatever we do. It's how we are, how we dress and talk," he explained. "We keep it real."
Keeping it real has taken the boys from Cayey, Puerto Rico to Beverly Hills, Calif., and recently has earned them a seat at the Grammy's. To find out what Alexis y Fido have planned with their music and careers tune in to five minutes with Fido.
Interview with Fido of Alexis y Fido
BEFORE YOU GO
PHOTO GALLERY
27 Celebs You Didn't Know Were Latino