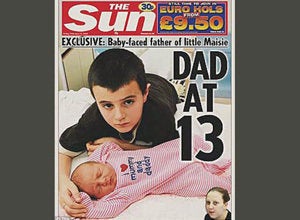 Alfie Patten has reportedly demanded a DNA test to prove he really is a father at age 13 after two other teenagers are said to have claimed they had slept with his girlfriend.
The schoolboy was described as another symbol of 'broken Britain after it emerged that he and Chantelle Steadman, 15, had parented baby Masie, born five days ago.
But today the scandal took another twist after it was claimed Richard Goodsell, 16, and Tyler Barker, 14, may have fathered the child.