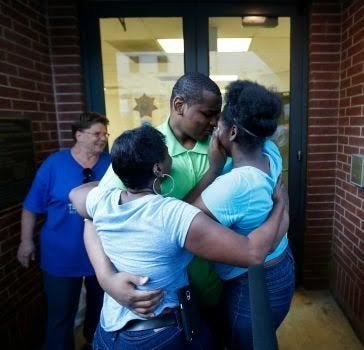 The crowdfunding site Indiegogo Life is usually used to raise money for medical emergencies, to help families recover from fires, or even to pay for dogs' vet help. A campaign set to expire soon is helping a man wrongly sent to death row get his life back together.
Alfred Dewayne Brown spent 12 years imprisoned, including a decade in a solitary cell no bigger than the average bathroom, waiting for Texas to put him to death for the 2003 murder of store clerk Alfredia Jones and police officer Charles Clark.
The case garnered worldwide attention when Lisa Falkenberg, a columnist for The Houston Chronicle, told the story of the corrupt justice system that put Brown away. The Indiegogo Life campaign for Brown set a 30-day goal of $5,000, and hit it with 57 hours to go. The campaign ends early Sunday.
Falkenberg's Pulitzer Prize-winning series exposed weaknesses in the Harris County grand jury system, including the intimidation of key witnesses, a possible conflict of interest from the ex-cop jury foreman's connections to Officer Clark, and the lack of physical evidence in Brown's trial.
Brown, now 33, has always maintained his innocence, saying phone records would prove he was wasn't at the scene of the crime. But those phone records were lost. In 2013, a homicide investigator cleaning out his garage found the records, which weren't used in the trial. Subsequently, the Texas Court of Criminal Appeals overturned Brown's conviction.
On June 8, 2014, Brown was set free when the Harris County district attorney said there wasn't enough evidence to convict him in a new trial.
Scott Cobb, of the Texas Moratorium Network, set up the Indiegogo account with the blessing of Brown's family and attorney. Cobb said the money will help Brown adjust to life in the free world, minus the small cut for credit card processing.
"My understanding is that it will be a long time before he gets any official compensation, and he may never get any," Cobb said. "Texas took years of his freedom and now it owes him some compensation, but until Texas acts, we have stepped in to ask people to help Dewayne now when he needs help the most readjusting to society."
"Texas operates totally on vengeance," said Pat Hartwell, an anti-death penalty advocate in Harris County. Hartwell was one of the first activists to see Brown after he was set free.
"He's a happy guy, he should be a happy guy, he got a second chance at life," Hartwell said. "We want him to succeed."
Popular in the Community