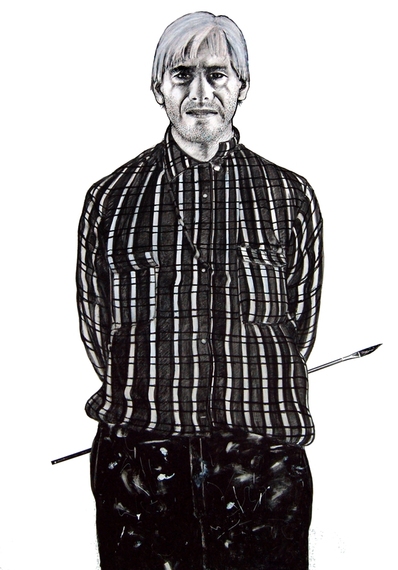 Bill de Kooning in 1966 (2011), Oil Pastel on Linen
Copyright Alfred Leslie, Courtesy Janet Borden, Inc., NYC
I'm infatuated! Although I'm not especially fickle, every few years I fall in love with a singular artist and need to proclaim my passion. The object of my affection can be male or female, alive or dead; I just have to believe he or she is underappreciated and then I become determined to regale all who will listen with accounts of the uniqueness of my beloved's exemplary talents.
My, until now, clandestine courtship began at the 2014 Armory Show in March. I was lured into a booth belonging to Hill Gallery from Birmingham, Michigan, attracted by a mesmerizing Tetraptych (Polyptych? Quadriptych? Anyway, a four-panel painting) called 'Pink Square, 1957-60'. I noted that the artist was Alfred Leslie. I knew Alfred Leslie was an Abstract Expressionist painter, but he'd never usurped the art world's imagination like the larger than life Willem de Kooning or the tragic Arshile Gorky or the both larger than life and tragic Jackson Pollock and Mark Rothko.
I circled around the piers a few times and kept returning to this painting. I needed to bathe in the luminous big pink square and feed on the white slashed green and rectangular mustard.
That same week, at the ADAA Art Show in the Park Avenue Armory, I entered New York dealer Janet Borden's booth, which was full of new works, an intriguing series of all-in-one combination paintings/drawings/photographs, computer generated but highly figurative depictions of louche literary figures. The artist was listed as Alfred Leslie. I sought out a 'Junior' or an 'Alfred Leslie III', knowing that the Abstract Expressionist Alfred Leslie was born in 1927, but found this was no descendent but the man himself. This same Alfred Leslie, a veteran of the most seminal Abstract Expressionist shows in history ('The Ninth Street Show' in 1951, '16 Americans' in 1959, and MOMA's engaging and encyclopedic 'Abstract Expressionist New York' exhibit from 2010-2011, curated by Ann Temkin) was now creating work that could only belong to the last few years. He was using a tablet and stylus, photoshopping his realistic and haunting hand-drawn digital drawings, then photographing the images.
I was awestruck! Besotted! Who is this Alfred Leslie? I google google googled, gobbling up data. My affection continued to grow. My dear Alfred had abandoned abstract work in the early 60's when he began to paint almost photorealistically in grisaille. By 1970, this former star second generation Abstract Expressionist, was now being presented as one of the Whitney's '22 Realists'
And oh yes, he is also a filmmaker; he pre-Warholed Warhol with such avant-garde flicks as 'Pull My Daisy' from 1959, co-directed with the photographer Robert Frank, featuring such 'actors' as Alice Neel, Larry Rivers and Allen Ginsberg, and written and narrated by Jack Kerouac, who says, "Don't be like a hepcat, you know, a hipster." Such excellent advice for now! I watched Leslie's 1964 repetitious experimental short, 'The Last Clean Shirt', shot from the rear of a convertible as the car turns around New York City, a taciturn black man driving, while a white woman at his side chirps Finnish Franglais gibberish that had been subtitled by the poet Frank O'Hara.
I learned that my extraordinarily versatile artist had also been the editor and publisher of what he called a 'One-Shot Review' titled 'The Hasty Papers' in 1960. He later put together a hardcover cavalcade of its brief but illustrious history and I was able to purchase a copy. One section features more than 100 letters between Alfred Leslie and various international figures as he solicits their participation for 'The Hasty Papers', corresponding with Boris Pasternak, Marianne Moore, Fidel Castro and Samuel Beckett. The actual publication mirrors mid-century culture with writings from John Ashbery, Derek Walcott, Terry Southern, Jean-Paul Sartre, Jean Genet, and James Schuyler. And a review of 'Three Great Painters': Churchill, Hitler, and Eisenhower.
In 1966, after his friend, the poet Frank O'Hara, was fatally crushed by a dune buggy, and a deadly fire destroyed much of Alfred Leslie's oeuvre, Leslie painted a majestic allegorical series of colorful oils called 'The Killing Cycle'. Later he seemed to specialize in painting women. Then came superb black watercolor landscapes. And always, there were sculptures. And photographs, including the Polaroid 'mugshots' which were almost all destroyed by flames, along with some fifty canvases. ('Pink Square,' 'Ornette Coleman', and the other Abstract Expressionist paintings at Hill Gallery are canvases that were in storage at the time of the fire.)
In 1992, Alfred Leslie wrote and directed a feature assemblage about the goings on between the artists and critics at the legendary Cedar Tavern, 'The Cedar Bar', which I have yet to see.
When I learned that Alfred Leslie's latest works, the photographs of computerized drawings of sordid fictional characters, were now on display at Janet Borden's Broadway gallery (a Soho stalwart), I hastened to view them again. They are generally in editions of four, six foot tall photographs of his drawings of literary characters including Gustav von Aschenbach (who somehow resembles the artist Alex Katz in this depiction) from Thomas Mann's novella, "Death in Venice,' Miss Wonderly from Dashiell Hammett's detective novel, 'The Maltese Falcon', and Don Perlimplin from Federico Garcia Lorca's play, 'The Love of Don Perlimplin and Belisa in the Garden.' In addition, there is a unique black and white oil pastel portrait of Willem de Kooning, as he looked in 1966, though painted in 2011. It is shocking to see how reasonably priced Alfred Leslie's work is, compared to so many newbie artists.
I noted a dapper older man wearing black clothing, gloves and black-framed glasses, seated in an office at the back of the sixth floor gallery. Could this be my Alfred? It was. I told him I was an admirer and he kindly signed my copy of 'The Hasty Papers'. But I was too timid to admit that I was in love.
With the recent deaths of Paul Jenkins, Kenneth Noland, and Helen Frankenthaler, I believe Alfred Leslie, a most contemporary 21st century artist, may be the last living major Abstract Expressionist.
In 'Pull My Daisy', Jack Kerouac says, "Unrequited love is a bore." I'm not bored at all!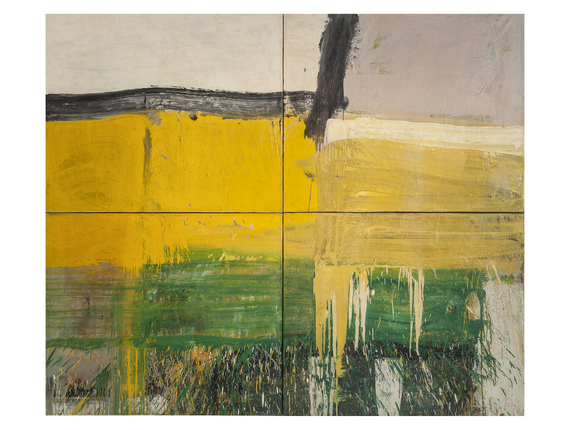 "Ornette Coleman", 1956, Oil on Canvas, 11 ft.hx8 ft.w
Tim Thayer Photography, Courtesy Hill Gallery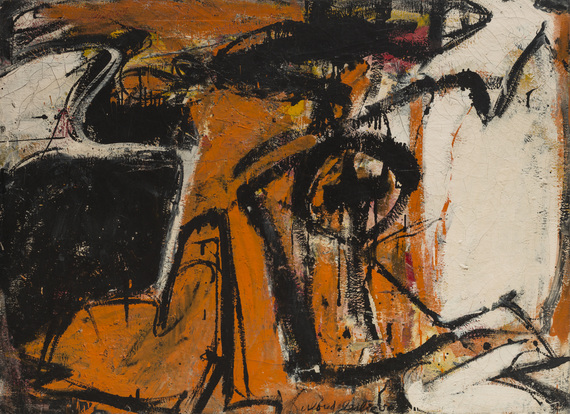 "Orange and Black", 1948-50, Duco Enamel Paint on Canvas, 48"hx65"w
Tim Thayer Photography, Courtesy Hill Gallery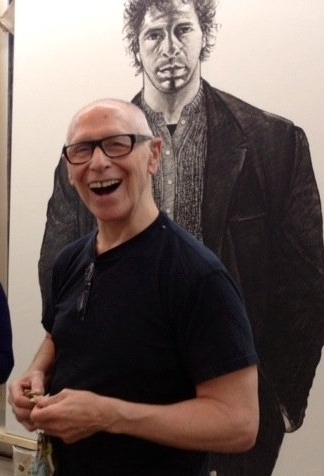 Alfred Leslie with a 2011 Portrait of a Younger Alfred Leslie
Copyright Alfred Leslie, Courtesy Janet Borden, Inc.,NY
Alfred Leslie: 'Pixel Scores'
Through May 1, 2014
Janet Borden, Inc
560 Broadway
New York, NY 10012
Alfred Leslie, Tadaaki Kuwayami, John Walker
Through May 23, 2014
Hill Gallery
407 West Brown Street
Birmingham, MI 48009
Popular in the Community