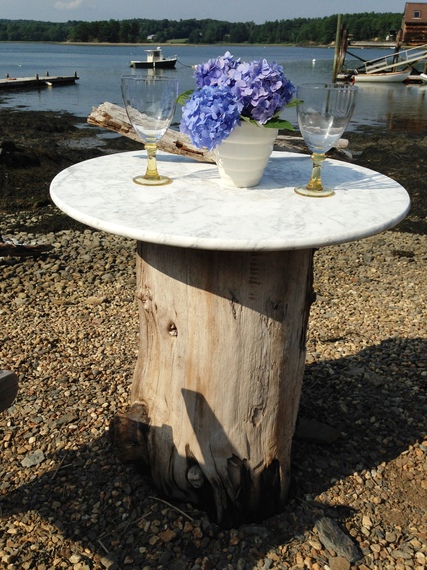 No one wants to spend any more time indoors during the summer than necessary. At least if you're like me. Unless we are fortunate enough to have a sweltering hot summer day, and I say fortunate because I'd take the unbearable heat of a New England summer over a cold day in winter any time, then of course spending time dining in the comfort of air conditioning is generally a must.
Alfresco dining is not only enjoyable but relaxing at the end of a long work day. The answer to cure your outdoor summer fix is through outside dining. Even if lacking green space, there is always a small piece of outdoor real estate around the confines of your home that can be enhanced with the charm and relaxing atmosphere of alfresco dining.
Creating your own location can be fun. A small deck off the family room or kitchen is most obvious; or create your own location with patio blocks or crushed stone. I recently created mine on the stone edge of the Piscataqua River waters. Clearing out some overgrown weeds to find washed up sea glass and sea shells the tides have left behind was an added bonus. An outdoor beachside dining table was created by a large driftwood tree stump spotted on the other side of the river. Towing with the dingy and a rope to reach the stone beach, the stump was the perfect table base. Cutting it with a chain saw to dining height would allow the addition of a unique table top. The search was on and found in an antique shop on a picking excursion in Maine, a round piece of white Carrara marble was scored and perfect size for the top of the driftwood base. Both pieces of the dining table would withstand the elements of the New England weather without worrying about having to take them in during a storm.
Adding two teakwood chairs that were sitting on the deck and my alfresco dining grouping was complete. A perfect gray worn finish from the natural elements made the chairs work well paired with the driftwood tree trunk table base. Next embellish and set the table. This is the fun part.
Using summer flowers growing in your gardens makes it easy to create a simple centerpiece. Creating a floral arrangement without spending any money can be very rewarding. I cut some Endless Summer Hydrangeas from what we call "Hydrangea Alley" which creates a natural walkway of hydrangeas in the yard. Another addition to the Alfresco dining area were three rusted iron plant stands found again on a picking trip and perfect for a grouping nestled in the beach stones at the end of the stairway being created. Inexpensive terracotta pots filled the plant stands for under $25.00. Adding natural elements to your dining area will enhance the alfresco experience.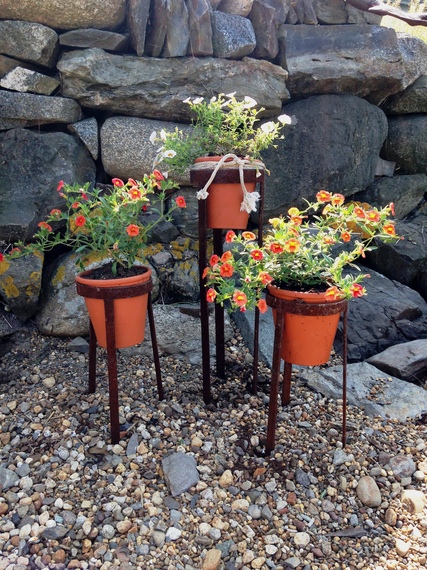 Tips for creating your alfresco dining space:
• Find a unique table base and table top that will fit your space.
• Iron tables and chairs can be found at thrift stores and antique establishments.
• Set the table with a specific color scheme depending on what's being served for dinner.
• Add some fun colored stemware for cocktails.