Who knew that algae could be so versatile? It's now being used as a biofuel, biofliter, bioreactor, food supplement, fertilizer, and an all-purpose additive to a host of day-to-day products we use. Now it's making its way into art installations around the world, including H.O.R.T.U.S. an installation by ecoLogicStudio exhibited at the Architectural Association in February 2012.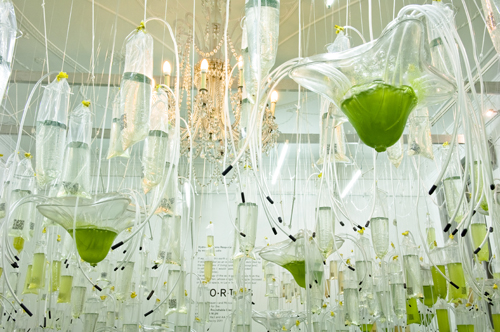 H.O.R.T.U.S., ecoLogicStudio, 2012
H.O.R.T.U.S. is a prototype for a new form of urban gardening. 325 bags of algae intermingled with bioluminescent bacteria, were hung from the ceiling of the AA Front Members Room, allowing visitors to interact physically, via breath, and virtually, via smart phones. Both the real and emergent virtual garden were nourished by human interaction, the former by releasing CO2 into the system and furthering the production of the oxygen that fed the bacteria, and the latter by creating local and global data streams.
September was a breakout month for algae in art. At the Maker Faire New York at the Queens Museum of Science, scientist turned artist Angelo Vermeulen and a team of collaborators exhibited Biomodd [NYC], the latest version of a gangly laboratory-like installation that brings computers and organic matter, algae and people, into a close-knit system.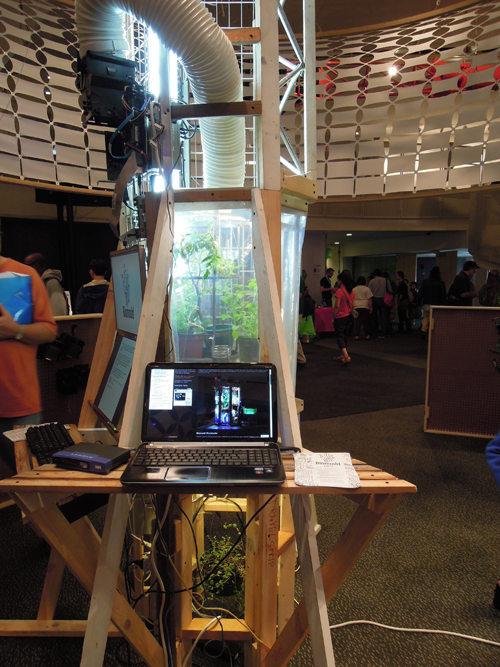 Biomodd [NYC], initiated by Angelo Vermeulen, 2012
Instead of the typical coolant liquid, the sculpture uses algae to cool computer processors. In turn that waste heat is used to stimulate the growth of the algae. There's also a back-and-forth communication between the plants and the computers: sensors in the ecosystem send data back into the computer, deploying "robotic caretakers" to water, feed, trim and cut the plants.
All that seems almost conventional compared to algae's new role in an avant-garde opera called Algae Opera, which premiered at the London 2012 Design Festival at the V&A Museum. It sounds fantastical, but not if you know the work of the designers involved. Here's some background: part of the opera team is called After Agri and they're a future-thinking collective made up of designers Michael Burton and Michiko Nitta, both Royal College of Art graduates who received an MA in Design Interactions. Burton is among the most original and far out designers in my book See Yourself Sensing: Redefining Human Perception. He grew up on a working farm and has used that experience to speculate on the future of farming, namely, farming on the human body itself. Burton and After Agri are like a think tank, speculating on the future of humans and our impending unavoidable, and hopefully mutually beneficial interactions with bacteria, algae and biological systems.
Prior to the opera, Nitta and Burton had envisioned an entirely new way of looking at food sources of the future. Their Algaculture proposes that humans become like plants, receiving nourishment from photosynthesis. The algal suit is a tubular exoskeletal network of veins that intersects with the body to become a wholly new organ.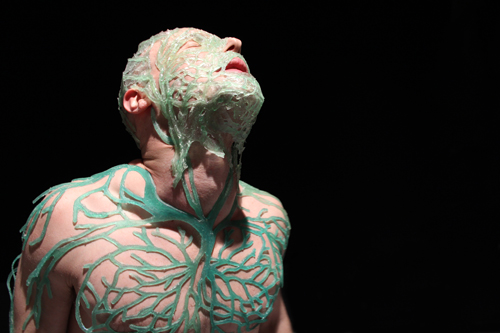 Algaculture, 2012 by Michael Burton and Michiko Nitta
Algae and humans have mutual benefits in this system, existing symbiotically. In another version (Near Future Algae Symbiosis Suit), a tubular mask is worn on the face.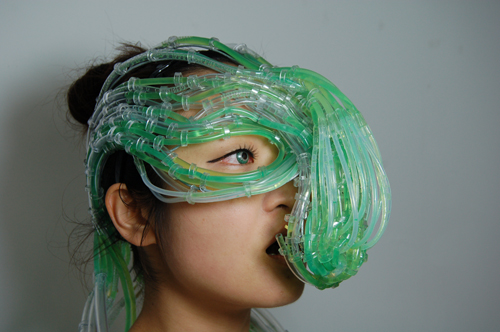 Near Future Algae Symbiosis Suit, 2011 by Michael Burton and Michiko Nitta
Algae Opera was performed by Louise Ashcroft, a mezzo-soprano, and composed by Gameshow Outpatient, with Sam Lewis as a lead actor. The year is 2060 and now the tubular new body organ inhabits the upper torso and is slung over Ashcroft's head like a pompadour gone awry.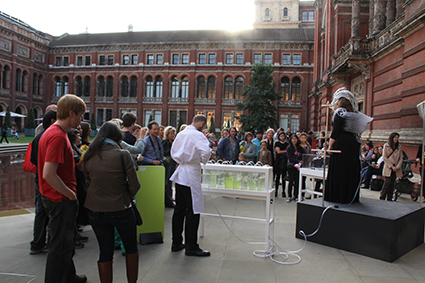 The Algae Opera, 2012 by Michael Burton and Michiko Nitta, Performed by Louise Ashcroft (Mezzo-Soprano) and Sam Lewis (Actor), Composed by Gameshow Outpatient.
She is one of a cadre of highly sought after biotechnologists -- opera singers -- whose voices affect the principal food of the future: algae. When the singer exhales, she blows CO2, via a tube, into a series of different types of algae housed in a mobile tabletop lab, providing the blooms with nourishment. And her breath changes the taste as well. Opera singers have the power and range to adjust tone and pitch, yielding either bitter or sweet tasting algae. The audience was able to verify this, since they were invited to snack on the algae after the show. So long popcorn. Move over seaweed.
So what's next for algae? A reality television series? A battle with slime mold for world domination? Who knows? After Agri does. Stay tuned for their next project. It's sure to be outrageous, original and provocative.
Biomodd will be on view in an upcoming exhibition called ReGeneration, opening October 27th at the Queens Museum of Science. The installation is spread out over two connected locations in the museum: the central structure in the ReGeneration exhibit, and a window garden in front.
Michael Burton's work will be included in a group show called See Yourself Sensing at the Natalie and James Thompson Art Gallery at San Jose State University, March 5 through April 5, 2013.