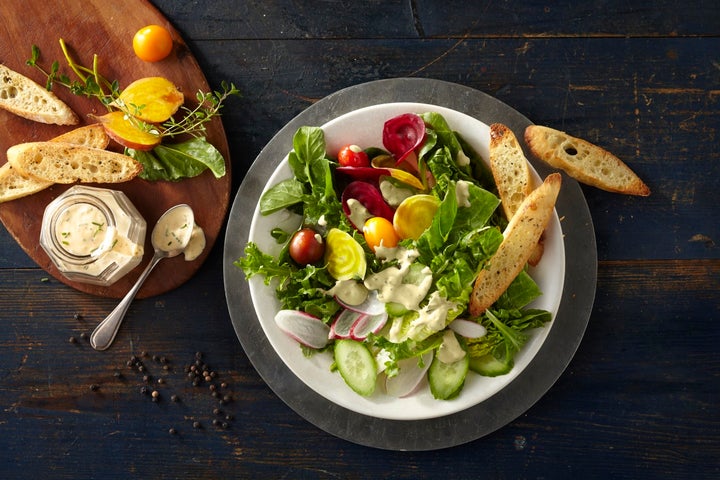 Odds are, you've heard the recent buzz about algae. It's certainly been getting a lot of media attention lately. The new found love of algae has emerged in part because of its health benefits and numerous culinary capabilities. But algae could also help "feed the world and fuel the planet."
I was first introduced to Terra Via (and algae) last year. Terra Via is a Bay Area food company focused solely on using algae as a sustainable, delicious, and nutritious food source. I was invited to their headquarters to try a soon-to-be-released culinary algae oil for myself. When I learned that it had more monounsaturated fats (the good for you fats) than any other oil currently on the market, the health nut in me was intrigued. On top of that, its ultra-high smoke point, up to 485 degrees, got my inner chef excited. When they told me it also required less water to produce than nearly any other oil, I was pretty much sold. In fact the only question I had left was: how does it taste? The team at Terra Via said I should try it for myself, and I happily accepted. Beyond cooking with algae oil, I also tried cooking and baking with TerraVia's lipid-rich whole algae and protein-rich whole algae ingredients. It made some of my biggest culinary challenges, like making vegan chocolate brownies, actually taste rich and decadent. Thus began my love of algae. Like any new romance, it took a little time to get to know one another. But I was soon convinced that algae as a food ingredient would be a game changer.
Eight months later, I've become a huge advocate for algae. In fact, I recently signed on to work with the entire TerraVia team as their culinary director. As culinary director, I've been working with algae in its many forms, using it to create a wide variety of healthy and delicious recipes. I'm excited to say that algae is making its way onto supermarket shelves across the country.
If you want to find out more about the technical side of cooking and baking with algae, or hear about all of its numerous health benefits, I will be at the upcoming IFT (International Food Technology Expo) in Chicago July 17-19. For now, I'll leave you with one of my favorite algae oil recipes. This healthier version of Green Goddess dressing is perfect for summer salads, and even summertime BBQ. I've replaced half of the mayo in the dressing with reduced fat Greek yogurt. I replaced the sunflower and olive oil with algae oil, for an extra boost of omega-9's. My "Greek Goddess" dressing isn't just for salads. Try slathering it on to grilled salmon, or onto a burger instead of mayo. It's a healthier alternative that will add extra flavor to your next meal. Enjoy!
Greek Goddess Dressing with Algae Oil
½ cup 2% Greek yogurt, preferably Fage
1/3 cup algae oil, preferably Thrive
Related
Popular in the Community