ALGIERS, Jan 18 (Reuters) - At least 18 foreign hostages were unaccounted for on Friday and their al-Qaeda-linked captors threatened to attack other energy installations after Algerian forces stormed a desert gas complex to free hundreds of captives, resulting in dozens of deaths.
With Western leaders clamouring for details of a raid they said Algeria had launched on Thursday without consulting them, a local source said the sprawling compound was still surrounded by Algerian special forces and some hostages remained inside.
Thirty hostages, including several Westerners, were killed during the assault, the source said, along with at least 18 of their captors, who said they had taken the site as retaliation for French intervention against Islamists in neighbouring Mali.
The crisis represents a serious escalation of unrest in northwestern Africa, where French forces have been in Mali since last week fighting an Islamist takeover of Timbuktu and other towns in the north, and could devastate OPEC member Algeria's oil industry, just as it recovers from a civil war in the 1990s.
French Prime Minister Jean-Marc Ayrault said the Algerian government had told him its operation was still going on at mid-morning on Friday. "The death of several hostages is appalling," he told journalists.
Two Japanese, two Britons and a French national were among at least seven foreigners killed, the Algerian source said.
Ten Japanese were among those still unaccounted for on Friday, their Japanese employer said, while Norwegian energy company Statoil, which runs the Tigantourine gas field with Britain's BP and Algeria's national oil company, said eight Norwegian employees were still missing.
Some British workers also appeared to be unaccounted for, though Prime Minister David Cameron said only that fewer than 30 Britons were still at risk as the operation continued.
Washington has said a number of Americans were among the hostages, without giving details, and the local source said a U.S. aircraft landed nearby on Friday to evacuate Americans.
Underlining the view of African and Western leaders that they face a multinational Islamist insurgency across the Sahara - the source said only two of 11 militants whose bodies were found on Thursday were Algerian, including the squad's leader.
The 11 bodies of gunmen found on Thursday comprised three Egyptians, two Tunisians, two Libyans, a Malian and a Frenchman - all assumed to have been hostage-takers - were found, the security source said. Algeria state news agency APS said the group had planned to take the hostages to Mali. On Friday, the source said 18 militants had now been found dead.
The plant was heavily fortified, with security, controlled access and an army camp with hundreds of armed personnel between the accommodation and processing plant, Andy Coward Honeywell, who worked there in 2009, told the BBC.
Defense Secretary Leon Panetta said militants who attacked the United States and its citizens would be run to ground: "Terrorists should be on notice that they will find no sanctuary, no refuge, not in Algeria, not in North Africa, not anywhere," he said in London. "Those who would wantonly attack our country and our people will have no place to hide."

The crisis posed a serious dilemma for former colonial power Paris and its allies as French troops attacked the hostage-takers' al Qaeda allies in Mali, another former colony.
The desert fighters have proved to be better trained and equipped than France had anticipated, diplomats told Reuters at the United Nations, which said 400,000 people could flee Mali to neighbouring countries in the coming months.
In Algeria, the kidnappers warned locals to stay away from foreign companies' installations in the oil and gas producing state, threatening more attacks, Mauritania's news agency ANI said, citing a spokesman for the group.
Algerian workers form the backbone of an oil and gas industry that has attracted international firms in recent years partly because of military-style security. The kidnapping, storming and further threat cast a deep shadow over its future.
An Irish engineer who survived said he saw four jeeps full of hostages blown up by Algerian troops whose commanders said they moved in about 30 hours after the siege began because the gunmen had demanded to be allowed to take their captives abroad.
Eight of the dead hostages were Algerian. The nationalities of the rest, and the perhaps dozens more who escaped, were unclear. Some 600 Algerian workers, less well guarded, survived.
A French hostage employed by a French catering company said Algerian military forces had found some British hostages hiding in a roof space and were combing the sprawling In Amenas site for others when he was escorted away by the military.
"I hid in my room for nearly 40 hours, under the bed. I put boards up pretty much all round," Alexandre Berceaux told Europe 1 raid. "I didn't know how long I was going to stay there ... I was afraid. I could see myself already ending up in a pine box."
Norwegian Foreign Minister Espen Barth Eide said his country still did not know the fate of eight Norwegians who had been working at the site. "As we understand it, the operation is still ongoing," he told Britain's BBC broadcaster.
Japanese Prime Minister Shinzo Abe has cancelled part of his trip in southeast Asia, his first overseas trip since taking office, and will fly home due to the hostage crisis, Japan's senior government spokesman said on Friday.
"The action of Algerian forces was regrettable," said Japan's Chief Cabinet Secretary Yoshihide Suga, adding Tokyo had not been informed of the operation in advance.
Their governments say Americans, Romanians and an Austrian have also been captured by the militants, who have demanded France end its week-old offensive in Mali.
The group had claimed to have dozens of guerrillas on site, and it was unclear whether any militants had managed to escape.
The overall commander, Algerian officials said, was Mokhtar Belmokhtar, a veteran of Afghanistan in the 1980s and Algeria's bloody civil war of the 1990s. He appears not to have been present and has now risen in stature among a host of Saharan Islamists, flush with arms and fighters from chaotic Libya, whom Western powers fear could spread violence far beyond the desert.
Algerian security specialist Anis Rahmani, author of several books on terrorism and editor of Ennahar daily, told Reuters about 70 militants were involved from two groups, Belmokhtar's "Those who sign in blood", who travelled from Libya, and the lesser known "Movement of the Islamic Youth in the South".
"They were carrying heavy weapons including rifles used by the Libyan army during (Muammar) Gadaffi's rule," he said. "They also had rocket-propelled grenades and machineguns."

Algeria's government made clear it is implacably at odds with Islamist guerrillas who remain at large in the south, years after the civil war through the 1990s in which some 200,000 people died. Communication Minister Mohamed Said repeated their refusal ever to negotiate with hostage-takers.
"We say that in the face of terrorism, yesterday as today as tomorrow, there will be no negotiation, no blackmail, no respite in the struggle against terrorism," he told APS news agency.
British Prime Minister Cameron, who warned people to prepare for bad news and who cancelled a major policy speech on Friday to deal with the situation, said through a spokesman that he would have liked Algeria to have consulted before the raid.
A Briton and an Algerian were also killed on Wednesday.
French hostage Berceaux said: "When Algerian solders ... came for me, I didn't even know it was over. They were with some of my colleagues, otherwise I'd never have opened the door."
U.S. officials had no clear information on the fate of Americans, though a U.S. military drone had flown over the area. Washington, like its European allies, has endorsed France's move to protect the Malian capital by mounting air strikes last week and now sending 1,400 ground troops to attack Islamist rebels.
A U.S. official said on Thursday it would provide transport aircraft to help France with a mission whose vital importance, President Francois Hollande said, was demonstrated by the attack in Algeria. Some fear, however, that going on the offensive in the remote region could provoke more bloodshed closer to home.
The apparent ease with which the fighters swooped in from the dunes to take control of an important energy facility, which produces some 10 percent of the natural gas on which Algeria depends for its export income, has raised questions over the value of outwardly tough security measures.

Related
Before You Go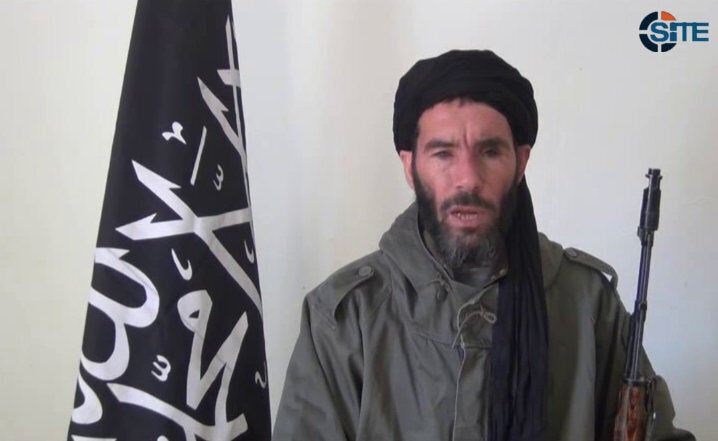 Algerian Hostage Crisis (AP Captions)
Popular in the Community