The "Oklahoma!" actor became the first wheelchair user to win a Tony — a huge moment for the disability community in regards to representation.
"This award is for every kid who is watching tonight who has a disability, who has a limitation or a challenge, who has been waiting to see themselves represented in this arena — you are," Stroker said as she held the trophy for her role as Ado Annie in the Broadway revival.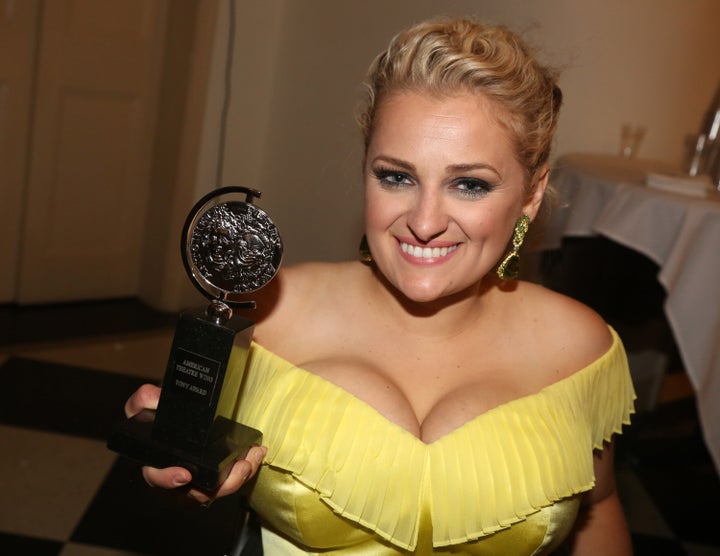 But no ramp, temporary or permanent, had been built from the audience seats to the stage at New York's Radio City Music Hall. So the 31-year-old actor had to wait in the wings in case she won. She was conveniently backstage because the organizers of the awards show had Stroker perform her saucy rendition of the song "I Cain't Say No" from "Oklahoma!" shortly before the nominees for her category were called.
The awards show pulled off this little stunt in order for Stroker to receive her individual Tony. But due to the lack of accessibility, she was not on stage with the rest of the "Oklahoma!" cast and crew when the show won the award for "Best Revival of a Musical."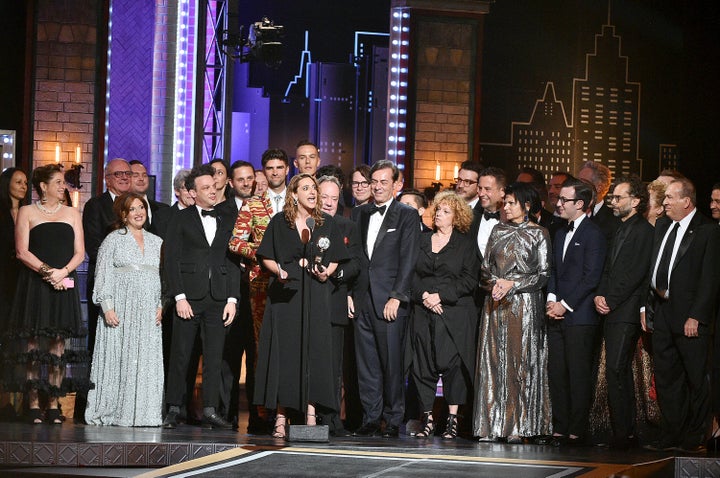 Both of those moments were a stark reminder to the disability community, and its advocates, that ableism, or discrimination against those who are disabled, is still rampant in today's society — despite Stroker's history-making win.
And many voiced their disappointment and concern on Twitter:
Stroker told The New York Times in an interview published Wednesday that she knows the Tony Awards and Radio City Music Hall "did the best that they could" and that she's aware of the "logistical things you have to deal with around buildings that were built a long, long time ago." But she said she had hoped there would be a ramp built for her.
"I think I had a dream that maybe there could be a ramp built," she said. "It's more than just a logistical thing — it's saying that you are accepted here, in every part of you."
After her win on Sunday, Stroker also spoke to reporters about the lack of accessibility on Broadway. She said that most of the theaters' backstage areas are not generally accessible to performers with disabilities.
"I would ask theater owners and producers to really look into how they can begin to make the backstage accessible so that performers with disabilities can get around," she said, per The New York Times.
Broadway does have a history of being inaccessible even to audience members with disabilities.
In 2017, Mark Lasser of Denver, who is blind, sued the popular musical "Hamilton" due to its lack of accessibility. When he bought the pricy tickets to the Broadway smash hit, Lasser had hoped that the theater would provide him with audio description, or a headset that would describe the actions on stage in real time while he was in the audience.
Lasser got a rude awakening when he showed up to the theater with his wife to discover that "Hamilton" did not provide this particular service.
And although the Shubert Organization, which owns many of the theaters in the Broadway district, now offers many accessibility options for those with disabilities, the slap in the face Stroker received at the Tony Awards is a reminder that society still treats the needs — and civil rights — of people with disabilities as an afterthought.
HuffPost reached out to the 2019 Tony Awards and Stroker for comment, but did not receive immediate responses.
The story has been updated with additional comment from Stroker to The New York Times.
Popular in the Community