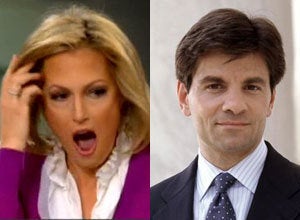 Ali Wentworth, wife of ABC's George Stephanopoulos, talked about sex addiction and porn on Oprah today. Wentworth was on Oprah's live Friday show, a new must-see tv addition that talks about current events, along with fellow regulars Mark Consuelos and Gayle King. Today the quartet was joined by Chris Rock and Ben Stiller.
Thanks to David Duchovny's recent stint in rehab, talk turned to sex addiction, something Ali doesn't understand. In fact, sometimes Ali would rather eat ice cream than have sex with her husband, and that while she's fine with porn, George going into an internet chat room would be cheating in her eyes.
After saying she had her kids out of lust, she said of sex, "I like it. I don't love it. I don't need to have it ten times a day... I'm happier with a Klondike bar sometimes."
She added later that George is welcome to "curl up with 'Naughty Neighbor'" when he is on the road.
Popular in the Community