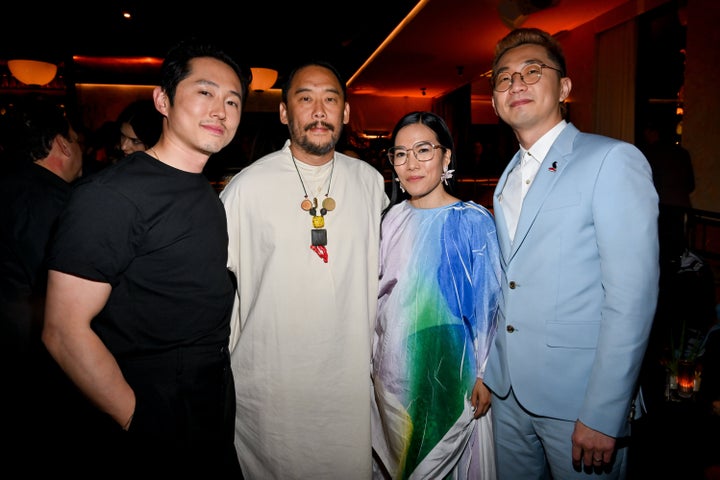 The stars and creator of the buzziest show on Netflix say a cast member's horrific story about sexually assaulting a woman is made up.
On Friday, "Beef" creator Lee Sung Jin and executive producers and stars Steven Yeun and Ali Wong released a statement to Variety responding to backlash the show has received for casting artist David Choe in one of its main roles.
Shortly after "Beef" hit the streamer earlier this month, a resurfaced 2014 clip of Choe very graphically detailing how he aggressively coerced a woman into a sexual act began to make the rounds online. Many social media users said they stopped watching "Beef" after Choe's story was unearthed.
"The story David Choe fabricated nine years ago is undeniably hurtful and extremely disturbing," their joint statement published in Variety states. "We do not condone this story in any way, and we understand why this has been so upsetting and triggering. We're aware David has apologized in the past for making up this horrific story, and we've seen him put in the work to get the mental health support he needed over the last decade to better himself and learn from his mistakes."
Choe, who plays Isaac on "Beef," told the story on his now-defunct podcast "DVDASA." In the clip that remains online, Choe goes into detail about forcing a Black massage therapist to performing oral sex on him.
"I take the back of her head and I push it down on my dick, and she doesn't do [anything]," Choe says in the clip. "And then I go, 'Open your mouth, open your mouth,' and she does it, and then I start face-fucking her."
Asa Akira, who was Choe's co-host at the time, then informed Choe that he "raped" the woman before the clip cuts out.
After the resurfaced clip initially hit Twitter last week, Choe didn't help matters by having the clip removed from the platform. Journalist Aura Bogado even posted screenshots of an email she received from Twitter explaining a clip she posted of Choe telling the story was removed "in response to a report from the copyright holder," per Twitter.
After the story was first reported in 2014, backlash followed Choe for years. In 2017, a mural he'd painted was vandalized with the word "rapist." Choe responded with a message on Instagram in 2017, according to NBC News, saying he had "ZERO history of sexual assault."
"In a 2014 episode of ['DVDASA'], I relayed a story simply for shock value that made it seem as if I had sexually violated a woman. Though I said those words, I did not commit those actions. It did not happen," his statement said. "I am deeply sorry for any hurt I've brought to anyone through my past words. Non-consensual sex is rape and it is never funny or appropriate to joke about."
Popular in the Community