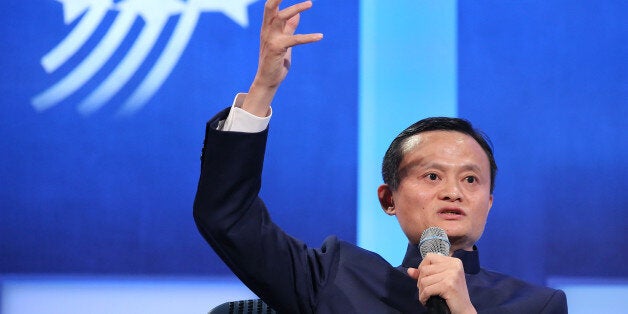 On September 19, the Chinese Internet e-commerce firm Alibaba officially debuted on the New York Stock Exchange, raising a record $25 billion. Alibaba's initial public offering is the world's largest, exceeding Facebook, Google, and all previous Internet IPOs. Alibaba rises to the apex of international markets, in large part because of deliberate state-building efforts and ingenious utilization of foreign capital. This has happened before with the Agricultural Industrial Bank of China and the Industrial Commercial Bank of China, along with Alibaba the top three IPOs in history, and others, such as the China Mobile and PetroChina, to name a few.
China's highly touted market reforms introduced an initial period of competition, but soon thereafter were followed by rules and regulations favoring domestic companies or restrictions on foreign direct investment (FDI). These measures are entirely to ensure their market foothold, promote indigenous technology, and incubate Chinese business in fledging industrial sectors. Today China represents one of the world's most wired developing countries and the largest Internet and mobile communications markets. Yet private and foreign competitors are barred from entering telecommunications basic services, despite commitments to the World Trade Organization to allow up to 49 percent FDI in basic services.
The Chinese government permits competition in value-added services (VAS), which operate on the networks owned and managed by the government, only among domestic companies, such as Alibaba. Chinese companies like Alibaba that have ownership structures and corporate governance connected to Chinese elites (including children and grandchildren of the Chinese Communist Party leadership) dominate internal markets. Foreign VAS providers, such as Yahoo and Google, in the very lucrative Chinese market, are limited to minority shares in less security sensitive service segments, such as online advertising. A prime example is the forced divestment of Yahoo's investment in Alipay, Alibaba's e-payment subsidiary, in 2010. Moreover, all VAS providers are expected to comply with censorship laws and self-police their content, part of China's efforts to consolidate its control over the business of the Internet, including profits and the dissemination of information, to maintain political and social stability.
The introduction of competition and foreign investment and subsequent regulatory actions to limit the influence of market actors has replayed across the Chinese economy. Recent anti-trust actions against foreign automakers and manufacturers of auto parts, including Daimler and Volkswagen, and high technology companies, such as Qualcomm and Microsoft, falls under this same pattern of market governance. Chinese companies have benefited from technology and knowledge transfers and collaboration with these firms.
In the late 1990s, newly created state-owned telecommunications carriers, including China Mobile, teamed with foreign direct investors in special investment vehicles to build new generation communications networks. Fearful of relinquishing control of communications infrastructure, the government soon forced the divestment of FDI, restructured state-owned operators and merged the then separate ministries that oversaw the regulation of telecommunications equipment and services.
Thus far few of the more than thirty foreign firms targeted under the 2008 anti-monopoly law have scaled back their operations in China. Similar to FDI's reticence in the 1990s and 2000s, they have attempted to "cooperate" with state authorities. This includes British pharmaceutical company GlaxoSmithKline, imposed an unprecedented $487 million fine by Chinese regulators for engaging in bribery and other related criminal activities. This is a fine far greater than any leveled on Chinese companies in a sector rift with widespread corruption.
You can bet that we will witness more Chinese companies--state-owned or otherwise--in all industries, fundraising globally and listing on international stock markets. Over 160 companies of varying sizes have raised money through IPOs in the U.S. in the first half of 2014 alone. Many already do business and compete in advanced industrialized and developing country markets, such as the state-owned food and beverage giant Bright Food; others like Alibaba only have to dominate Chinese markets, which are increasingly more hostile to foreign competition.
With the world increasingly and economically beholden to China and Chinese business, China's globalization strategy has won dividends at home and abroad. How has this relationship already affected global reception toward China as the government exercises its economic and political might to achieve territorial ambitions in the North and South China Seas? The multi-week student movement in Taiwan earlier this year against a trade in services agreement between China and Taiwan represents what the Taiwanese call China's attempt to displace the Taiwanese economy and force political unification. China's distinctive economic globalization undoubtedly influences the world's response to the ongoing street protests in Hong Kong concerning China's backtracking on its commitment toward the "one country, two systems" model of political governance.
Roselyn Hsueh is an assistant professor of Political Science at Temple University and the author of China's Regulatory State: A New Strategy for Globalization (Cornell University Press, 2011).
Calling all HuffPost superfans!
Sign up for membership to become a founding member and help shape HuffPost's next chapter