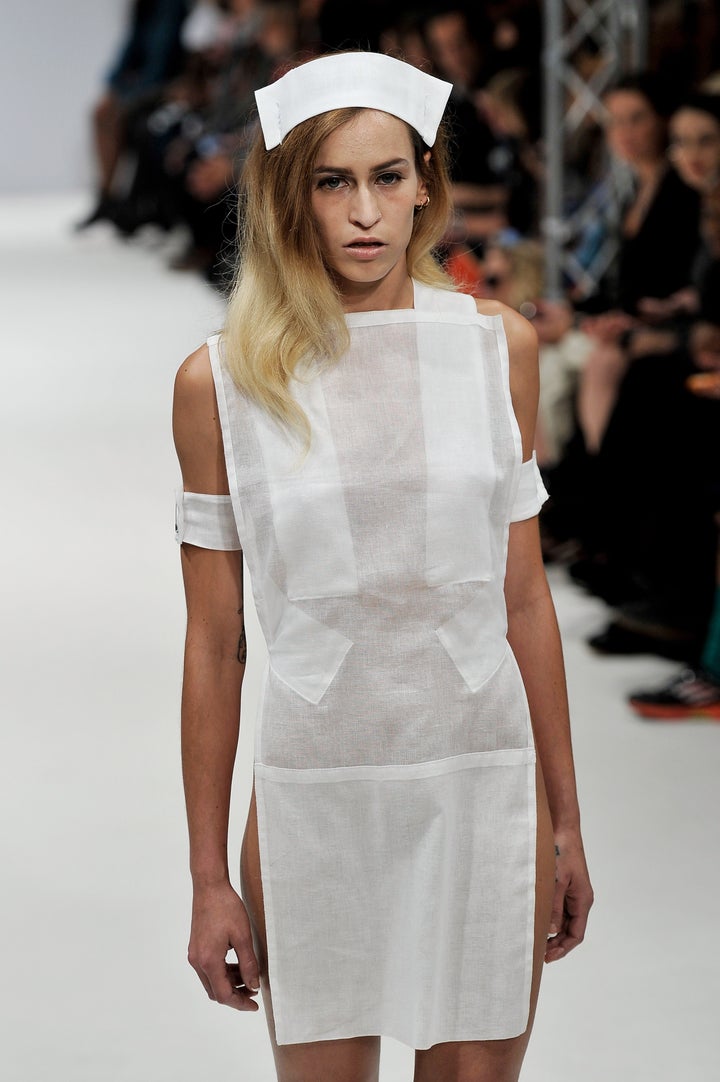 If you've been scouring London Fashion Week in search of the latest hot trends, here's a new one for you: buttcheeks.
Wait, what? Pam Hogg sent her spring 2013 collection down the catwalk at the Vauxhall Fashion Scout venue in Freemasons' Hall on Monday, which featured a number of wild outfits. Some reminded us of Sexy Mighty Morphin' Power Rangers (not necessarily in a bad way.) Others reminded us of the Louis Vuitton nurse uniforms from 2008. Still, others just showed us a plentiful flash of booty.
25-year-old model, socialite and Chanel face Alice Dellal strutted down the runway in ombre hair and a white hat. But when she turned around, we realized her white frock wasn't all it appeared to be in the front. In other words, there was no back. Yikes.
But there was an encore of exposed body parts, as Dellal later walked down the runway in Hogg's sheer black confection that included black wisps in place of pasties and a totally sheer bottom.
Hogg, whose creative threads have been worn by Lady Gaga, Jessie J, Tyra Banks, Rihanna and Claudia Schiffer, is obviously an influential designer. So, you saw it here first (and hopefully not on the bus ride home): bare butts are so in.