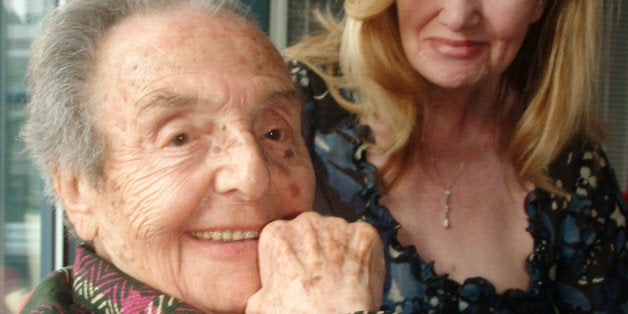 Almost by accident, I attended a noon lecture recommended by a friend. The speaker was Ara Guzelimian, Provost and Dean of the Julliard School, where extraordinarily gifted music students perfect their art. Having heard this music historian speak the evening before about several central European composers who lived during the tumultuous World War II era, I appreciated his capacity to inspire and bring their musical stories to life. His lecture was part of the Music at Menlo summer chamber music festival.
The talk focused on Jewish artists sent to Theresienstadt, a Nazi concentration camp in Czechoslovakia, dressed up and disguised as a thriving cultural community of Jewish artists to impress and placate the International Red Cross inspectors during their thrice-yearly visits.

The evening featured a documentary about an amazing woman. Alice Herz-Sommer, a Jewish/Czech young woman already recognized throughout Europe as a brilliant pianist before the war, was deported along with her 6-year-old son to Theresienstadt, and remained there until liberated by the allies in 1945. Her husband, also a musician, was not so lucky.
Herz-Sommer's remarkable life is well-documented elsewhere, including in previous Huffington Post articles and in a book written by Caroline Stroessinger, also a pianist. Most recently, the documentary about her inspiring life, The Lady in Number 6, won the short subject documentary award at the 2014 Academy Awards.
When she died earlier this year at almost 110 years of age, the world lost the then-oldest Holocaust survivor and a woman who used her music to cope with and survive life at its bleakest. As an aging "musician," more precisely a late-blooming cello student myself, I realized that the power of Herz-Sommer's music helped to keep her alive during the war, aided in overcoming her multiple and catastrophic losses both at the time and later in life, and provided her with a meaningful way to navigate and thrive in a chaotic, unpredictable world.

This last point is the part of her story that resonates with my personal mission: extolling the value of learning a fine art form, whether writing, playing an instrument or creating visual art, after age sixty for cognitive stimulation, personal satisfaction and well being.
Not only did Herz-Sommer perform hundreds of concerts in the concentration camp, but she vowed to learn some of the most technically demanding solo piano pieces, the 27 Chopin Etudes, while confined at Theresienstadt. Although she played on a broken down, out-of-tune piano, her mission helped her stayed focused and helped block the constant awareness of violence, horror and death all around her. She told The Sydney Morning Herald in 2010, "I thought if I learned to play them (Chopin pieces), they would save my life." And perhaps they did.
There is no doubt that Alice had a personality that was naturally optimistic and resilient. Her personal philosophy eschewed hatred, even toward Nazis. She was very unusual in that respect. But equally true was her belief that music kept her alive -- both physically and psychologically. She said in an interview when she was 106, "Even thinking of music makes me happy."
Until shortly before she died this past February, she practiced at her upright piano about three hours every morning in her apartment (#6) in London where she lived independently after moving from Israel when she was 100. In her words taken from the documentary, The Lady in Number 6, "If it's 10:00 a.m., I play." Her neighbors could set their watches to her practice. Then her cares, worries, physical infirmities, losses and painful memories were whisked away for a few hours, replaced by joy in her music that brightened the entire day.
Related
Popular in the Community