Alice McDermott will celebrate three decades of literary achievement in 2012, a year in which she will likely publish her seventh novel. But this month marked a new phase in her career as Charming Billy, her best-known work and winner of the 1998 National Book Award, moved from page to stage. It's the first of her richly nuanced novels to be dramatized, and she is pleased with its fresh but faithful reincarnation.
McDermott's elegiac tale of Billy Lynch, a beguiling Irish-American shoe salesman undone by dual betrayals, was adapted and directed by Blake Robison, producing artistic director of Round House Theatre in Bethesda, Maryland. Charming Billy, the play, opened last week to glowing reviews and will run through February 27.
While the show was in previews, I chatted with McDermott in downtown Bethesda, the suburb near Washington, D.C., where she lives with her family. A youthful woman with a gleaming smile, the author told me she was born in Brooklyn in 1953 and wrote constantly while growing up in Elmont, a hamlet on Long Island.
Yet she was unaware of her unique talent until age nineteen when she met her mentor at SUNY Oswego from which she graduated in 1975. She earned her Masters from the University of New Hampshire in 1978, and today guides fledgling authors in the Johns Hopkins Writing Seminars. In our interview below, McDermott reflectes on many facets of her writing life which began when she blazed into print with A Bigamist's Daughter in 1982. Her most recent novel, After This, came out in 2006 and was a finalist for the Pulitzer Prize.
Your novels often show how family, ethnic heritage, and religion shape us as individuals. Do you consciously pursue these themes as you write?
I'm glad you see themes, and I see the connection when you mention it, but I don't have themes. It's more about the characters and their lives. After a long run of almost thirty years, you get to the point where you say, 'These are my concerns.' It's not so much this is what I set out to claim--it is a kind of refrain. But it's not purposely a refrain, but more my way of looking at the world and my soul. A little bit of it may be writing to fill in the gap of what you can't find in your reading. At Weddings and Wakes [1992] was something I wrote because I was not finding something about family in the works of other writers. Child of My Heart [2002] is the opposite. It's about the individual, and disclaiming the family in favor of something else.
I read that you planned to write plays but decided against this genre because you don't like to collaborate.
[She laughs] I think I was being facetious when I said that. In grammar school I read Act One by Moss Hart and being a playwright struck me as the most magical and romantic career anyone could have...But I never did write a play. My only claim to fame was that in high school [Sacred Heart Academy in Hempstead] I wrote the skits--and I loved doing them.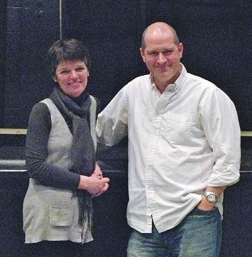 McDermott and Robison at rehearsal.
Photo by Danisha Crosby.
How did the Round House production of Charming Billy come about?
I knew Blake Robison. He had this thought to adapt and direct Charming Billy, so he invited me for coffee. As we chatted, the thing that struck me immediately was the way he described the stagecraft: how you do flashbacks on stage; how you cover that much time; how he would focus the action. He just had so much clarity. In the past I'd seen a few screenplays for Charming Billy, but they were...just dreadful.
When Blake and I talked, I told him that these characters do not speak with Irish brogues--they're New Yorkers. And that was that. With my blessing, he went off. I've had two novels going for the past four years and I teach one afternoon a week. In some ways saying, 'You do it, I don't want to be involved' was a defense mechanism. I didn't want to be distracted. So the first time I saw the play was the first read-through of an early draft. That was really fun. Blake had hired actors and given them the scripts that afternoon, and we began around seven P.M.
At one point David Whalen, the actor who plays Billy, looked up at the actress playing Eva [his sweetheart]. I was seated right behind her, and there was such heartache in his eyes, such affection. I got this sinking feeling because I thought, 'I know this story, and it's not going to end well.' It was wonderful, and I thought, 'He's not my Billy, he's his Billy, and he's way more in love with her than I would've said he was.' It was great. At that moment, I got a real sense of distance.
I've noticed similarities between Charming Billy and Fitzgerald's The Great Gatsby.
I didn't model my book after Gatsby, but you can't be an American writer who came along as an English major in the late twentieth century and not have Faulkner, Fitzgerald, and Hemingway somewhere in your psyche. But to me, Charming Billy was Gatsby's story in a totally different socio-economic strata, the people who only drive by the Gatsby mansion, not go to parties. The whole idea of eastern Long Island is a kind of paradise in Billy's mind. For me [writing the book] was discovering geography as metaphor.
You're writing two novels and you have a busy family life. Why do you also teach?
You know what, it was my experience at SUNY Oswego. I was a first-semester sophomore, and I was still either undeclared or thought I was going to be a sociology major. And up until that time the only encouragement I ever had as a writer was when one of the nuns at Sacred Heart told me I could write for Carol Burnett because I was such a good skit writer.
In Oswego I took a class called The Nature of Non-Fiction. It was taught by Dr. Paul Briand, a retired Air Force major who'd written a biography of Amelia Earhart. He assigned us a one-page autobiographical sketch, saying, 'I don't want your whole life; I want one incident.' This was right up my alley so I went back to my dorm and made up this whole story, writing it in first person. Dr. Briand was really into audiovisual--that was the hot thing to do, using an overhead projector...You had to type your work on yellow legal paper so he could make a transparency right there in the classroom, and then he'd put your words up on the screen. This was a bunch of nineteen-year-olds, taking their required English classes, and he would say, 'Why did you choose that word?' So he did this with my piece and at the end of the class he said, 'Come see me, McDermott, I want to talk to you.' And I thought, 'Uh-oh, I got caught.' [Laughs] So I went down and Dr. Briand looked up at me and said, 'I have bad news for you, kid. You're a writer, and you'll never shake it.' Those were the best words I ever heard! And that's what a good teacher does. I thought, 'I knew that, but I wouldn't have realized it if you hadn't told me. Now that you say it, I realize I've always known it.' It was if the sky opened up for me because it was everything I wanted.
Your characters usually come from Irish-Catholic backgrounds. Do you mind being described as a "Catholic writer"?
It doesn't bother me. It's factual, though in some ways the idea of being a Catholic writer has changed. Now I feel as though I'm in a beleaguered group, rather than in the mainstream, and I kind of like that.
But I'm a novelist. I'm not a crusader, and I'm not an editorial writer. And I'm not writing fiction to convince anybody of anything. These are my characters, and this is what they believe. And I don't feel compelled to pull the rug out from under them to show how cool I am or how much further along I've come in my thinking about religious issues. I want to know who they are to their bones. For my characters, Catholicism gives them a vocabulary. It speaks to something they can't describe, something for which there are no words.
You don't create highly plotted works. How did you develop your style?
I love a well-plotted story. But I'm just not that kind of writer, and it's not necessarily by choice. When I manipulate plot, I feel I lose authenticity. I think that using the right language takes us to the brink of what can't be said, so writers need to serve the language. We need to be precise.
For a long time I contended that a writer's biography is meaningless. What happened to a writer in his life is less important that the work itself. When I was composing After This, the wars were going on in Iraq and Afghanistan, and I was reading the Washington Post each morning and seeing the names of the dead. They were 19 and 20, and [I thought], 'Here we are again,' and then I went into my office to write my novel. I resisted having that poor kid [ Jacob] die in Vietnam. But I had to steel myself to face the possibility...If someone had said, could you write a novel about this, I would've said I couldn't, it's a cliché. But it seemed inevitable, and it was about being true to the characters and about what was going on in the real world.
Are any subjects off-limits for your work or even for reading?
Violence. And it's my choice--I'm not for censorship--but I don't read novels with rape scenes. I'm so tired of rape as entertainment. It is so pervasive, and it's so disturbing. Can women characters please be interesting without having been beaten and raped?
Is there a novel you wish you had written?
I would like to have written anything by Dickens...with his kind of excess.
Calling all HuffPost superfans!
Sign up for membership to become a founding member and help shape HuffPost's next chapter