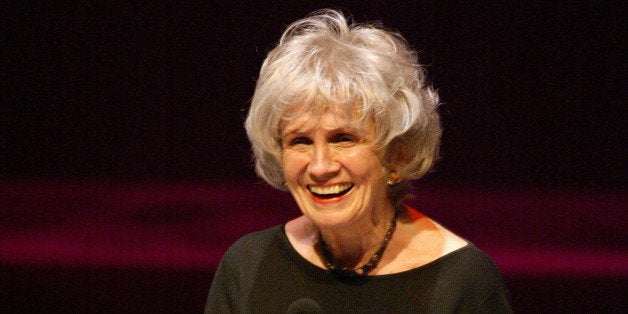 When the news broke this morning that short-story author Alice Munro was the first Canadian and 13th woman to win the Nobel Prize for literature, Twitter basically exploded.
Munro's win is exciting on many levels: she's a woman in her eighties, a mother and someone who has never actively sought the limelight. Well-wishers on Twitter noted all these things and more -- Munro wrote while her children were napping, and her work focuses almost exclusively on female characters and small-town dramas.
Here's hoping that David Gilmour, the Canadian professor who told Hazlitt magazine that he didn't "love women writers enough to teach them," might re-examine his views in the light of Munro's win.
"That doesn't meant there aren't great women writers," Gilmour said in an interview with the Huffington Post. "[But] the trick in my course is, I want kids to leave my course thinking, 'I want to read more Chekhov, I gotta read more Chekhov.' I can't do that for Alice Munro or Margaret Atwood or any other female writers I admire who are as good as any male writers but who don't speak to me as profoundly."
Clearly, Munro speaks rather profoundly to the Nobel Prize committee.
Here's what women on Twitter had to say about her win:
Related
Popular in the Community