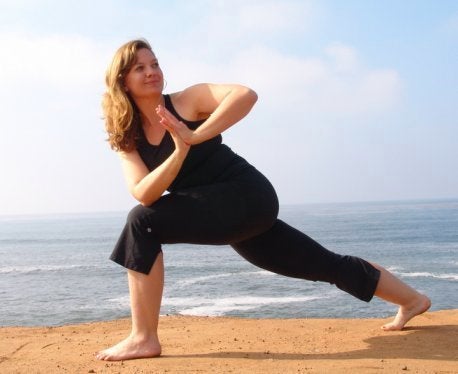 It's common practice to be asked to turn off your smartphone during a fitness class. But one Bay Area yoga instructor's device ban cost her a job at Facebook.
In March, one student started fiddling with her device at the front of the class while in the middle of an acrobatic half-moon pose, MSNBC reports.
Although Van Ness didn't say anything to the student, she did give a disapproving look. And the look didn't go unnoticed.
"I'm sure my face said it all," the 35-year-old teacher later wrote in a blog post. "Previously, I had been asked by management to just let the students do whatever they wanted."
The student later complained to the fitness center management. Two weeks later, Van Ness received her termination notice from Plus One Health Management, the contractor that employed her, which cited poor customer service as the reason.
While she was outraged at first, Van Ness ultimately decided that she was happier not teaching class at tech companies, where "she routinely found herself dealing with students who came in late, left early, and fidgeted during short meditations."
"The culture of these places is to let them do whatever they want," she told the paper. "And I'm just not really okay with anarchy."
Do you think smartphones should be banned in fitness classes? Should tech company employees be more mindful of their behavior? Share your thoughts in the comments below.
Popular in the Community