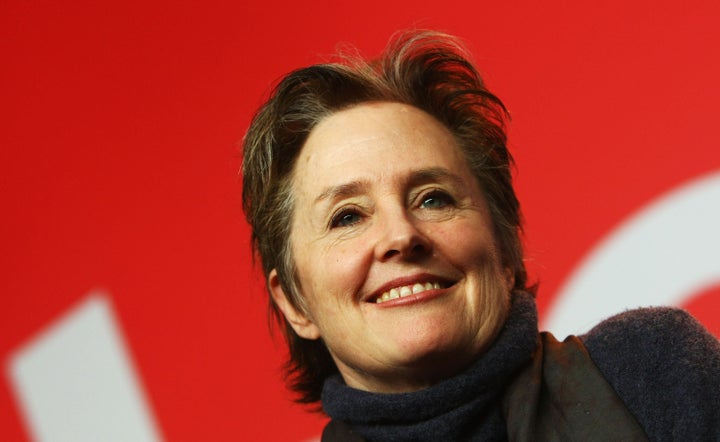 Who: The great Alice Waters: the chef, author, mother, farmer, food justice ambassador and founder of Berkeley restaurant, Chez Panisse, who has changed the way the world thinks about food.
Current Gig: While the famous restaurant has been drawing praise — and critics — for forty years, Waters's food justice movement, including the Edible Schoolyard Project (nationwide organic garden and kitchen projects for socioeconomically disadvantaged youth), has become equally important. She is in the midst of launching Edible Education 101, a new class on the food movement at UC Berkeley, her thirteenth book, 40 Years of Chez Panisse: The Power of Gathering, came out on Tuesday, and from 12:30 to 2pm on Wednesday, the Financial District crowd can grab a $5 boxed lunch from Waters herself on Maiden Lane.
Years in the Bay Area: The restaurant (and her movement) celebrates its 40th birthday this Saturday.
What was the restaurant scene in the Bay Area like when you opened Chez Panisse in 1971? It was pretty dismal quite honestly. There were a few good places — a little cafe called Potluck. And Tommaso's in San Francisco; they still made sauces from scratch with tomatoes and cooked with a wood-fired oven. No one else was doing that. When we opened, it was right before the fast food revolution. During our first ten years, everything changed.
Do you think this could have happened somewhere else or only in the Bay Area? Wherever anyone is serving real, tasty food, people will come. We have friends who opened up a restaurant way up on the Oregon border and people come from all around to eat there. But in Berkeley, things happened much more quickly. We had the influence from the University, the sophistication of the clientele and of course the nearby farmers, fisherman and purveyors — they are very precious to us.
Who are some of your favorite local up-and-coming purveyors? We love Dirty Girl Produce; they're great pals. They keep reinventing the culture of agriculture. Like what Mickey Murch [of Gospel Flat Farm] is doing in Bolinas: he has a 24-hour farm stand — you just put money in a box! It's like a commune up there!
Do you make it up there often? Yes, Bolinas is my great place to relax. That's where I go to get away. I stay with my friends.
Where do you eat when you're not at Chez Panisse? I eat out at my friends' restaurants — you know them, they all worked at Chez Panisse. I adore Zuni and Charlie's places. [Charlie Hallowell's Pizzaiolo and Boot and Shoe Service.] And of course, Russel's place: Camino. But oftentimes I cook at home. I haven't cooked at Chez Panisse for 28 years, since Fanny was born, and I miss it terribly. I love cooking.
What do you cook at home? I have a fireplace in my kitchen that I light every night, no matter what. Right now I'm cooking a lot of fish and salad — always salad. And I'm using lots of tomatoes. But it's always very simple.
Chez Panisse critics — the David Changs and Anthony Bourdains of the world — tend to be cynical about your simple approach. How do you defend this? You mean the ones who say it's not cooking, it's just shopping? That one is my favorite; the French used to tell me that all the time. And you know what? Even Alain Ducasse says that 85 percent of it is just shopping!
And I think he is right. But it's about the pursuit of perfection. You have to find the right farmer: the one who planted the right seed in the right land at the right time. They have to be right person to care for it, and harvest it at the right moment. It's a subtle kind of farming. It's our job to find them, purchase the fruit at the right time and serve it at the perfect moment, perfectly. That's all it is. We cook simply. We weren't trying to start a revolution.
What's next? Right now I'm excited about our new class at UC Berkeley, Edible Education 101. It's taught by Michael Pollan [author of The Omnivore's Dilemma and In Defense of Food] and Nikki Henderson [executive director of People's Grocery]. UC Berkeley is my alma mater and has made such a contribution to the food movement. And this is a great way to get the word out about food justice, our health and the environment.
And of course, the Edible Schoolyard Project. We're expanding, but we have to figure out a way to make good, healthy food more economically viable — that's the challenge. But we're doing it; we have to do this. We have to bring people back to their senses about food.
You are 67 years old. Are you thinking about retirement? I can't imagine leaving the restaurant. It's hard for me to separate my life from my work; I'm really thinking about what we're doing every day. I'll probably end up being that woman in the corner in a black dress drinking a glass of wine — a shill in the restaurant.
In an interview with Liam Mayclem, Thomas Keller recently said that he would have liked to play shortstop for the New York Giants if he could have in another life. What would you have done if you hadn't have been a chef? I used to think that I wanted to be a hat maker, but I don't think that would have worked out.
Related
Popular in the Community