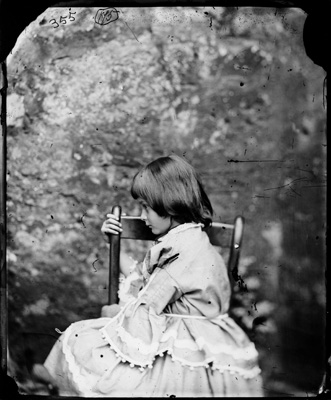 Alice Pleasance Liddell, Summer 1858
Courtesy of © National Portrait Gallery, London
In the year 2143, will we be able to say Harry Potter lives, Harry Potter is global, or even that Harry Potter's enduring legacy continues to inspire all age groups?
None of us really know for sure what will happen to Harry Potter between now and then. What you should know is that there is one book, which, 146 years after it was first published in 1865, has accomplished all these things and is also one of the most loved books in today's world. The book to which I am referring is of course Alice's Adventures in Wonderland, which I like to call "Alice."
A great many people saw Tim Burton's Alice in Wonderland movie, which, despite its short theatrical window, grossed $1.02 billion worldwide. That was just an appetizer in comparison to the massive global run up to "Alice's" 150th birthday in the fall of 2015.

Much like the closing ceremony of one Olympics and the heralding of the next one, the road to "Alice's" sesquicentennial ceremony has already inspired a magnificent exhibition to be seen in some of the world's greatest museums, with more exhibitions and events in the works along the way to the lighting of "Alice's" torch in four years time.
As a passionate "Alice" fan and a relative of Alice Pleasance Liddell, the original inspiration for the book, I never tire of immersing myself in the rich culture that was born from Lewis Carroll's fantastical dream world. In every age since the 19th century, "Alice" has inspired artists and scientists from the worlds of mathematics, fine arts, literature, puzzles, games, toys, film, dance, music, poetry, video games, photography, cartooning, and well, let's just say you've got your work cut out, Harry Potter!
So now...... are you ready for a little more tea?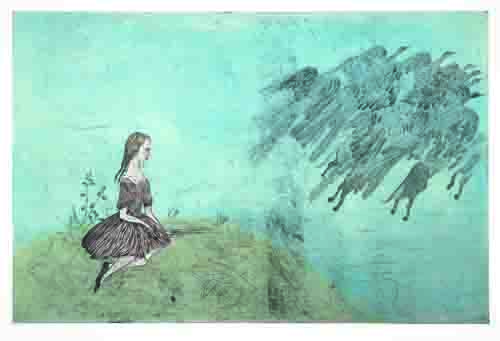 Come Away From Her (After Lewis Carroll) 2003 -- Kiki Smith
Acrylic on Paper
Courtesy of © ULAE, Inc.
I had the great pleasure of chatting with Eleanor Clayton, Assistant Curator of the Tate Liverpool's fantastical new Alice In Wonderland exhibition currently showing in England before heading out to other parts of Europe.
"Alice" lives on -- Why is "Alice" so inspiring to all ages and to generation after generation?

One of the things we notice about "Alice" is that it is one of the few books that have never been out of print since it was first published. It has literally stayed in fashion the entire way since 1865. "Alice" just continues to appeal. I think that it's the nature of the story. You have a child heroine. Alice is beset by trials and tribulations that she has to go through and yet she always remains calm. Whether it's the Mad Hatter or the Queen (trying to chop off her head), she meets the challenge and prevails. There is something about Alice's journey that everyone can relate to.
The other thing that we have actually focused a lot on in the exhibition is that when the original manuscript was created, Charles Dodgson (Lewis Carroll) included pictures. The pictures were an integral part of the story. There aren't actually a lot of descriptions of the book's characters including Alice. Instead, on the first page of the original manuscript, there is a picture of Alice. It doesn't tell us that Alice wears this kind of a dress or has this kind of hair. It leaves it very open for generation after generation to reinvent Alice. In our exhibition there are Alices from the 1930's, Alices from the 1960's, and even more contemporary Alices. Each generation has been able to reinvent Alice in the style of that generation. This says something about the richness of the book too. Each generation finds it appealing and wants to contribute something new.
How many Alices do you have in total in the exhibition?
In just one room we have over 40 illustrated editions of the book from 1907 onwards. I would say we have over a hundred Alices (character depictions) in the exhibition.
"Alice" is global -- How represented is "Alice" on a global basis throughout the exhibition?
We have illustrated editions from the western world but we also have Eastern European and Russian illustrated editions. We have work by an artist called Nalini Malani, who's done a series called Living in Alice Time. She finds in Alice a figure that relates to the political situation in India and her work is representative of that. Unfortunately, we don't have "Alices" from Australia and New Zealand but we do have most of the Northern Hemisphere covered.
Alice's Adventures Underground, the original manuscript, was handwritten and hand illustrated by Lewis Carroll and presented to Alice Liddell as an early Christmas gift. How significant is this manuscript?
I think it is very significant. We've found it incredibly interesting as an early form of book art, which became hugely popular in the 1860's and beyond. The images are such an integral part of the original manuscript that it is a visual work of art in itself. Even Carroll's text has visual elements. In the 19th century, art was about paintings, and books were books, but when you look at the original manuscript it is definitely an art object in itself, which is why it is really significant. Later on after the "Alice" books were published, Carroll published a facsimile of the original manuscript.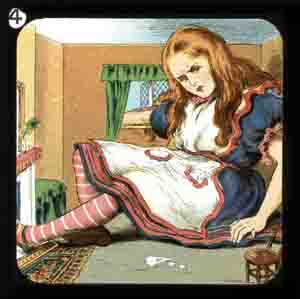 Alice in Wonderland Magic Lantern Slides 1900 - 1925
Courtesy of © University of Exeter
The manuscript's sale by Alice Pleasance Liddell in 1928 for £15,400 ($77,000) set a new auction record for a book at that time in history, not to mention the fact that the buyer was an American, Dr. A. S. W. Rosenbach.

The book has now become so iconic that the original manuscript itself is almost like a relic. We are very lucky to be exhibiting it. It has only left the British Library once (for a trip to New York City) since it was presented as a gift to the British Library by a group of American businessmen. The security we have had to go through to protect it is incredible. It has to be kept in a metal (versus wooden) vitrine with glass that is thicker than 11 millimeters. It also has to have two special Abloy locks. Then there is CCTV on it and security guards. It's this little book the size of a hand. People come into the exhibit and are drawn to it. Then they very quickly fall down the rabbit hole into all of these artifacts that have built up because of this one little book.
What will people like most about the exhibition?
Children will see the original manuscript, Tenniel's drawings, toys and games that were around in the 19th century after the publication of the book. There are also beautiful paintings, colorful artworks from people like Max Ernst and Dali as well as other "Alice" art from the 1960's. There is a reading area in the exhibition. There's also a participative artwork by Allen Ruppersberg where visitors can make their own books.
Highlights or personal favorites of the exhibition?
One of the highlights is an opportunity to learn more about Dodgson's photography. We have his photographic equipment and a number of his own beautiful photographs. Charles Dodgson was a writer but he was also an artist who thought in pictures, and it makes you realize why the imagery in "Alice" is so vivid.
A personal favorite is a beautiful oil painting called Alice by Max Ernst from 1941. In Ernst's painting, Alice, we see the figure of Alice being reinvented for the first time as a young woman, no longer a young girl. Ernst started the artwork when he was a prisoner of war in France and then completed it in New York after he escaped; and so it brings out this important image of Alice as a symbol of hope.
My final favorite is the enormous painting of Wonderland by Luc Tuymans. When you stand in front of if you feel as if you could just walk into Wonderland. It was made in 2007, and it just shows again that even today, artists are still finding the idea of Wonderland such an inspiration.
On January 29, 2012, Alice in Wonderland leaves the Tate Liverpool and travels to the MART (The Museum of Modern and Contemporary Art) in Trento and Rovereto, Italy before moving to the Kunsthalle in Hamburg, Germany.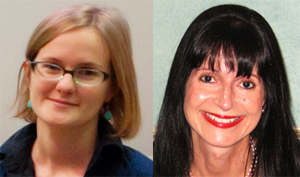 Eleanor Clayton and C. M. Rubin
C.M. Rubin is the author of the widely read on-line series, The Global Search for Education, and is also the author of three bestselling books, including The Real Alice in Wonderland.
REAL LIFE. REAL NEWS. REAL VOICES.
Help us tell more of the stories that matter from voices that too often remain unheard.