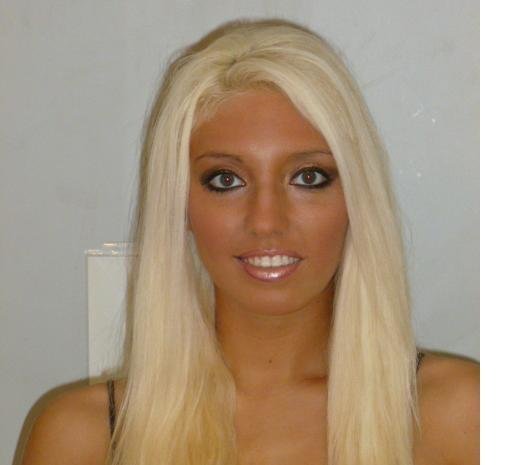 Alicia Guastaferro, the insufferable teen beauty queen who appeared on the ABC reality TV show "Wife Swap," has been arrested and charged with prostitution.
The pampered princess, whose upstate New York family celebrated Christmas every day of the year, was arrested Monday in the company of a 54-year-old attorney, according to police.
Authorities charged Guastaferro, 20, of Williamsville, with criminal impersonation, prostitution, and possession of a controlled substance. Her alleged john -- Rochester area attorney James D. Doyle -- is charged with driving while intoxicated, patronizing a prostitute and unlawful dealing with a child. The latter charge is for allegedly helping Guastaferro obtain alcohol.
Guastaferro told investigators she was paid to perform sex acts on Doyle, state police said. The attorney denied the allegations.
Guastaferro is a member of a suburban Buffalo family featured in a 2008 segment of ABC's reality television show "Wife Swap." Highlights of the show included Guastaferro, then 16, receiving a new Chevy Tahoe and a daily present under a Christmas tree the family kept up year-round.
"I live a very carefree life where I have no chores," Guastaferro was quoted as saying in the episode. "I have anything I want. It's a great life. I love it." She also said, "I do feel sorry for people that are not gorgeous people."
The teenager received widespread disdain from critics after the show aired. She later filed a $100 million lawsuit against ABC and parent company Walt Disney, claiming she was publicly embarrassed and suffered panic attacks and suicidal tendencies. The lawsuit is pending.
According to the Buffalo News, Guastaferro is also involved in another lawsuit against Mustang Sally's Spirits and Grill, a company that owns several local strip clubs. The newspaper reported federal court documents filed by Guastaferro contend she worked as a dancer at the clubs and was allegedly denied overtime pay and other compensation.
Guastaferro's parents have had their own problems since "Wife Swap" aired. Her father, Ralph, was imprisoned for money laundering. Her mother, Karen, was convicted of tax evasion.
The latest blow for the family occurred early Monday, at a New York Thruway service area in Pembroke, 30 miles outside of Buffalo. State police said a concerned motorist contacted police after he saw Doyle drive erratically before stopping at the travel plaza.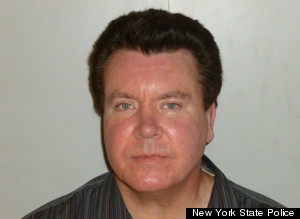 When state troopers arrived on the scene the observed Doyle's car illegally parked, with the engine running and the lights on.
Doyle, according to a copy of the arrest report provided to The Huffington Post, was "slumped over the steering wheel passed out," while Guastaferro was slumped over in the passenger seat. After waking Doyle, the officer observed the attorney to have, "slurred speech, watery/bloodshot eyes and strong odor of beverage alcohol on his breath," the report reads. Doyle allegedly refused to submit to a sobriety test and was arrested on a charge of DWI and other violations.
When troopers questioned Guastaferro, she allegedly gave officers identification for a "Brittany Y. Myers," with a birth date of Sept. 23, 1989. After further questioning, she admitted she was Alicia Guastaferro and was born on Sept. 11, 1991, police said.
According to the police report, Guastaferro told police that Doyle had given her the fake identification and said he had taken her to dinner and purchased alcoholic beverages for her. Upon further questioning, she told police that Doyle pays her $500 to $700 to perform sexual acts and spend the night with him, according to the report.
"$500 to $700 a night? To consummate?" the trooper asked.
"I'm sorry. I don't know what you mean," Guastaferro replied.
"For sexual favors?" the trooper said.
"Ya," Guastaferro said. "We have sex ... He calls me about two times a month."
Asked by the officer if she had been paid that night, Guastaferro allegedly replied, "He pays me in the morning."
The troopers said they found pills in Guastaferro's possession, which she claimed were the antidepressant Paxil and tranquilizer Valium, the police report said.
At some point during her interview she suffered an "apparent seizure" and was transported to Erie County Medical Center for treatment, the report said.
READ THE ARREST REPORT: (Story Continues Below)
Attorney Herbert Greenman, whom Guastaferro told police is her lawyer, did not return calls for comment from HuffPost Thursday. Calls to Doyle went unreturned.
"I've been accused of allegations that are lurid, salacious and demonstrably false," Doyle said. "I was tired. I wanted to rest and that's exactly what I did. Within 10-15 minutes, there was banging on my window."
Asked by YNN about the allegations of prostitution, the attorney said, "That's absolutely false. ... There was absolutely nothing of a sexual nature with respect to our encounter, whatsoever, at all."
Guastaferro did not respond to a request for comment from The Huffington Post.
Calling all HuffPost superfans!
Sign up for membership to become a founding member and help shape HuffPost's next chapter
BEFORE YOU GO
PHOTO GALLERY
Celebrities With Leaked/Hacked Photos