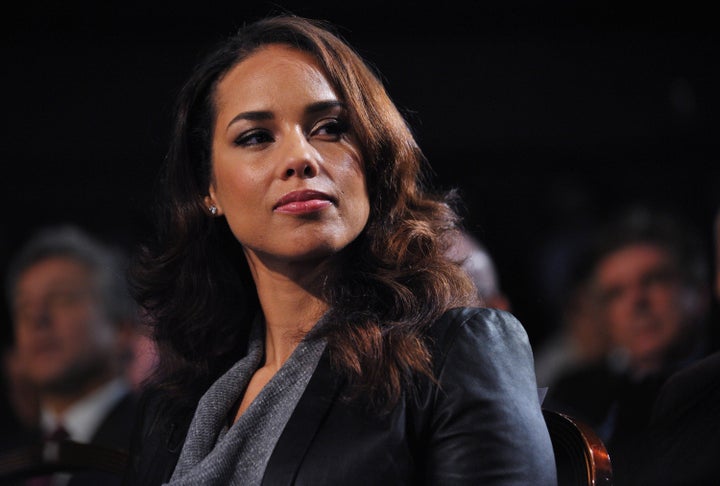 Fourteen-time Grammy winner Alicia Keys scores with Stick Fly in her debut as a Broadway producer. Stick Fly may be best described as television's The Cosby Show meets Academy Award-winner Crash (2005).

The Stick Fly cast list reads like a Who's Who of television starting with Condola Rashad, the daughter of The Cosby Show's Phylicia Rashad. You'll remember Condola Rashad made her mark in the Pulitzer Prize-winning Ruined (2009).
It's been a long time since Hattie McDaniel became the first African-American woman to win an acting Academy Award playing Scarlett O'Hara's maid in Gone with the Wind (1939). Fast-forward to today where some of the best work in the entertainment industry has African-American maids in starring roles not just supporting ones as with McDaniel and her castmate Butterfly McQueen.
Whether it is Kathryn Stockett's bestselling book, The Help, adapted for film or Dr. Martin Luther King's Mountaintop, the public can't seem to get enough of the stories these maids have to tell. In Stick Fly, as the curtain falls we come to realize much of the play has revolved around the maid played by Rashad.
The other actors in this ensemble cast are Mekhi Phifer (NBC's ER), Dule Hill (West Wing), Tracie Thoms (Cold Case), Rosie Benton (Law & Order: Special Victims Unit) and Ruben Santiago-Hudson (Castle) who celebrated his birthday on Thanksgiving Day this year in real life.
This six character cast performs like a well-oiled machine which is to say flawlessly under the elegant and seemingly effortless direction of Kenny Leon. Leon also directed Fences which won the Tony for Best Revival of a Play as did Denzel Washington for Best Actor and Viola Davis for Best Actress. But Leon was left out at that awards ceremony. He should be recognized for Stick Fly.
Blonde-ish Benton hits just the right note as the self-proclaimed WASP whose plastic surgeon boyfriend (Mekhi Phifer) tries to get his family to accept her more readily by telling them ahead of time she's Italian. Except she's not.
My niece Jackie, a freshman at Bryn Mawr College who just started studying Italian, was thrilled she got to use it to translate for me a few Italian phrases thrown out by Tony winner Ruben Santiago-Hudson who plays Phifer's father. However, during intermission the tables were turned as she asked, "What's a WASP?" Maybe we are more post-racial nowadays than we realize.
Phifer playing Flip, the plastic surgeon brother and son, reminded me of my own brother, the plastic surgeon, and also every guy I ever dated who broke my heart. Dule Hill plays the nice guy Spoon whom girls let get away because they're so mesmerized by the Flips of this world, aptly nicknamed as such.
Playwright and Northwestern University-educated Lydia Diamond is pitch perfect in capturing how people of different backgrounds and cultures think, speak and just all try to get along. An alumna of Chicago's Tony winning Steppenwolf Theater, Diamond herself has become a part of history as one of three African-American female playwrights represented on the Great White Way this season for the first time ever. The others are Katori Hall with her play Mountaintop and Suzan Lori Parks' adaption of the Gershwins' Porgy and Bess.
Thanks to David Gallo for the beautifully designed set, allowing audiences to view the kitchen, patio, and living room all at once and to peek into different rooms as the action unfolds simultaneously in more than one room. A neat trick.
Alicia Keys' besides being one of the producers, also composed original music for Stick Fly. It's instrumental only. Her music really does enhance and advance the story line allaying any doubts some may have had before seeing the show. A shoutout also to Richard Fitzgerald for sound design.
One of the final scenes has most of the characters not speaking to one another as Keys' wonderfully expressive music says it all, taking one back to the silent picture era. In Stick Fly, the characters remain frozen in a tableau-esque kitchen setting as Keys' music crescendos, then crashes communicating to us all we need to know. Definitely one of the highlights in this two and one-half hour show which though a little long doesn't drag.
In Moonstruck, Olivia Dukakis' character asks Danny Aiello why men cheat. In Stick Fly, this question is posed: "How do men make babies and so disregard them?" The answer given is that It has to do with manhood, self-preservation, and having to prove yourself over and over again as a man. Go see Stick Fly at the Cort Theater on West 48th Street and decide for yourself.
REAL LIFE. REAL NEWS. REAL VOICES.
Help us tell more of the stories that matter from voices that too often remain unheard.