The winner of the 1996 Miss Universe competition said Donald Trump, who owned the pageant company until last year, body-shamed her and mocked her Latina heritage.
Alicia Machado, who won the Miss Venezuela pageant in 1995 and went on to be crowned Miss Universe the following year, told "Inside Edition" last week that she faced verbal abuse from Trump "all the time" after she gained weight following the pageant.
"He called me Miss Piggy," she told "Inside Edition." "I was very depressed."
He also openly derided her weight in a interview with radio host Howard Stern, describing her as an "eating machine."
Machado said Trump also made fun of her English language skills and called her "Miss Housekeeping" in an apparent jab at her Venezuelan accent.
Machado's interview came on the heels of a New York Times investigation into Trump's private interactions with women. Machado told the paper that Trump publicly shamed her for gaining weight and invited dozens of media outlets to watch her work out at a hotel in New York City.
"After that episode, I was sick, anorexia and bulimia for five years," she said. "Over the past 20 years, I've gone to a lot of psychologists to combat this."
Trump admitted to the Times that he had pressed the former Miss Universe to lose weight.
Machado is in the process of becoming a U.S. citizen, and will be able to cast a vote in November's general election. When asked if she would vote for Trump, she laughed.
Meanwhile, Hillary Clinton's campaign tweeted at Machado after the interview, congratulating her on her impending citizenship.
Before You Go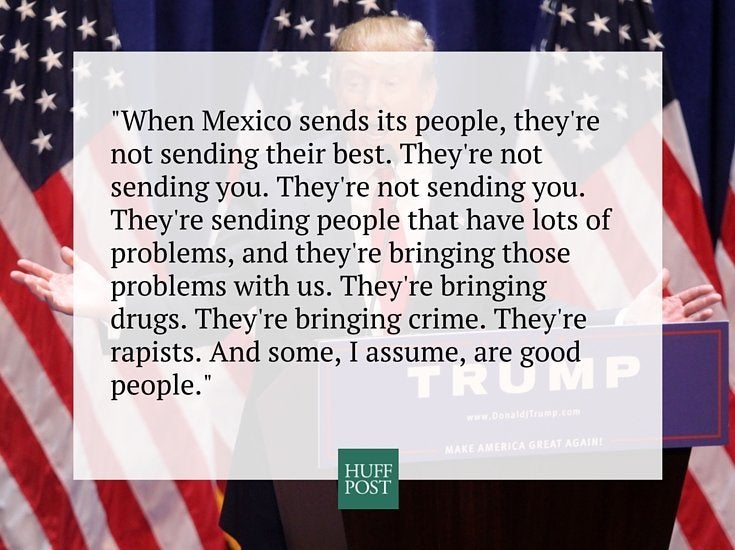 9 Outrageous Things Donald Trump Has Said About Latinos
Popular in the Community